Posted:
December 16, 2021 |
Categories:
News
|
General Info
|
Why Buy New
|
Design and Decorating
One of the best things about building a new construction home in Florida is personalizing it to make it uniquely yours. You probably have a list of features you already know you want in your new home. Maybe you are looking for things that will add convenience to your busy lifestyle, allow you to optimize time spent with your family, or even help you further your career. Everyone has different needs but there's one thing we can all agree on – building new lets you take advantage of modern design and technology and ensures your home is ready to live in, love in, and make memories in from the very first day you move in.
As you begin planning to build your dream home in 2022, here are 12 must-haves for your new construction home in Florida.
1. Open Floor Plan
Open floor plans have been popular for quite a while, and we don't see that changing any time soon! A few of the benefits of having an open layout in your new construction home in Florida include:
An opportunity for togetherness, whether people are in the kitchen, dining area, gathering room, or all of the above
A better ability to keep an eye on kids or pets while still doing tasks like cooking
Easier entertaining, without the barrier of walls and doors
An abundance of natural light throughout the living area, as it's not blocked by walls, which also makes your home feel larger
Flexibility, as an open layout lets you utilize your space based on your needs
2. Flex Rooms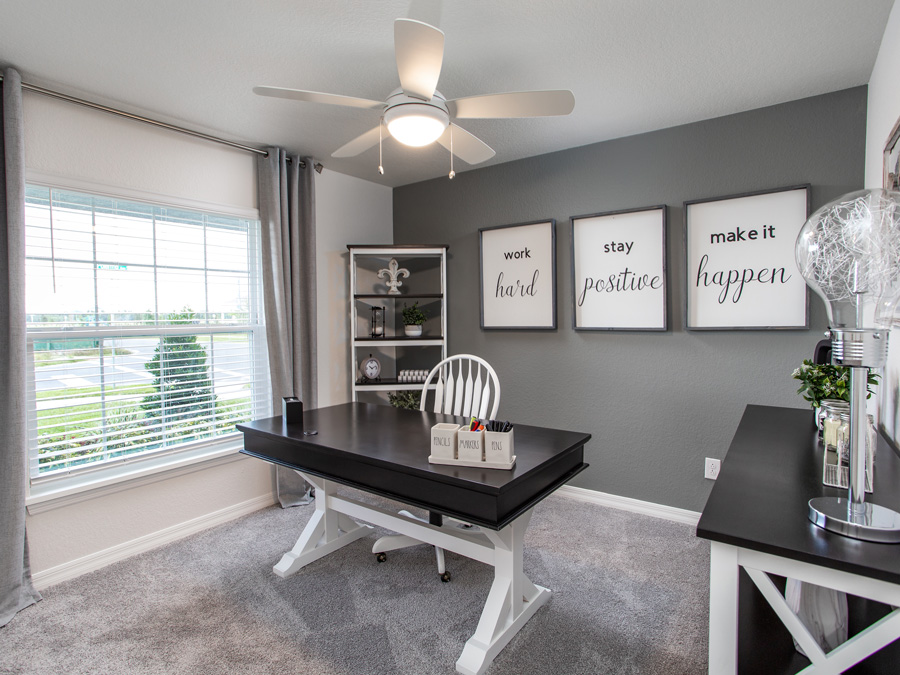 Flexible use rooms have been growing in popularity over the last several years thanks to, well, their flexibility! Life can change quickly and flex rooms can simplify your life, as they allow you to use your space as you need now, and change that use as your household size or needs change.
A flex room might be a den, loft, unused bedroom, or even an area blueprinted as a dining room – essentially, it's any space that can be used for different purposes. For example, a flex room may be used as a home office, a dedicated space for kids to do their homework, or a playroom. If that no longer serves your needs, re-purpose your flex room as an at-home gym or yoga studio, craft room, or music room. You can even use it as a dressing room, dedicated she or he space, or even a combination room such as a combo guest room and office.
We've seen creative flex rooms from our Florida homeowners replacing a chandelier in the dining room with a billiard light to create a pool and game room, using a bedroom for an at-home "campground" with tents and kids games, and turning a den into a home bar and cocktail lounge.
3. 36-in. Kitchen Cabinets
Why will you love taller upper kitchen cabinets? Let us count the ways! Taller cabinets provide extra storage, add to your kitchen's overall aesthetic and style, and the additional height raises your eye, which makes your ceiling feel taller and your room bigger. It's no wonder 36-in. upper kitchen cabinets are one of the most popular kitchen design options selected by Florida new homeowners.
4. Under Cabinet Lighting
Another must-have kitchen cabinet option is under cabinet lighting which is not only aesthetically pleasing but also quite useful. This task lighting illuminates your counter space to make meal prep easier. It can double as a nightlight, which is great when you're grabbing a midnight snack, or simply want to leave a light on for guests or kids. And, this must-have kitchen lighting adds another layer to the light in your kitchen, as suggested by interior designers.
5. High-Performance Kitchen Countertops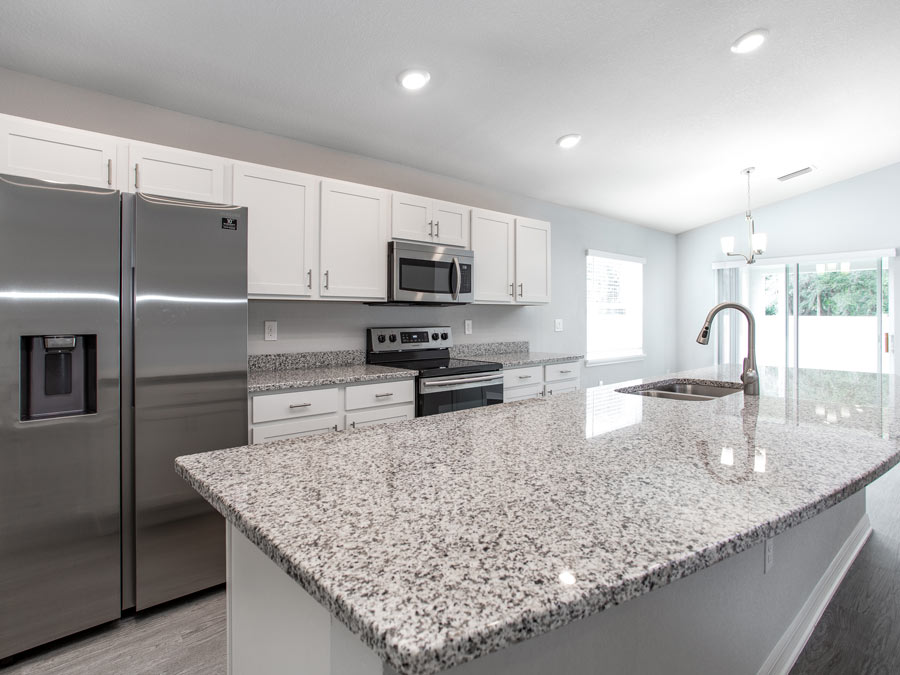 Your kitchen countertops are one of the most used surfaces in your home, which is why you must have a high-performance countertop that will endure life's wear and tear and be low on maintenance. When you build your new construction home in Florida, choose from high-performance countertop options that suit your style, needs, and budget:
Wilsonart® Premium and HD laminate countertops are durable and versatile. Generally regarded as the most environmentally friendly countertop option, Wilsonart laminate is low-maintenance with wear, scratch, scuff, stain, and moisture resistance, and is available in a wide variety of design options, surface finishes, and edge finishes.
Quartz countertops are increasingly popular in new homes in Florida and a great choice for those seeking durable engineered stone with benefits of low maintenance, easy cleaning, and resistance to bacteria, mold, mildew, stains, corrosion, cracks, and chips.
Granite countertops remain a popular kitchen option for 2022 thanks to their long-lasting luster, unique natural stone patterns, and durable surface resistant to scratches, chips, stains, moisture, and heat. When sealed, granite also resists bacteria and dirt, and is easy to clean.
6. Modern Appliances
Appliances are the workhorses in our homes, so it's no surprise that state-of-the-art, energy-efficient appliances are at the top of many homebuyers' must-have list for 2022. Technology continues to make appliances more efficient, attractive, and functional, so why settle for older appliances when you can take advantage of the best of modern appliance features and functions.
Samsung is a top appliance brand among consumers which is why we include Samsung stainless steel appliances in our new construction homes in Florida. With ENERGY STAR certifications, WiFi smart features, and low-maintenance fingerprint-resistant finishes, modern appliances from Samsung are a must-have when you build your new home in 2022.
7. Vinyl Plank Flooring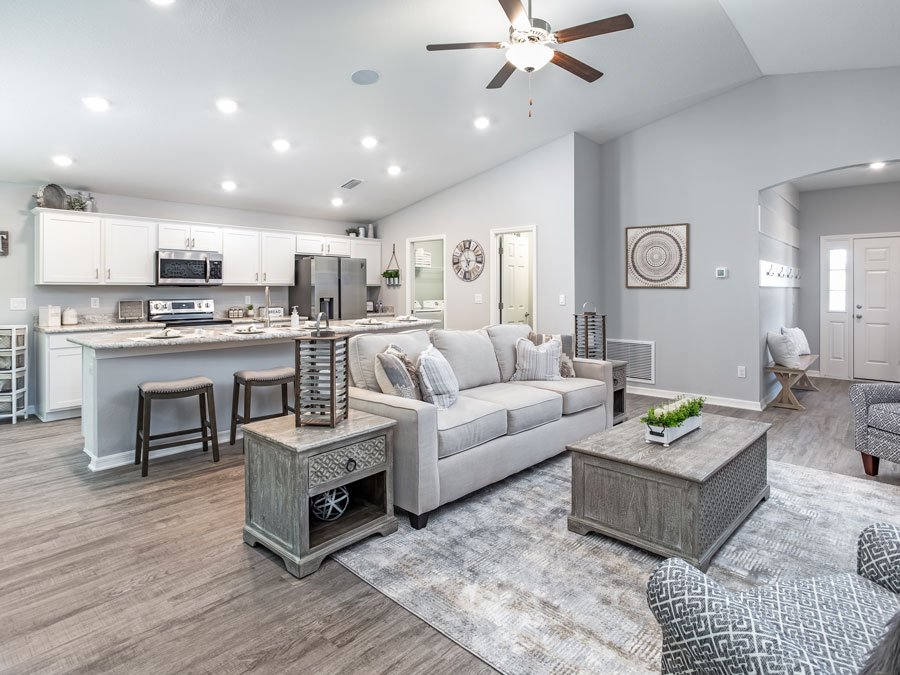 Flooring takes a large amount of abuse from shoes, pets, and children, and your new home must have flooring which is durable, low-maintenance, and affordable. Vinyl plank flooring meets these goals AND is one of the most attractive flooring options on the market.
Vinyl plank features the look of real wood at a fraction of the cost and outperforms real wood on many levels. Because vinyl is water-resistant, this flooring can be used in "wet rooms" such as your kitchen, bathrooms, and laundry room, unlike real wood floors. It survives moisture, absorbs shocks, and won't crack or chip like real hardwood. Easy to clean, you will love the low maintenance and enduring style that comes from having vinyl plank flooring in your new home.
8. Bathroom Wall Tile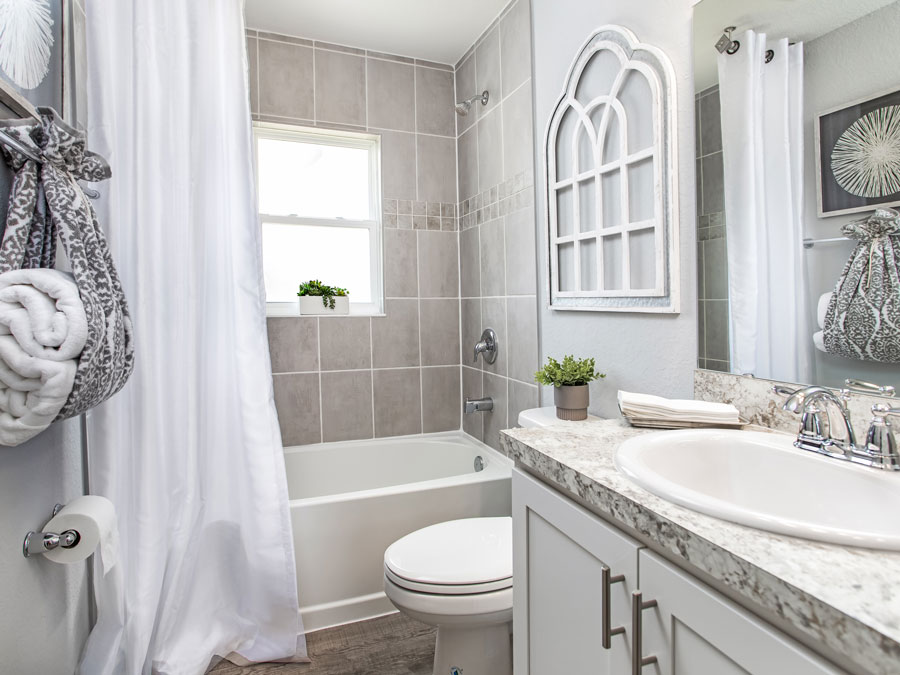 Many apartments, older homes, and even some new construction homes come with a not-so-attractive plastic shower insert. When you build your new home in Florida in 2022, don't settle for cheap and boring! Selecting ceramic wall tile for your shower and bathtub surrounds not only adds style and resale value to your home but longevity to your bath. Ceramic tiles are durable, moisture resistant, and easy to clean – all improvements over a plastic insert!
9. Outdoor Living Space
Whether you're a Florida native or relocating to the Sunshine State, there's one thing all of us Floridians can relate to – we love enjoying Florida's year-round warmth and comfort! Having outdoor living space at your own home allows you to enjoy beautiful weather anytime, whether with a cup of coffee on a Saturday morning or entertaining friends after dinner. When shopping for your new construction homes in Florida, look for a home plan with a front porch, rear lanai, or both!
10. Storage
Hello, storage space! One of the downsides of purchasing an older home is that storage space was not always considered important, but we know that's not true for today's homebuyers. When we design Florida new home plans, storage is always an important consideration, from foyer closets to drop zones, and linen closets to spacious walk-in wardrobes. Even smaller storage spaces such as medicine cabinets and base cabinets in bathrooms are important. And of course, no kitchen is complete without ample cabinets for your cookware, dishes, and glassware, and a large pantry ensuring you don't have to take up valuable cabinet space for food.
11. Oversized Garage
Let's face it – we all use our garages to store more than just our cars. Whether storing yard equipment, motorcycles, four-wheelers, tools, or holiday decorations, the "more" can take up a lot of space in your garage… sometimes more space than you have!
If your garage houses more than just your cars, an oversized garage should be on your must-have list. Highland Homes offers plans with 2 and 3-car garages, and the option on most plans to extend your garage depth by 2 or 4 feet. We can't think of anyone who's ever told us they regretted incorporating more storage space into their new Florida home!
12. Energy-Efficient Windows
High-performance windows can reduce energy loss in your home and therefore lower your utility bills, making them our final must-have for your 2022 new construction home in Florida.
Low-E, or low-emissivity, windows are our window of choice because they minimize the infrared and UV light that comes into your home without actually reducing the amount of visible light. Low-E windows reduce energy loss by as much as 30-50% and can save an average of $250 per year compared to traditional windows! And, the windows we include in our Florida new homes feature a tilt-in sash to make it easy to clean the window glass from inside your home.
Build Your Dream Home in Florida
Ready to accomplish your new home dreams in 2022? These 12 must-have features are just the beginning of the impressive options when you build your new construction home in Florida with Highland Homes. Visit our online Inspiration Gallery to add on to your dream home must-have list, and call or email us to connect with a Florida New Home Specialist and find your dream home today!
---
Tags:
energy efficiency
flexible use rooms
open layout
inspiration gallery
outdoor living
Design features
Design trends
Home décor
Interior design
Kitchen design
---