Posted:
October 18, 2013 |
Categories:
Design and Decorating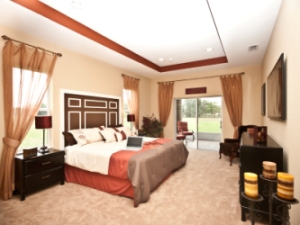 Whether you are redecorating or moving into a brand new home, decorating should be enjoyable, not difficult.  One of the most common questions we hear when we are discussing home design with our buyers is how to layout and decorate a bedroom.  Here are our top suggestions to easily create perfect bedroom décor in your Central Florida new home!
The bedroom is a room that is very personal so it is important to envision how you would like your room to look before you jump into decorating.  Think about colors, patterns and styles (modern, traditional, shabby chic, etc.).

Three is the magic number in decorating — use no more than 2 to 3 key colors or patterns in your décor.  HGTV suggests the 60-30-10 rule — 60% of a dominant color, 30% of a secondary color, and 10% of an accent color.

Selecting the color of big items like your furniture and paint will lead you to select other items in the room.  If you want a light and dreamy look, consider painting the entire room one light color — blues, greens and grays work well in bedrooms.  If you want to go bold with a color like romantic red or masculine dark blue, than select one wall to use as an accent wall and use a neutral color on the other three walls.

Speaking of accent walls — how do you know which wall to use as the accent wall?  Typically, you want to select the wall that you first see when entering the room, or the wall that your bed is going on.

There are many options for wall décor which include framed photographs or artwork, which can sometimes be expensive, and wall decals or trim detail, which are popular and affordable alternatives.  Go with your instinct when you are looking at wall art and do not hesitate to put personal choices in your personal bedroom space.  If you plan on accents above the nightstands make sure they are high enough on the wall to be higher than your lamp shades. If you have a tall headboard there is no need to put anything above your bed.

Wall and ceiling treatments are a stand out in any room but especially in a bedroom.  If you have a lower headboard, or no headboard, use trim and paint to create visual accents!  You can even use trim to create a "built-in쳌 headboard.

If you already have a bedroom set, great!  However, many people have picked up a piece of furniture here and there.  Maybe you like the style of your pieces but they do not match each other or your color scheme — painting and adding new pulls to your furniture can turn previously mis-matched pieces into a beautiful set!

Furniture placement can be a baffling decision when decorating a bedroom.  First, decide on the bed wall.  This will more than likely be the largest wall in the room.  If space allows, decide if you are putting a nightstand on one side or each side of the bed.

Putting a TV in the bedroom?  For convenience it is a good idea to place the television across from the bed.   It is most popular to hang the TV on the wall in a bedroom, but you can also put it on top of a high chest of drawers - a dresser is typically too low to place your television on.

Corners in your room are a great place to add an accent chair or corner table if space allows.

If your room still looks like it could use more furniture after placing these basics, you can add a storage ottoman or bench at the foot at the bed.  This is not only a nice look but can be functional storage for extra pillows and blankets.

Once furniture and paint are decided upon, shop for bedding, draperies, lamps, and accessories.  Place picture frames, jewelry holders, and candles on top of the furniture in your room.  Be careful that you do not over do it, it should look accessorized and not crowded.
Follow these easy steps when decorating your Florida home and it should be a fun process with a great finished look!  For more home decorating ideas and advice, browse our boards on Pinterest.
At the Highland Homes Personal Selection Studio, we are happy to discuss decorating and room layout when you are selecting your new home design options.  You can even select paint, accent walls and outlet locations to be done during the construction of your home.  For more information about building with Highland Homes, visit our website.
---
Tags:
tips
decor
decorating
Florida New Homes
florida new home
central florida new homes
decorating tips
Florida
new home
Central Florida new home
FL
New Homes
central florida
---