Posted:
October 31, 2016 |
Categories:
News
|
Design and Decorating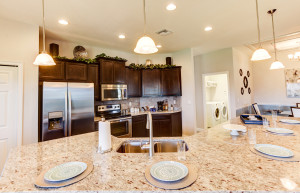 From warm holiday memories to rushed morning breakfasts, home and family life tends to revolve around the kitchen. When personalizing your Florida new home, the kitchen is usually the "main course쳌 and focus of the design process. Our Personal Selection Studio features a multitude of kitchen design options, as well as hundreds of selections to choose from throughout your home, so that you can truly personalize your new kitchen for your style and needs!
If you're looking to feel like a gourmet chef every time you step foot in your kitchen, consider these five popular kitchen upgrades for your new Florida home!
Granite Countertops
While there are plenty of countertop materials, textures, and colors to choose from, granite is a timeless classic and a popular choice among our homeowners. Granite is a natural stone which means no two pieces are alike, ensuring your kitchen will be a unique centerpiece.
Known for its durability, heat and stain resistance, granite is easy to clean and will add a beautiful finish to your home which lasts a lifetime. Granite is a very hard surface, so not ideal to cut on because it will dull your knife blades, but takes normal wear and tear without worrying about scratches and nicks. Hot pots and pans are a non-issue; set them right on the counter without fear of damage!
Birch Wood Cabinets in Twilight
Come over to the dark side! These alluring dark cabinets are made from birch wood and stained with a dark twilight brown. Twilight birch wood cabinets add a perfect combination of sophistication and flair that can help take your new kitchen to the next level.
The key to designing your kitchen with dark cabinetry is color balance and proper lighting. These deep, rich cabinets look best when offset with light-colored countertops and flooring, plenty of natural light, or even a bright-colored backsplash to accent and add flair.
Stainless Steel Appliances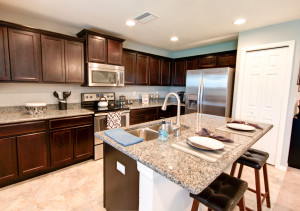 Stainless steel appliances are another popular kitchen trend that we don't ever see breaking out of any time soon. Stainless steel looks modern, clean, and professional, and always brings a "wow쳌 factor to the kitchen.
We offer Whirlpool brand appliances because they are the world's leading manufacturer and a brand-name you can trust to keep your home running smoothly. For your convenience, our Personal Selection Studio offers two stainless steel appliance packages to select from, each including a smooth-top range, over-the-stove microwave, EnergyStar dishwasher, and side-by-side refrigerator. Our Classic package offers a simple and sleek design, while the Executive package includes top of the line appliance technology!
Cabinet Crown Moulding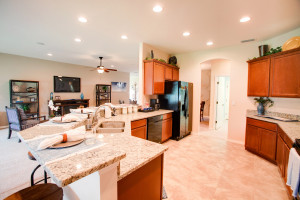 If you're looking to bring some elegance into your gourmet kitchen, consider dressing up your cabinets with crown moulding accents. This beautifully sculpted trim finishes the top edge of the cabinets, adds visual height, and add just the right amount of flair into your kitchen design. If you are planning to add over cabinet lighting, this is a must to hide your light bars and cords.
Under Cabinet Lighting
Whether you are illuminating your work space, trying to read Grandma's tiny recipe card, or want additional lighting to highlight and make your countertops glisten, under cabinet lighting is both a functional and stylish addition. Valance trim hides the light fixtures and finishes the bottom edge of your cabinets - and is a great compliment to your upper crown moulding!
Many homeowners opt to add a dimmer switch with this option so that you can lower the brightness in your kitchen for those sunny Florida days, or to set the mood during a romantic Florida night.
Designing Your Dream Kitchen
When you build your dream home with Highland Homes, the design of your kitchen — and every room in your home — is only limited by your imagination. At our Personal Selection Studio, you will choose the colors and features to personalize your new home and make your dream kitchen a reality! In addition to the options mentioned above, you can choose from a wide variety of countertops, cabinets and cabinet built-ins, faucets, backsplashes, appliances, lighting and flooring to perfectly design your ideal kitchen space.
Ready to start designing your dream home? We invite you to visit the Highland Homes Personal Selection Studio to browse the variety of options available, meet our professional designers, and get inspiration for your new home. Time at the Studio is available by appointment only; call our Design Consultants at 863-667-4782 to schedule a Studio browse today!
---
Tags:
cabinets
kitchen trends
kitchen cabinets
granite countertops
countertops
florida new home
Florida
new home
FL
---