blog
Wear Green, Get Green for Green Upgrades on Your Florida New Homes
Wear Green, Get Green for Green Upgrades on Your Florida New Homes
Posted:
March 12, 2012 |
Categories:
Events
|
Design and Decorating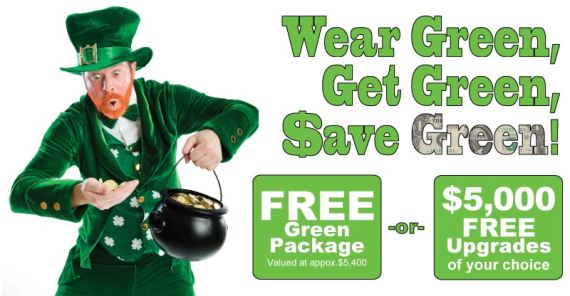 \nMarch is all about the green. Usually, you wear a little on your clothing to save yourself from getting pinched. However, this year Highland Homes wants to put the green back in your pocket by giving you FREE green upgrades for your
Florida new homes
. That's right. We're bringing back our Wear Green, Get Green, Save Green event for 2012.\n\nSo, you don't actually have to wear green to take advantage of this opportunity; but, you DO have to stop by a Highland Homes community and purchase your new home by March 31, 2012.\n\nHere's how it works: purchase one of our affordable
Central Florida new homes
and you get to choose from a FREE Green Package valued at approximately $5,400 or $5,000 in FREE Green Upgrades! The free green package includes everything you need to make your home more energy efficient including foam injected wall block, radiant barrier, double pane windows and Level 1 Mohawk® recycled carpet.\n\nBy choosing green upgrades when you build your new Highland home, you'll save some major green on your monthly energy bills. For example, products like
radiant barrier
can reduce your monthly energy bill by 12 to 15 percent!\n\nDon't wait until it's too late to take advantage of these savings. Stop by a Highland Homes' community today. For more information about this event, visit the
Highland Homes
website.
---
Tags:
energy efficient home
radiant barrier
energy efficient home features
green home upgrades
Florida New Homes
florida new home
central florida new homes
home buyer incentives
Florida
new home
Central Florida new home
FL
New Homes
central florida
---