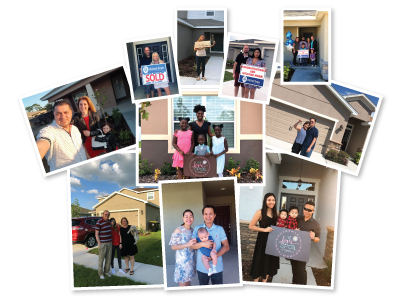 The well-being of our team members, homeowners, and those in our local communities continues to be of utmost importance. Therefore, we want to keep you updated about online tools, appointment options, and precautions we are taking to protect your health and wellness.
At our Model Centers and Personal Selection Studio:
To ensure you receive the one-on-one attention you deserve and limit the number of people gathering, we ask that you schedule an appointment. To schedule an in-person or virtual appointment, call us or email us!
We request our team members to stay home if unwell. Likewise, if you are feeling ill or have tested positive for COVID-19 within the past five days (regardless of symptoms), let's reschedule or switch to a virtual appointment.
Cleaning and disinfection are completed regularly, and we have products available for you to sanitize or wash your hands.
Most of all, we want you to feel comfortable while working with us to find and build your dream home! This means if you would like to wear a mask or speak with more space between us, please feel comfortable doing so.
At the Personal Selection Studio, both one-on-one and virtual appointment options are available. If you choose a one-on-one appointment, so our designers may best assist you by demonstrating available options and personalizing your dream home, no more than two people may attend your appointment.
If you are unable to visit in person or simply prefer not to at this time, call us or email us and request a virtual appointment! We have exciting tools to help you find your new home virtually such as 360-degree virtual tours, video walkthroughs, and interactive floorplans. In addition, we are able to meet with you virtually using FaceTime, Zoom, or a similar application to learn more about your new home needs and walk you through our models and the Personal Selection Studio.
We are committed to your health and happiness, and excited to help you accomplish your new home dream! Please do not hesitate to call or email us with any questions before or after your appointment, and we look forward to meeting with you soon.