blog
Functionality Tops the List of Top-5 New Home Must-Haves
Functionality Tops the List of Top-5 New Home Must-Haves
Posted:
August 19, 2014 |
Categories:
News
|
Home Buying 101
|
Why Buy New
|
Design and Decorating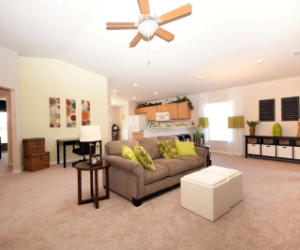 When it comes to designing your dream home, it is about more than the bells and whistles of luxury design finishes. A new home should make your life easier, as well as be easier to sell if you decide to do so in the future. While granite countertops or top-of-the-line appliances can be important, a recent survey of developers shows that today's home buyers place more value than ever on functionality.
Conducted by the National Association of Home Builders (NAHB), the study polled 400 developers on what features they expect to most frequently include in new construction homes.  With everything from granite countertops to media rooms included on the survey, laundry rooms and walk-in closets were the items that participants deemed as most important.
Based on a five-point scale, a walk-in closet in the master bedroom scored a 4.9 with laundry rooms coming in a close second at 4.8. While most new homes include these spaces, there are things that can be done to make these two rooms even more desirable. For example, countertop space, built-in ironing boards and cabinet space are extra elements that take a laundry room from practical to highly efficient.
Energy efficient technologies also ranked high on the survey with Low-E windows tied with laundry rooms for second place at a score of 4.8, and programmable thermostats and ENERGY STAR-approved windows/appliances all tied for fourth place at 4.5. Energy efficient products help homeowners to save money on their monthly utility bills — and what makes life easier than not having to worry about money?!
Great room layouts ranked third on the list. Great rooms are popular because they provide an open space that is perfect for entertaining or spending time together as a family without stepping on each other's toes. They also typically flow seamlessly from the kitchen to the dining room providing easy visibility for parents working in the kitchen while their children play in the great room.
Rounding out the top five is high ceilings on the first floor. Traditionally, many homes have eight-foot ceilings. Nine -foot or taller ceilings really cause a space to feel larger and brighter and are what many buyers prefer in their new home, especially on the main level. It is also common to see vaulted or cathedral ceilings in great rooms to provide additional height or design.
Florida home buyers searching for a home that includes all of these new home must-haves can find them all at Highland Homes. With more than 30 stylish home designs and hundreds of interior options–many at no additional cost–available in the Highland Homes Personal Selection Studio, buyers can purchase a home that is as functional as it is beautiful.
For more information on our new home communities throughout Ocala, Manatee County, Tampa Bay and Central Florida, visit the Highland Homes website today.
---
Tags:
personal
national association of home builders
selection studio
personal selection studio
---