blog
Home Design Showcase: Kitchen Backsplashes and Bathroom Wall Tile
Home Design Showcase: Kitchen Backsplashes and Bathroom Wall Tile
Posted:
December 2, 2021 |
Categories:
News
|
Why Buy New
|
Design and Decorating
Updated December 2, 2021 (Originally published May 17, 2019)
When it comes to customizing your new home in Florida, the kitchen and bathrooms are often the most personalized rooms with an array of options available from the floor to the ceiling and everything in between.
In this Home Design Showcase, we are going to talk all about wall tile – specifically, bathroom wall tile in your tub and shower areas and kitchen tile backsplash trends. Not only do these features add amazing style to your new home in Florida, but also provide an easy to clean and durable surface that is resistant to moisture and stains.
Kitchen Backsplashes
A tile backsplash is an affordable way to add personality to your kitchen. Not only does a tile backsplash look great; it protects your walls from food splatter and moisture, and makes kitchen cleanup easy. And, this kitchen enhancement can also enhance your home's value.
Tile Backsplash Trends
Many owners of Florida new homes choose an on-trend 3-in. x 6-in. ceramic white subway tile backsplash to finish off the walls in their gourmet kitchen. Subway tile is versatile with almost any décor style, and arguably the most timeless tile style. A subway tile backsplash perfectly pairs with today's popular white, navy, or grey cabinets and provides a simple, timeless, and chic finishing touch to your kitchen.
Additional tile backslash trends available at the Highland Homes design center include different tile shapes, colors, patterns, textures, and materials:
Mohawks's Lisbon Lights tiles are an oversized 4-in. x 12-in. subway tile available in white or gray with a wave texture or a high-gloss finish for added visual interest.
Add eye-catching modern ambiance by using non-traditional shaped tiles. Mohawk's Ankara Bay tiles are available in 1-in. hexagon mosaic tiles, 3-in. hexagon mosaic tiles, and herringbone mosaic tiles in white, beige, black, and gray colorways, with a polished or matte finish.
Or, opt for linear mosaic tiles such as Mohawk's Chateau Elegant stone mosaics and San Pelina glass mosaics, which offer symmetry and a high amount of visual interest with unique color variations.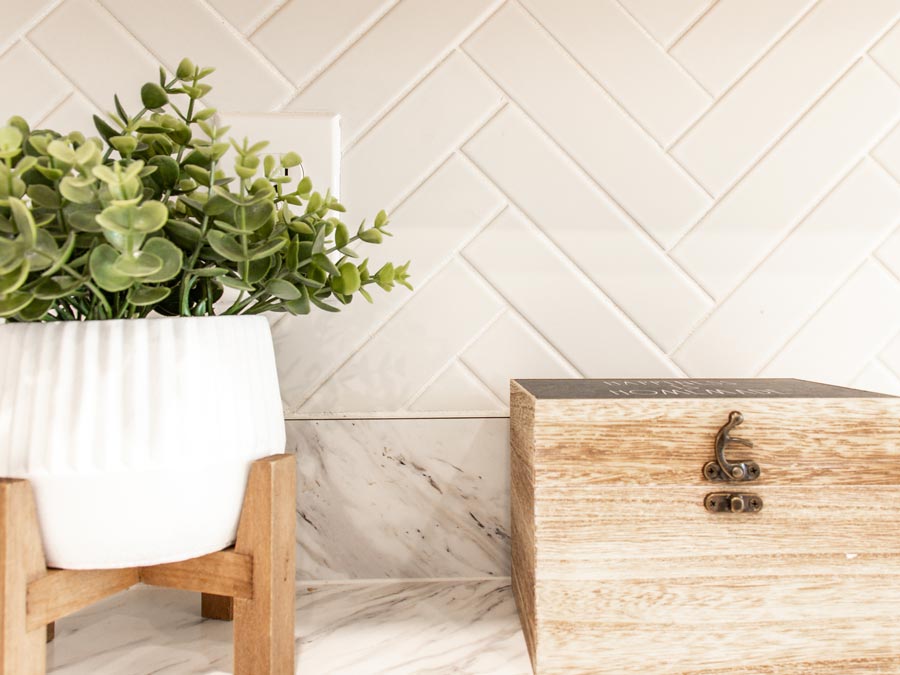 The professional designers at the Highland Homes design center will help you choose the best kitchen tile backsplash to go with your choice of cabinets and countertops. For instance, a backsplash with a distinctive pattern adds visual interest to the kitchen when paired with neutral, solid-colored countertops. On the other hand, more subtle backsplashes show off the eye-catching patterns found in granite and quartz countertops. With options from simple to dramatic, classic to modern, you're bound to find a tile backsplash that's perfect for your dream kitchen.
Tile Backsplash Cost
The cost to add a tile backsplash in your new kitchen ranges from about $500 to $2,000, depending on the size of your kitchen and the tile you choose.
Bathroom Wall Tile
We've all walked into a house and seen it – a cheap, plain, uninspired plastic shower insert. You'll often see this in apartments, older homes, or even as a standard feature in some new construction homes from other builders in Florida.
Not with Highland Homes. Every new home in Florida we build includes ceramic wall tile for the shower and bathtub surrounds. Bathroom wall tile is a huge improvement over the plastic inserts – not only for style but for resale value and longevity. Ceramic tiles are durable, moisture resistant, and easy to clean.
Wall Tile Options
Most of our Florida new home communities include 6-in. square white ceramic tile as standard for showers and bathtub surrounds. At select communities such as Juliana Village and Treymont, Level 1 decorative wall tile comes standard with the choice of nine different ceramic wall tiles finished with a decorative accent band.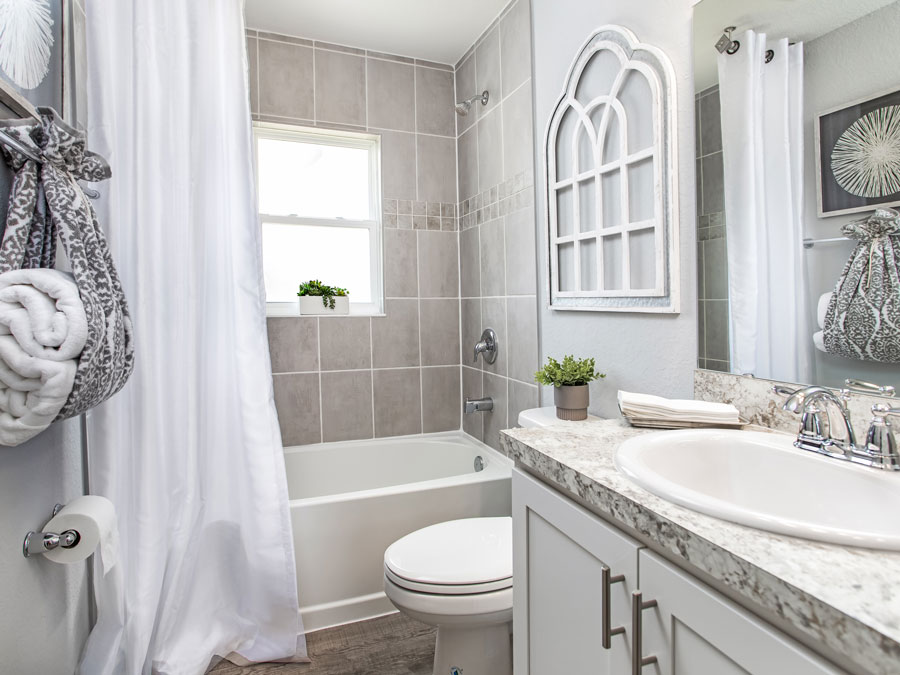 This same Level 1 tile is available as an upgrade at communities that include the white tile as standard, with Mohawk's Sinova Cement Gray, Golden Sand, and White Canvas ranking as our most popular wall tile options among Florida new home owners.
Level 2 and Level 3 bathroom wall tile upgrades are also available in all communities. Level 2 and 3 wall tiles are 12-in. square and include a metal or glass mosaic accent band.
Bathroom Wall Tile Costs
If you're sticking with the included wall tile when building your new home in Florida, the cost is $0! If you choose to add an upgraded wall tile, the cost is $330 to $835 per bathroom, with the price depending on whether your bathroom has a tub/shower combination or a separate tub and shower. And, when you build with Highland Homes, we give you the flexibility to customize each room in your home individually which means you can opt for different wall tiles in each bathroom to match other bathroom design choices as well as your budget.
Choosing Wall Tile for Your New Home in Florida
When you build your new home in Florida with Highland Homes, kitchen backsplashes and bathroom wall tile are among the many choices available to personalize your new home. At the Highland Homes design center, our professional designers will guide you through selecting the colors, features, and finishes for every room in your new home, and help you select options that coordinate with each other, fit your lifestyle, and suit your budget.
Ready to start planning your dream home design? Visit our online Inspiration Gallery to check out photos, videos, and layouts of our new homes in Florida, then call or email our New Home Specialists to make your new home dreams come true!
---
Tags:
inspiration gallery
bathroom design
design features
interior design
kitchen design
Personal Selection Studio
personalize your dream home
---