blog
Home Design Showcase: Kitchen Backsplashes and Bathroom Wall Tile
Home Design Showcase: Kitchen Backsplashes and Bathroom Wall Tile
Posted:
May 17, 2019 |
Categories:
News
|
Design and Decorating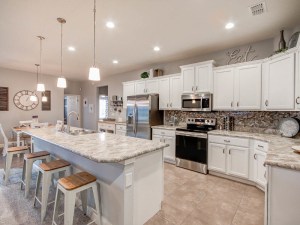 When it comes to customizing your new home in Florida, the kitchen and the bathrooms are often the most personalized rooms with an array of options available from floor to ceiling and everything in between.
In this Home Design Showcase, we are going to talk about wall tile. Incorporating a tile backsplash in the kitchen or upgrading the wall tile in your bathrooms are two affordable ways you can add pizazz to your home and make it uniquely yours. Not only do they look great, but ceramic wall tiles and backsplash materials are easy to clean, durable, and resist moisture and stains, which makes them great additions providing both function and style.
When you build your dream home in Florida with Highland Homes, kitchen backsplashes and bathroom wall tile are among the many choices available to personalize your new home. The professional designers at the Highland Homes Personal Selection Studio will guide you through selecting the colors, features, and finishes for every room in your new home, and help you select options that coordinate with each other to fit your lifestyle and your budget.
Kitchen Backsplashes
Many Florida home buyers are choosing an on-trend 3? x 6? white subway tile backsplash to finish off the walls in their gourmet kitchen. This style of backsplash perfectly pairs with today's popular white or grey painted cabinets and provides a simple, classic, and chic finishing touch to your kitchen. Other top-selling backsplash options at our design studio include embossed metal tiles, glass mosaic tiles, and 3? x 3? ceramic tiles in a variety of colors and patterns.
The professional designers at the Selection Studio will help you choose the best kitchen backsplash to go with your choice of cabinets and countertops. For instance, a backsplash with a distinctive pattern adds visual interest to the kitchen when paired with neutral, solid-colored countertops. On the other hand, more subtle backsplashes show off the eye-catching patterns found in granite and Wilsonart® HD laminate countertops. With options from simple to colorful, classic to bold, you're bound to find a style that's perfect for your dream kitchen.
The cost to add a kitchen backsplash ranges from about $400 to $1,000, depending on the size of your kitchen as well as the layout and tile materials you choose.
Bathroom Wall Tile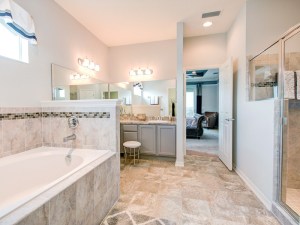 Most of our Florida new homes include white or bisque 6? x 6? square ceramic tile as standard for showers and bath tub surrounds. Already, this tile is an improvement over the plastic shower inserts you'll often find in older homes or even included by some other home builders in Florida.
The remaining communities such as Devinshire Estates, Highlands Grace, Juliana Village, and Lakeside Preserve include upscale design features throughout, and in the bathrooms this means you receive Level 1 tile with an accent band. New homeowners in these communities can choose from nine different ceramic tiles that come with a two row accent band of either a 2? x 2? or 3? x 3? accent tiles.
This same Level 1 tile is available as an upgrade for communities which include white or bisque as standard. Additional luxurious wall tile upgrades available in all communities include your choice of ten different accent bands made of metal, glass, and ceramic materials. And, our newest wall tile upgrade option, the brand-new Sinova series by Mohawk, has the look of trendy slate and comes in white, gray, and sand.
The cost of upgraded wall tile is $425 to $850 per bathroom, with the price depending on whether your bathroom has a tub/shower combination or a separate tub and shower. And, when you build with Highland Homes, we give you the flexibility to customize each bathroom in your home which means you can opt for different wall tiles in each bathroom to match your selection of fixtures, cabinets and flooring.
Ready to start planning your dream home in Florida? Check out photos, videos, and layouts of our Florida homes, then contact our New Home Specialists at 863-797-4999 to make your new home dreams come true!
---
Tags:
home in Florida
personal
design
new construction
Highland Homes
new home in Florida
selection studio
personal selection studio
Florida
new home
FL
backsplash
home design
interior design
new construction home in Florida
subway tile
wall tile
---