blog
Home Design Showcase: Kitchen Cabinets to Style Your Home
Home Design Showcase: Kitchen Cabinets to Style Your Home
Posted:
May 26, 2021 |
Categories:
Design and Decorating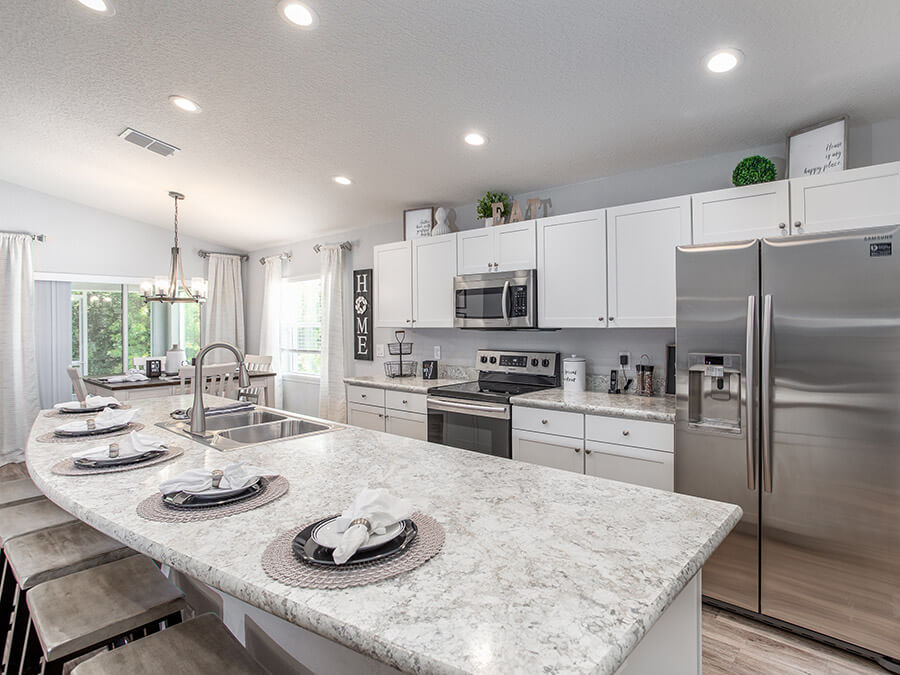 You should never settle when it comes to selecting the perfect cabinets for your new construction home in Florida.
Here's why: Cabinets play a huge role in your home. In fact, these built-in furnishings go way beyond just storage - they lay the unique foundation for the overall look of a kitchen or bathroom.
In the kitchen, a.k.a. the heart of your home, one of the very first and most important design selections is your kitchen cabinets.
In this article, you will learn the ins and outs of how to choose the best cabinets for your Florida home, cabinet options available at the Highland Homes Design Studio, and some pro tips from the design experts themselves.
But first, let's dive into functionality.
Consider the Function of Your Cabinets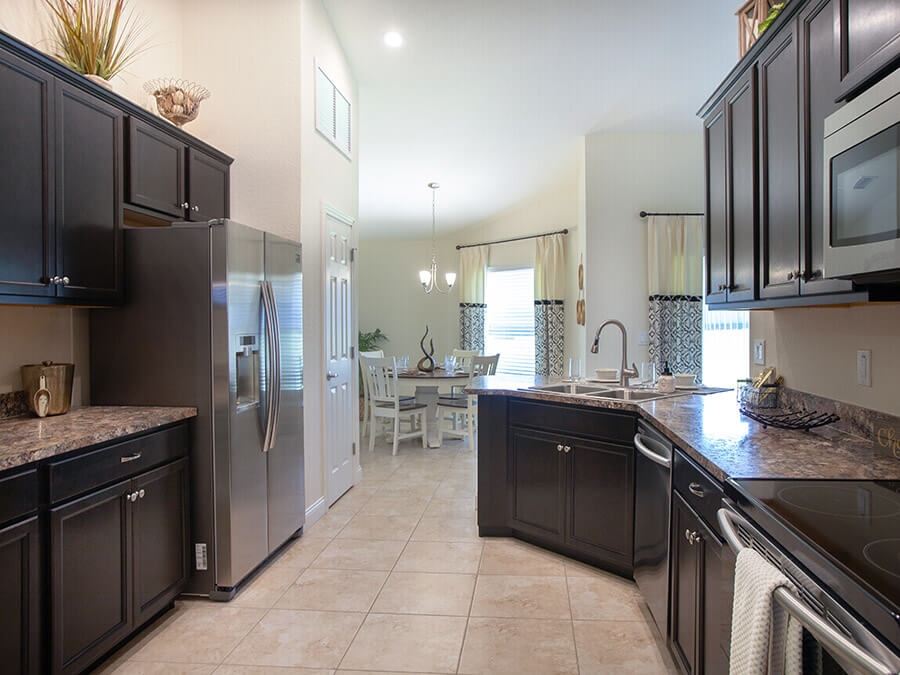 The functionality of your cabinets is key. Whether you need to organize pots and pans, store large appliances, or require shelf space for your glassware collection, your cabinets must be fully capable of fulfilling all of their kitchen duties.
Start by asking yourself, "What is this cabinet going to be used for, and can it successfully serve its purpose?"
One of the most popular kitchen cabinet options selected at the Highland Homes design studio is 36-inch upper cabinets because they provide extra storage space with shelves that can be adjusted to fit your specific needs, as well as an additional element of design by utilizing more space towards your ceiling, which actually makes the room look bigger.
Looking for even more cabinet space? 42-inch upper kitchen cabinets are also available, as are storage solutions such as:
Three-drawer stack in lieu of a base cabinet - provides better organization and a modern look
Roll out trays inside a base cabinet - these pull-out shelves mean no digging around inside the cabinet and are great for pots and pans.
Staggered cabinets - adding a "bump-out" over your microwave means an extra-deep cabinet that is easier to reach into
Next, let's tackle cabinet design.
Defining Cabinet Terminology: The Basics
Before we head down the path of selecting the style of your kitchen cabinets, let's define some of the basic cabinetry lingo you are going to see when learning about our cabinet selections from Aristokraft® Cabinetry.
The Frame
When it comes to the face frame of the cabinet door, a full overlay cabinet is designed for the doors to fully cover the face of the frame, whereas a partial overlay partially covers the frame.
The Door Style
There are a wide array of different cabinet door styles out there, and we offer today's most popular looks:
Recessed panel cabinet doors - the center is recessed from the outer edge
Shaker-style cabinet doors - a recessed panel door with clean, square lines and no additional detailing
Slab drawer fronts - a single flat-panel design for a simple, streamlined look
5-piece drawer fronts - a four-piece frame around a center panel
The Hinges
When talking about hinges, you will see the following terms:
Hidden hinges - mounted on the inside of the door, these provide a more modern, polished look compared to old-school surface-mount hinges
6-way adjustable hinges - offer multi-direction adjustment so your doors sit perfectly on the face frame of the cabinet
Soft-close hinges - ensure your cabinets close quietly and smoothly every time, without banging shut
Now that we've got the rudimentary language under our belt, let's talk aesthetics and how to select the ideal cabinets for your dream kitchen.
Selecting Cabinets for Your Dream Kitchen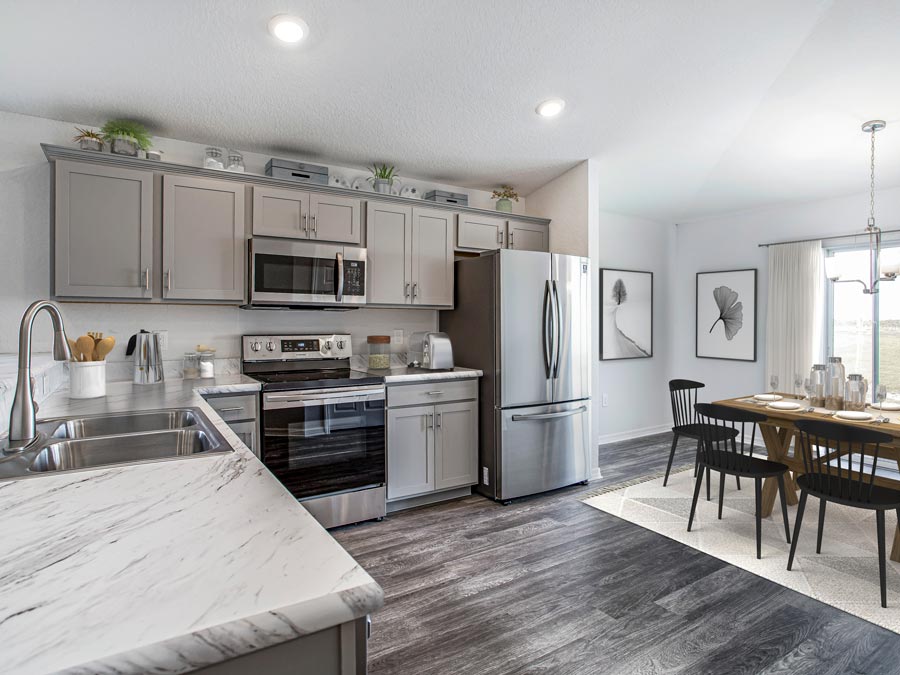 Aesthetics are everything – especially in the kitchen where your friends and family will spend most of their time. Cabinets can really transform a space and complete the look!
Luckily, the beautiful cabinets we offer from Aristokraft® Cabinetry are available in a wide variety of styles and colors to provide the perfect cabinet for your unique taste. All of these cabinets include hidden hinges for a polished finish, adjustable shelves for storage versatility, and your choice of hardware to complete the look.
Colored Cabinets Create a Polished, On-Trend Look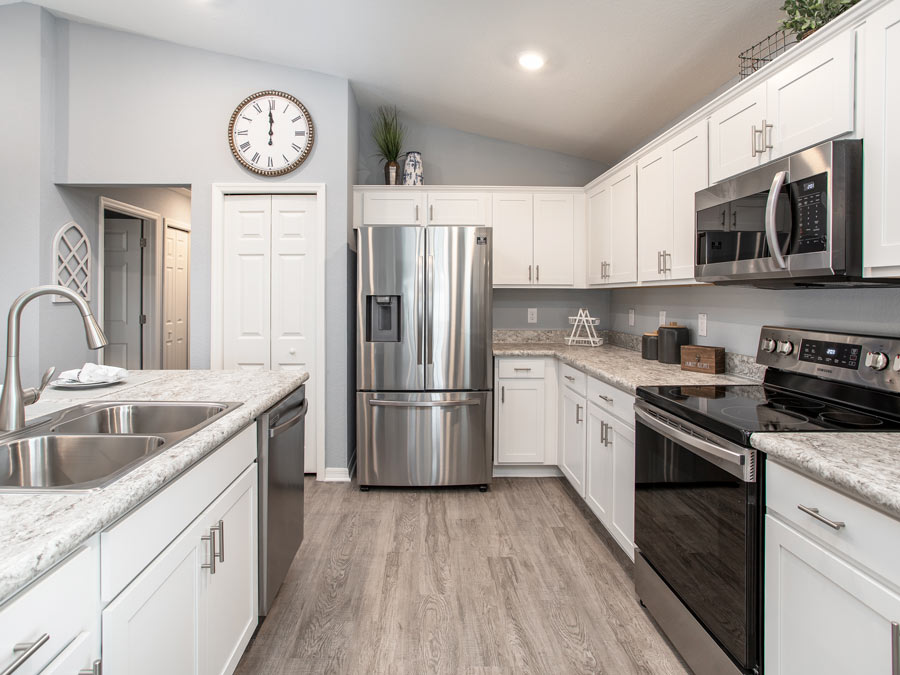 Timeless white cabinets are one of today's hottest kitchen design trends and one of the most popular options selected by homeowners at the Highland Homes design studio, offering a clean, refined look to your Florida home.
One of the included cabinet choices you can choose for your new Highland home in Florida is the Ellis PureStyle™ line from Aristokraft. This popular cabinet offers a versatile modern or classic look with shaker-style doors, slab drawer fronts, and a partial overlay style. These cabinets come in white or stone gray and best of all, since these cabinets are included, you can select them for your dream kitchen at no additional cost.
If you are looking to take your kitchen to the next level, Brellin PureStyle™ and Lillian PureStyle™ cabinets are upgraded colored cabinet options you can choose for your new Highland home, and well worth the investment. Available in white, stone gray, and navy blue, each offers unique benefits and style.
Brellin PureStyle™ cabinets provide the same shaker-style as our included Ellis PureStyle™ line with two highly desirable added benefits - they are a full overlay design and include soft-close hinges.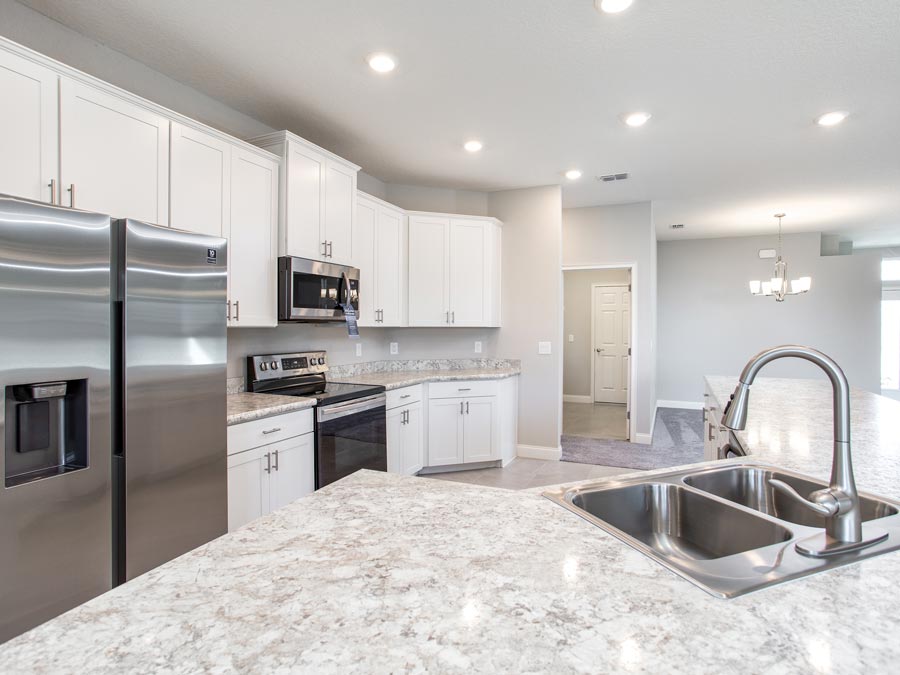 And, the Lillian PureStyle™ cabinets offer the ultimate in style for those who like classic clean lines with a hint of tradition. A recessed-style door with a beaded inset provides a luxurious look at a budget-friendly price, with 5-piece drawer fronts completing your wow-worthy kitchen. These cabinets are a partial overlay design and soft-close hinges ensure whisper-quiet use.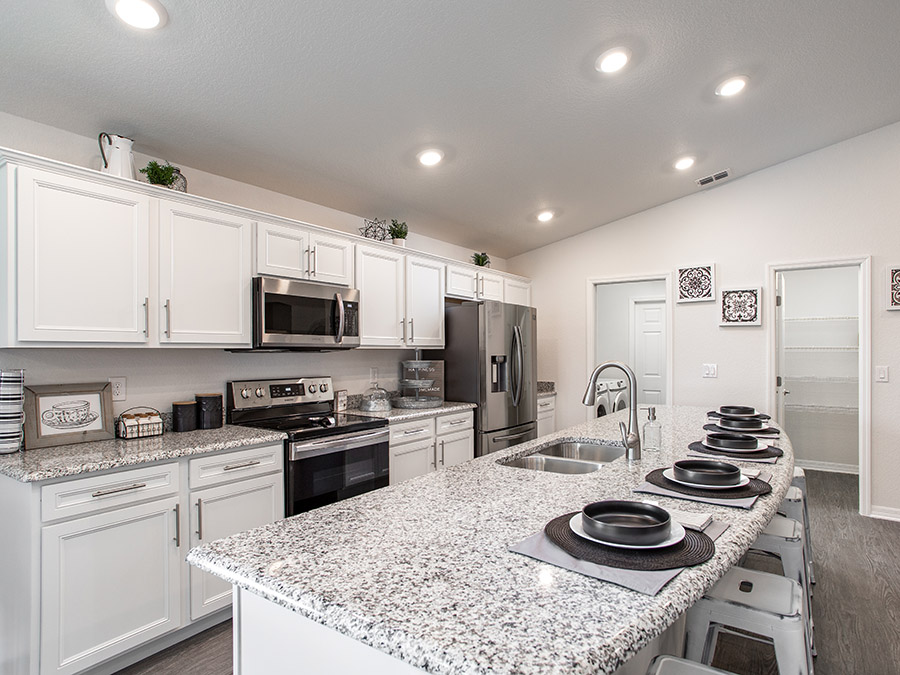 All of the PureStyle™ cabinets are finished in a durable laminate that is easy to clean and provides a picture-perfect satin-smooth surface that is resistant to scratching, warping, and discoloration, ensuring your cabinets will shine for years to come.
These classic yet modern furnishings offer a versatile design that pairs with a variety of kitchen countertops, backsplashes, and flooring.
Pro tip: Light cabinet colors will brighten up your kitchen and make it look even more spacious.
A Pop of Color - On-Trend Blue Cabinets Are Now Available
If you've been tuned into HGTV lately, you'll know that blue is the in-color for kitchen cabinets this year – and the Personal Selection Studio now offers a striking shade of navy blue cabinets in the Brellin and Lillian PureStyle™ lines so you can keep your kitchen on-trend, and make your friends blue with envy!
Classic Wood Cabinets Provide Traditional and Rustic Styling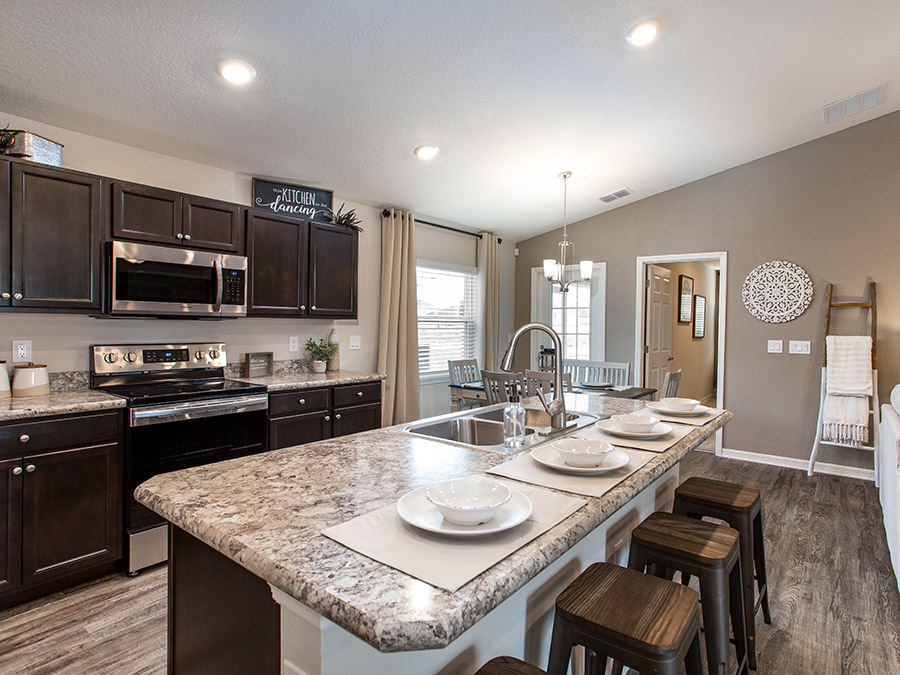 Do you prefer the timeless look of classic wood? Whether your dream kitchen style is traditional or rustic, you'll love to hear the Highland Homes Design Studio also offers a selection of wood cabinets in beautiful, rich stains.
Within our included cabinet lineup, the Aristokraft Sinclair birch wood cabinets provide a partial overlay design with classic recessed doors and slab drawer fronts, and are available in three popular wood stains:
Saddle, a warm light brown
Café, a cherry-toned medium brown
Sarsaparilla, a rich espresso brown
If you're looking for a different tone of wood or style of door, our upgraded wood cabinets come in a diverse palette, include soft-close hinges, and offer timeless door styles.
The Benton birch wood cabinets are designed with a shaker-style door, slab drawer front, and partial overlay design. And, the Winstead maple wood cabinets provide a shaker-style door paired with a 5-piece drawer front and a full overlay design.
Both lines are selectable in four colors:
Umber, a milk chocolate brown
Flagstone, a rich gray-brown
Burlap, a lighter brown with gray undertones
Sarsaparilla, a rich espresso brown
The Final Touches
You know what they say - the accessories make the outfit! Hardware and other accessories really complete the look of your cabinets and kitchen overall. Let's talk about available accessory options for the kitchen cabinets in your new Highland home.
Hardware
Cabinet hardware, aka handles and knobs, adds ease of function as well as style to your kitchen cabinets - So, you'll be pleased to know cabinet hardware is included with Highland Homes.
When it comes to hardware, it all boils down to your personal preference. From straight bars to curved handles to minimalistic knobs, an array of included and upgraded cabinet hardware choices are available in satin chrome, dramatic dark bronze, and brass finishes.
Pro tip: When picking hardware, remember to choose a color and style that complements the other fixtures in the room. Is your kitchen faucet brushed silver or an oil-rubbed bronze? What about light fixtures - are they a simple, modern brushed nickel or a rustic wood and dark bronze? Details like these add up to creating a cohesive home aesthetic.
Moulding and Lighting
In addition to hardware, other finishing touches available for your kitchen cabinets include:
Crown moulding, one of the most popular cabinet design options selected by our new homeowners in Florida
Over-cabinet lighting, accent lighting that adds visual appeal
Under-cabinet lighting with a light valance, providing task lighting for your counter space
How to Clean and Maintain Your Cabinets
When it comes to kitchen cleaning checklists, cabinets are not usually on the top of the list, which is why you will benefit from cabinets that are designed for easy clean-up.
That's why all of the cabinet styles we offer are designed with easy maintenance in mind, allowing you to clean your cabinets in a fraction of the time so you can sit back and relax in your dream home.
Since all of our cabinets are made out of real wood or low-maintenance laminate, all you have to do is use a damp cloth to wipe away any drips, spills, or spots inside the cabinets or on the doors. For extra grime-fighting power, use suds from dishwashing detergent to bust up that soil or grease and wipe clean with a damp cloth.
Because Aristokraft uses a quality varnish on the finish, waxing is not necessary but, you can use a wood polish to brighten up the surface and rejuvenate that brand-new cabinet glow.
Pro tip: Avoid cleaners with bleach, ammonia, or abrasives, and always use a clean cloth versus a dishcloth which may contain remnants of grease or detergent.
Choose the Perfect Cabinets for Your New Florida Home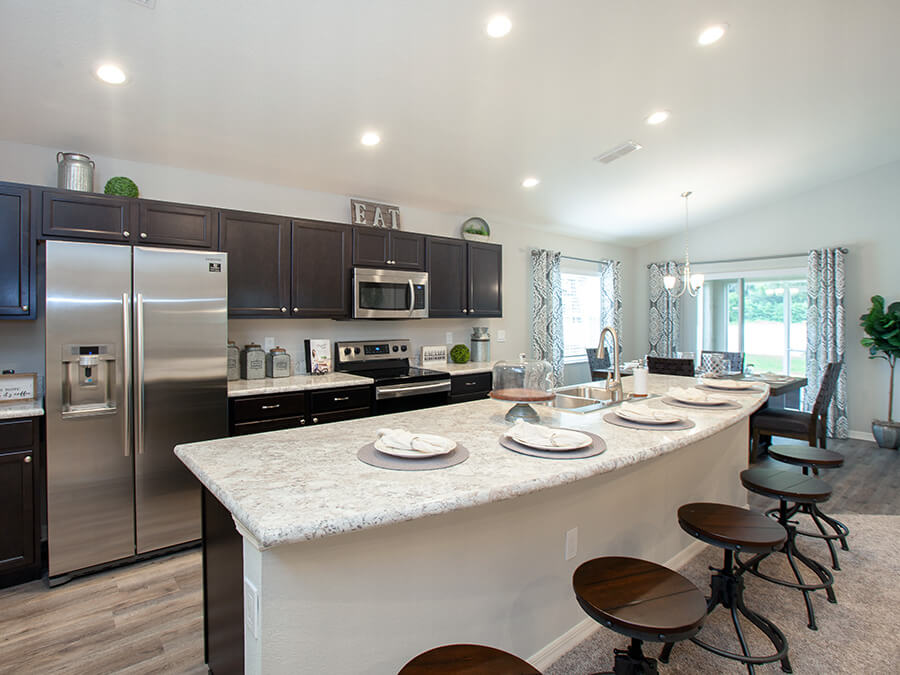 Not sure where to start with your cabinet selection? First, get design inspiration by browsing Kitchens in our online Inspiration Gallery and saving your cabinet favorites. From there, the professional designers at the Highland Homes Personal Selection Studio will walk you through all of your options and help you design the kitchen of your dreams!
To start building your personalized new home in Florida with Highland Homes, call or email our Florida New Home Specialists today!
---
Tags:
Design features
Design trends
Interior design
Kitchen design
Personal Selection Studio
Personalize your dream home
---