blog
What is the Right Kind of Lighting for Your Home?
What is the Right Kind of Lighting for Your Home?
Posted:
September 24, 2020 |
Categories:
General Info
|
Design and Decorating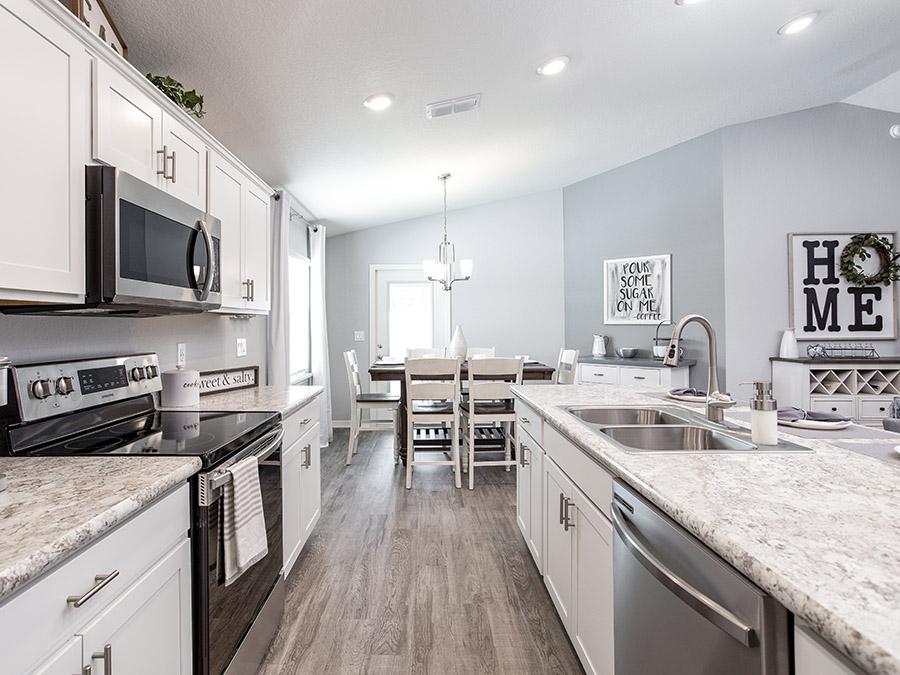 Lighting is so important in a room, both to provide illumination and bring design into your home. A common mistake is thinking one type of light is enough when putting a room together. Stacey Antonakos-Perez, Highland Homes' Design Center Manager and lead model decorator, recommends three different sources of lighting in most rooms, providing layered light - For example, in your bedroom, you might have a floor lamp, a table lamp, and ceiling lights.
We talked to Stacey to learn more about how to pick the right lighting for your new home in Florida.
Types of Lighting
The first thing to know is there are three main types of indoor lighting:
Ambient – Also known as general lighting, this is your main light source in a room. Think recessed lighting, a ceiling fan with lights, chandelier, or other ceiling-mounted fixtures.
Accent – Accent lighting is directed at a focal point in your room and provides subtle mood lighting – it should make people notice the object you are lighting up, rather than the light itself. This may be in the form of under or over cabinet lights, a picture light, or decorative sconces. Often, this light may be on a dimmer switch.
Task – The name says it all. Task lighting should light up the areas where you do tasks such as a desk, kitchen prep space, or reading area. Most likely, this will be a table lamp, kitchen pendant lights, or under-cabinet lights.
Now, let's talk through how to pick the right lighting for each room in your new home.
Kitchen Lighting
The kitchen is the heart of the home and an important room to brighten and add adequate task lighting. For starters, every Highland home includes LED recessed ceiling lights that provide ideal bright and evenly distributed ambient (general) lighting, great for preparing food and eating.
You'll want a light over the stove, and the Samsung microwave we include provides that for you. Your counter prep space benefits from the addition of under-cabinet lights, and adding pendant lights over the bar or island decorates this focal point of the kitchen as well as adding valuable task lighting.
Stacey says, "I love the added touch of pendant lights to enhance the look and lighting over your bartop area."
Dining Areas
The casual and formal dining spaces in your Florida home are by far the easiest and most fun rooms to light up! Your main light should come from a chandelier, and there are a wide array of styles and options to choose from. Considerations to choose the perfect chandelier include the size of your dining table and other finishes in the room, so your fixture works as the perfect complement to your décor. If there are additional dark corners, add a floor lamp or sconces to accent.
Living Area
Ceiling lights are important to provide general lighting in the main living area of your home. Our Florida new homes include a dual-switch pre-wire in your gathering room, so you may add a ceiling fan with a light and have each on its own switch. Recessed ceiling lights are also a winning choice and you can add a dimmer switch so they provide the right amount of light whether you're having a jewelry party with the girls, watching a movie, or just want to set the mood.
Add floor or table lamps in corners of the room to prevent shadowy areas. Place table lamps on end tables or a console table that may need an additional task or accent lighting. If you are building a new home with an open layout, Stacey suggests adding a floor outlet if you want table lamps in the middle of the room, so these can be plugged in without running cords over to the wall.
Finally, if you have a large bookcase or entertainment unit, art pieces, or décor you want people to notice in your gathering space, add accent lighting to draw eyes and focus to your wow-worthy focal point.
Bedroom Lighting
Ideally, bedrooms should have an overhead light source as well as table lamps for task lighting. Our Florida homes include a dual-switch pre-wire here, as well, and you may choose to add a fan with a light kit or perhaps a flush or semi-flush ceiling fixture. In addition, our bedrooms include a switched outlet meaning you can turn a table or accent light on from the light switch when you enter the room.
For secondary or smaller bedrooms, Stacey adds, "I use lamps with white or light-colored shades and LED bulbs to add bright lighting which visually enlarges the room."
Home Office
Similar to bedrooms, you'll want to start out with an overhead light source. Then, add a desk lamp for your workspace, and table or floor lamps in dark corners and seating areas.
If you will be video conferencing from home and want to be the MVP on the call, lighting is very important. First, you do not want a bright light source behind you. Instead, place a light source in front of you and ideally, so the light focuses just above your head, not in your eyes. Then, adjust this light so you look bright and fresh-eyed without looking washed out – this may mean using bulbs with fewer watts or a dimmer switch, repositioning the lamp slightly further away, or dimming your computer screen down to avoid the over-lit, Casper-the-ghost look.
Bathrooms
When you are getting ready for the day or an evening out, having lighting around your mirror is very important. Our bathrooms come with a three or four-light decorative vanity fixture over each sink providing adequate lighting for this oh-so-important task. On extended vanities, the shades will be installed facing downwards to illuminate the entire counter space without creating shadows.
Recessed lighting is also common in bathrooms, particularly above the tub, and may come included or be added in any of our Florida new homes.
Foyer Lighting
Start with an overhead source, and if you have an extra-large foyer, consider adding a table or floor lamp. Our new homes includes either a ceiling mount or decorative hanging fixture in the foyer, and the Highland Homes Personal Selection Studio offers a variety of decorative fixtures you may choose from as well.
Outdoor Lighting
Outdoor lighting is important not for just aesthetics but also for security. Use low-level landscape lighting to highlight features in your yard, such as a pool, koi pond, or firepit area, and bright lights at entry points.
On your front porch, wall-mounted or hanging fixtures are ideal to light up space near your front door. Garage coach lights light up the garage entrance while creating a focal point and adding to the curb appeal of your home, especially when you choose a decorative black, bronze, or brushed nickel fixture to compliment your paint colors and personal style.
Adding floodlights near entry points, especially motion-activated ones, can help keep your home secure – and, when you choose floodlights with LED bulbs like the ones Highland Homes offers, you won't have to worry about replacing bulbs in these sometimes hard to reach fixtures thanks to the long life (and low energy use) of LED bulbs.
Stacey suggests, "It's a great idea to add an outdoor ceiling fan to your lanai. Our outdoor fans include a light kit so this will give you adequate lighting as well as keep you cool on hot Florida days."
About Highland Homes
Highland Homes builds personalized new homes in Florida from the high $100's to $300's. At the Highland Homes Personal Selection Studio, choose from a wide array of lighting options from Seagull Lighting, as well as hundreds of other options for every room in your new home. Then, we'll build your home, personalized to your style with the features and finishes you selected. To learn more about Highland Homes' design center options and building your new home with Highland Homes, call or email us and connect with a New Home Specialist today!
---
Tags:
Home Décor
Home Office
Bathroom Design
Design Features
Decorating Tips
Home Decor
Interior Design
Kitchen Design
Personal Selection Studio
Personalize Your Dream Home
Outdoor Living
Home Organization
Homeowner Tips
---