Posted:
June, 12, 2014 |
Categories:
News
|
The Experience of Building My Highland Home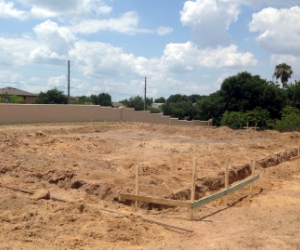 Hi there! Thanks for coming back to read the next installment of my homebuilding experience.
To bring you up to speed, the builder received the building permits for my home about a week ago. Then he was able to 'scrape' my lot. Scraping the lot is basically clearing the lot of vegetation, and the start of the building steps! 
Once the lot is scraped, the lot is surveyed to determine where the home will be placed. You'll see a lot of wooden stakes with strings that show the builders where the house goes. The next step is to dig out the footer which is the base of the foundation to the home. Highland does two different foundation types, Stem Wall and Monolithic, and the foundation type will depend on what works best on your specific lot–most flat lots will utilize the Monolithic foundations and lots with some elevation changes will use Stem Wall.
When your home starts building, you will receive a call from your personal builder with Highland Homes, who will stay in contact with you frequently until the home is completed. He is there for you 100%, so don't hesitate to ask construction related questions to him at any time — in my experience, the builders at Highland Homes are always very friendly, welcoming, knowledgeable, and available to answer questions.
I think this phase is the most stressful part of the building process. Why? The first few weeks of building are foundation work. There are a lot of inspections and things that are going on behind the scenes and since we don't physically see what's going on, it just feels like the waiting game. This is my second new home, and I still stress over not seeing anything physically changing on my lot, even though I know a lot of work is going on behind the scenes. These are normal feelings!!
I am fortunate enough to work right by my home site so I visit it daily.  My suggestion, to keep the stress levels down, is to visit once to twice a week. Visiting daily (like me) is a little too much!
There are a few more steps in the foundation process and we will soon see some above ground work! Check back in a few weeks for my next post!      
Ken is a resident of Central Florida and is building his second Highland Home. He enjoys spending time with his dogs, family and friends, travelling, and enjoy Central Florida attractions and amusement parks.
Subscribe to Highland Homes News and Updates to make sure you do not miss Ken's next blog.
And, follow Highland Homes on Facebook and Twitter to receive notification of Ken's blogs, and other important Highland Homes news and information, right in your news feed!
Highland Homes is a top builder of new homes in Central Florida, Tampa Bay, Manatee County, and Ocala, Florida. More information about Highland Homes' communities, floor plans and videos, and feedback from Highland Homes' customers can be found on their website at www.HighlandHomes.ORG. 
---
Tags:
Florida home
Building My Dream Home
dream home
Florida homes
Florida
FL
Central Florida homes
central florida
---