blog
Congratulations to Highland Homes' Top-Selling Realtor® Partner of 2015
Congratulations to Highland Homes' Top-Selling Realtor® Partner of 2015
Posted:
January 27, 2016 |
Categories:
News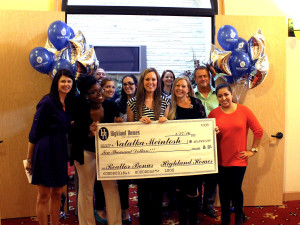 We are pleased to announce our top-selling Realtor® partner of 2015! Congratulations to Natalka McIntosh of Premier Home Connection, a brokerage company specializing in new and existing homes in the Central Florida area.
Highland Homes values our Realtor® partners and rewards generously with commissions and bonuses for selling with Highland Homes. As part of our incentive program, we offered a $10,000 grand prize bonus to the real estate professional with the highest net volume of sales with Highland Homes in 2015.
Overall, we had a total of 211 net Realtor® sales during the year. Natalka brought Highland Homes eight home buyers during 2015 to win the prize as our top-selling Realtor® partner; the runner up had five sales with Highland Homes. Overall, a total of 20 Realtors® made more than one sale with Highland Homes during the year.
This is a repeat award for Natalka, who was also our top-selling Realtor® partner in 2014. Thank you, Natalka, for your continued involvement with Highland Homes, and congratulations on winning the $10,000 grand prize. It is our pleasure to help your Florida home buyers become home owners!
Due to the positive feedback and participation level last year, we are excited to announce for 2016, we are bringing back our "The Greater Your Sales, The Greater Your Rewards쳌 Realtor® incentive program and $10,000 top-selling grand prize reward for Realtor® initiated sales with Highland Homes.
If you are a Florida real estate professional and would like to learn more about the benefits of selling Florida new homes with Highland Homes, please visit our website at www.HighlandHomes.ORG/realtors.
---
Tags:
Florida home
real estate
Florida real estate
Highland Homes
Florida homes
Florida
FL
Central Florida homes
central florida
---