blog
Congratulations to Our Top Selling Realtor Partner of 2017
Congratulations to Our Top Selling Realtor Partner of 2017
Posted:
January, 16, 2018 |
Categories:
News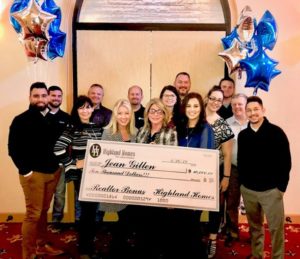 We are excited to announce our top selling Realtor® partner of 2017! Congratulations to Jean Gillen of Gillen and Associates, a real estate investment company in Central Florida. Jean was also our top selling Realtor® partner in 2016 and takes home back-to-back accolades for her sales with Highland Homes.
In 2017, we had 351 net sales contributed by 288 different Florida Realtor® partners. 27 Florida Realtors® made multiple sales and received bonuses as part of our "The Greater Your Sales, The Greater Your Rewards쳌 Realtor Incentive program. Jean brought Highland Homes an amazing 16 net home sales during 2017 and as our thank you, on January 16, she was awarded a $10,000 grand prize in recognition as our 2017 Top Selling Realtor® Partner!
Jean has been in the real estate business since 1979 and over the years, acquired in-depth knowledge and skills to build a great vehicle for investors who want the best return for their money. Thank you, Jean, for your continued commitment to selling with Highland Homes, and congratulations on once again being honored as our top selling Realtor® partner.
A huge thank you to each and every Florida Realtor® who sold with us in 2017 — We value the relationships we have built with you and your home buyers! To continue rewarding you for selling with Highland Homes, we are once again renewing our The Greater Your Sales, The Greater Your Rewards incentive program in 2018. Every sale earns you a solid 3-percent commission, with bonuses earned on your second and additional sales made during the calendar year. In addition, the Florida Realtor® with the most sales in 2018 will win a Grand Prize of $10,000!
At Highland Homes, we have established a solid reputation providing value for Florida Realtors® and your homebuyers. We deliver the best in new home quality, value and choice with more than 20 communities throughout Central, North Central, Southwest and Tampa Bay, Florida, greater than 30 home plans, and hundreds of home personalization options. With homes priced from the mid $100's to $300's, we have the right home for most buyers' needs and budget, and offer a variety of finance options and low down payment financing for qualified buyers.
If you are a Florida real estate professional, and would like to learn more about the benefits of selling with Highland Homes, please visit www.highlandhomes.org/realtors. We look forward to selling with you soon!
---
Tags:
sell
Florida Realtor
Gillen and Associates
Top Selling Realtor
Highland Homes
Florida
FL
central florida
---