blog
Highland Homes Honored as One of Fastest Growing Companies in Tampa Bay
Highland Homes Honored as One of Fastest Growing Companies in Tampa Bay
Posted:
July 22, 2016 |
Categories:
News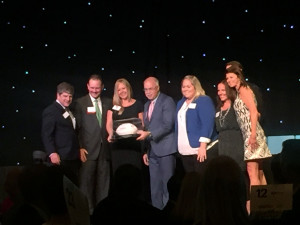 Highland Homes was honored to be recognized as one of the 50 fastest-growing privately-owned companies based in Tampa Bay at the Tampa Bay Business Journal's Fast 50 Awards luncheon on July 21, 2016.
During the event, we were delighted to receive not just one, but two recognition's:
No. 9 Fastest Growing Company in Tampa Bay based on Dollar Revenue Growth, with $41.1 million in revenue growth from 2013 to 2015

No. 29 Fastest Growing Company in Tampa Bay based on Percentage of Revenue Growth, with 80.46 percent growth from 2013 to 2015
Through our 20 wonderful years building new homes in Tampa Bay and throughout Central Florida, we have worked hard to provide quality new homes, a superior customer experience, and succeed through economic downturns. Gaining recognition at the Fast 50 Awards, for the second year in a row, is a great honor!
"We're humbled by our success throughout the years,쳌 says Bob Adams, President and Owner of Highland Homes. "And despite tough economic conditions, the effort from every one of our team members has resulted in our ongoing success.쳌
The list's rankings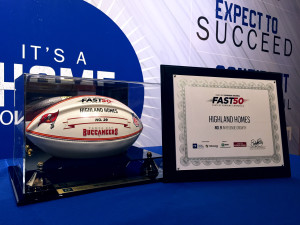 are based on revenue growth from 2013 to 2015, and financial information was verified by accounting firm Frazier & Deeter. To be considered for the Tampa Bay Business Journal's Fast 50 Awards, a company must be based in Hernando, Hillsborough, Manatee, Pasco, Pinellas, Polk or Sarasota County, had three consecutive years of growth, and a minimum of $1 million in revenue in 2013.
We were one of just three companies based in Polk County to make the list and we're honored to be recognized by this business news publication for our personal growth, as well as our contribution to the economic growth here in Polk County.
Owner and President Bob Adams has been building homes in Tampa Bay for more than 45 years, and was a founding partner of Sun State Homes prior to founding Highland Homes in 1996. Long standing relationships with local suppliers and construction subcontractors have contributed to his success and boosted the local economy.
Our experience shows through our hard work and achievements such as this one. Continuing to make the dream of homeownership a reality for Florida home buyers, consistently providing excellent customer service to our new homeowners, and maintaining quality and value in our homes helps us stand out in the crowd. We expect 2016 to continue to be a year of growth, and our goal is to help more than 600 new homeowners achieve the American dream of homeownership this year. At halfway through the year, we're right on track to make that happen.
Highland Homes builds quality new homes in communities throughout Central, North Central, Southwest and Tampa Bay, Florida. Homes are priced from the mid $100,000s to $300,000s with more than 40 home plans to choose from, in communities offering everything from easy maintenance townhomes to luxurious estate homes on acreage.
For more information about Highland Homes and to browse Tampa neighborhoods and home plans, visit www.HighlandHomes.ORG.
---
Tags:
Florida home
Tampa home builder
awards
Florida homebuyers
Florida
new home
tampa
Tampa Bay
FL
New Homes
award
Fast 50 Awards
Fast 50 list
new homes in Tampa
new homes in tampa bay
Tampa Bay Business Journal
---