blog
Highland Homes Honored at Tampa Bay Business Journal's Fast 50 Awards
Highland Homes Honored at Tampa Bay Business Journal's Fast 50 Awards
Posted:
August 12, 2015 |
Categories:
News
Tampa homebuilder receives recognition as one of Tampa Bay's fastest growing companies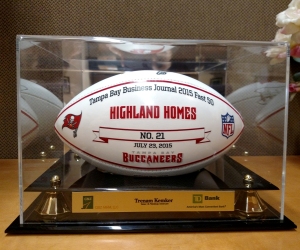 Highland Homes was recently recognized as one of the 50 fastest growing privately owned companies in Tampa Bay at the Tampa Bay Business Journal's Fast 50 Awards luncheon on July 23. The Tampa home builder received two honors including the No. 10 Fastest Growing Company in Tampa Bay based on Dollar Revenue Growth, with $31.3 million in revenue growth from 2012 to 2014, and the No. 21 Fastest Growing Company in Tampa Bay based on Percentage of Revenue Growth, with 95.74 percent growth from 2012 to 2014.
"Goals are the foundation of success,쳌 Bob Adams, President of Highland Homes, said. "We are honored to receive recognition for meeting and exceeding our goals over the past few years as we climb out of the worst economic downturn of our lifetime.쳌
The list's rankings are based on the revenue growth from 2012 to 2014, and financial information was verified by accounting firm CBIZ MHM LLC.
To be considered for the Tampa Bay Business Journal's Fast 50 Awards, a company must be based in Hernando, Hillsborough, Manatee, Pasco, Pinellas, Polk or Sarasota County and have had a minimum of $1 million in revenue in 2012.
Highland Homes was one of just two companies based in Polk County to make the list, and the only home builder to make the Fast 50 Awards list. They are honored to be recognized by this business news publication for their personal growth, as well as contributing to the economic growth in Polk County.
Owner and President Bob Adams has been building homes in Polk County for more than 40 years, and was a founding partner of Sun State Homes prior to founding Highland Homes in 1996. Long standing relationships with local suppliers and construction subcontractors have contributed to their success and boost the local economy.
"I don't think there's a substitute for experience,쳌 Adams said. "We have a good product and while we work hard to make that affordable with the pricing and finance options we offer, we work even harder to ensure the value and quality of our homes and the satisfaction of our homeowners.쳌
Adams expects 2015 to continue to be a growth year, and his goal is to help 500 new homeowners achieve their dream of homeownership this year. At just past halfway through the year, Highland Homes is right on track to make that happen.
Highland Homes builds quality new homes in communities throughout Central, North Central, Southwest and Tampa Bay, Florida. Homes are priced from the $130,000s to $300,000s with more than 30 homes plans to choose from, offering everything from easy maintenance townhomes to luxury estate homes on acreage.
For more information on Highland Homes, visit www.HighlandHomes.ORG.
---
Tags:
Highland Homes
Tampa new homes
awards
Tampa new home
new home
tampa
New Homes
award
Fast 50 Awards
---