blog
Home Buying 101: Today's Mortgage Rates and What They Mean for You
Home Buying 101: Today's Mortgage Rates and What They Mean for You
Posted:
October, 12, 2018 |
Categories:
News
|
General Info
|
Home Buying 101
Affording the Florida new home of your dreams is about more than just the price. Mortgage interest rates play a significant role in determining your mortgage payment, which directly affects not only your qualification but your pocketbook every month!
You may have heard interest rates are on the rise. While it is true rates are higher than they were a year ago, current mortgage rates are still near historic lows and owning a home remains more affordable than renting.
Today's mortgage rates average around 4.90% for a 30-year fixed mortgage according to Freddie Mac, which is well below the average rates seen from the 1970's through the early 2000's. In fact, prior to 2009, interest rates averaged anywhere from 5.1% to over 18%, with the 46-year average of rates from 1971-2017 sitting at 8.21%!
Experts don't expect to see rates rise that high again anytime soon, though interest rates are expected to increase once per quarter over the next year. According to Freddie Mac's U.S. Economic & Housing Marketing Outlook, interest rates for a 30-year fixed rate mortgage are expected to be around 5.1% as early as the first quarter of 2019, and potentially a half-percent higher by mid-2019.
A 0.5% increase doesn't seem like a lot, right? While that number may sound small, the impact on your monthly mortgage payment isn't! Let's take a closer look.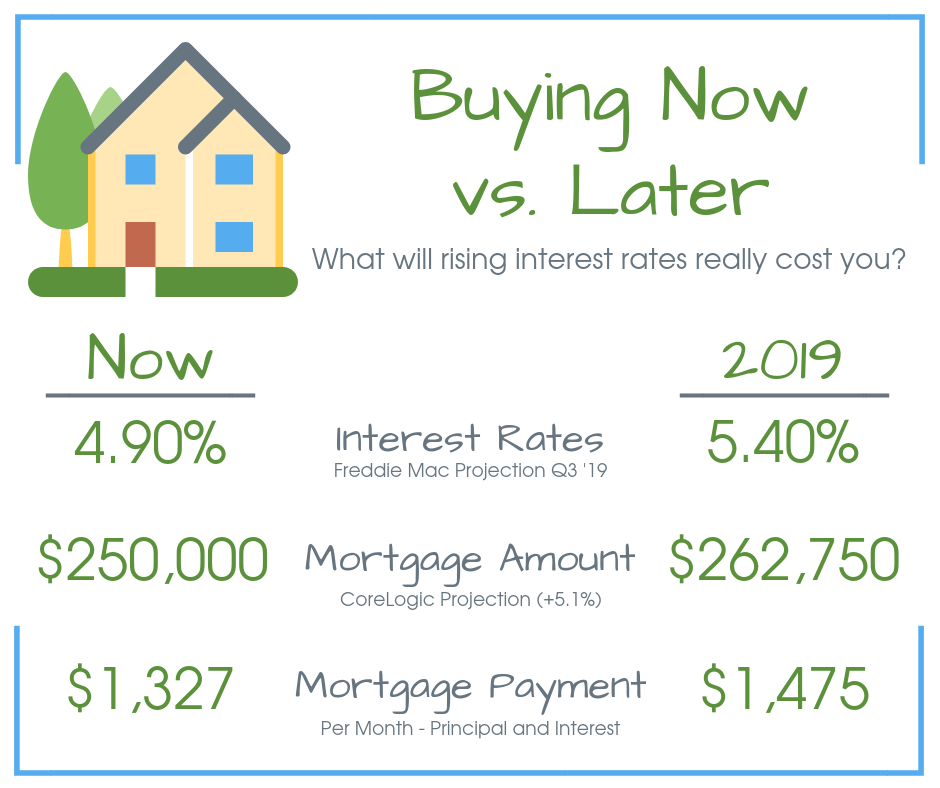 As illustrated in the graphic above, waiting to purchase your dream home in Florida could potentially cost you an additional $148 each month! This results in $1,775 in savings every year if you buy now and lock in today's rates and prices. I'm sure you can think of lots of ways to spend your savings!
This example, based on a home priced at $250,000, considers current mortgage rates versus an expected 0.5% interest rate increase by mid-2019, and expected home price increases of 5.1% over the same period. This chart doesn't take into account several other costs that will also rise, such as private mortgage insurance or your down payment. A 3.5% down payment on a home priced at $250,000 today is $8,750. With home price inflation in this example, a 3.5% down payment for the same home would increase to $9,196.25, costing you an additional $446.25.
Very simply, if you are considering purchasing a home in Florida, now is the time to make your new home dreams come true and lock in a low monthly payment at today's pricing and mortgage interest rates.
To help you consider the affordability of homeownership, calculate your own monthly payment using our simple mortgage calculator. This provides you with an estimated payment including your mortgage principal and interest, property taxes, and homeowner's insurance.
Many factors go into determining mortgage qualification and you may even be able to secure a lower rate than today's average, so it is important to talk to an expert to determine your purchase power, the best type of mortgage for your needs, and even Florida down payment assistance programs you may qualify for.
To take the first step towards owning your dream home, pre-qualify with a Highland Homes Preferred Lender who can answer all of your questions and start you down the path to homeownership!
Rate information as of October 11, 2018. For informational purposes only and not a guarantee of rates, terms or availability.
---
Tags:
Highland Homes
affordability
buy vs rent
current mortgage rates
mortgage
mortgage calculator
mortgage rates
own vs rent
---