blog
Veteran's Benefits to Owning a New Home in Florida
Veteran's Benefits to Owning a New Home in Florida
Posted:
July 24, 2017 |
Categories:
News
|
General Info
Are you a veteran or military personnel looking to own a beautiful new home in Florida? At Highland Homes, we know and understand that owning a home can provide an unbeatable sense of security, comfort and financial stability. Achieving the American dream of homeownership still rings true for veterans across the country, including right here in the beautiful state of Florida. Veterans in Florida will not only have the opportunity to own and afford a brand new home, they'll also be able to take advantage of the veteran's benefits and savings they deserve.
"The [Highland Homes] staff was very friendly and knowledgeable and guided me through every step of the process...I recommend Highland Homes to every military service member who wants a flawless buying experience and good treatment.쳌 - Jose M., a Highland Homes homeowner
Tax Exemption and Savings
Did you know that Florida has numerous ways to ensure that veterans have a place to call home? In fact, Florida does a tremendous job so veterans can truly afford the homes they purchase. Eligible resident veterans with a VA certified service-connected disability of 10% or greater are entitled to $5,000 in tax exemption with proper documentation. Veterans who call their Florida property home, have been honorably discharged, and have a service-connected permanent and total disability are entitled to complete homestead exemption. In addition, our beautiful state does not collect a personal income tax, so veterans have more flexibility and more money in their pockets when building the home of their dreams.
Central Florida Loves Veterans
While each region of Florida possesses a distinctive set of characteristics, there are two cities that are among the most veteran friendly cities in the United States. Tampa and Orlando rank among the top ten cities to have the lowest veteran unemployment rates, ongoing job opportunities, top cities for recreation and best healthcare networks in the state. Our new neighborhoods throughout Central Florida are built within supportive environments and surrounded by recreation and entertainment for your peace of mind.
Live Near Top-Rated Veteran Medical Centers
At Highland Homes, we place priority in building in areas with accessibility to top-rated hospitals and centers created for veteran care. Find comfort in our townhome community, Landings at Alafia, located near the James A. Haley Veterans Hospital in Tampa, or our Amber Glen and Palmer Place communities are located near the Bay Pines VA Hospital - home to the up-and-coming VA Cancer Center, which upon completion will be able to provide all the services that patients need in a single location. You will also find our beautiful new homes near MacDill AFB in the Tampa areas, as well as throughout Polk County, Manatee County, Metro Orlando, Ocala, and even more popular Central Florida locations.
Affordable New Homes & Savings
For a limited time through the end of this month, those of you ready to build your very own American Dream home can save up to $10,000 on their new Florida home plus an extra $5,000 when you finance your new home through one of our preferred lenders — a total of $15,000 in savings!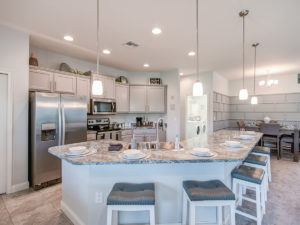 We offer many powerful financing options for our troops, making your dreams of owning a new home in Tampa Bay, Central, North Central and Southwest, Florida a reality. A major veteran's benefit in the home building world is a VA Home Loan. This gives them the opportunity to finance a brand new home with little to no money down, no Private Mortgage Insurance, and no worry of competitive interest rates. We are excited to partner with a network of quality preferred lenders who can help you to determine your purchase power and assist you with obtaining your VA Certificate of Eligibility if necessary. Together, we are dedicated to helping Veterans purchase new homes in Tampa Bay, Greater Orlando, Manatee County, Ocala, and throughout Central Florida.
We thank you for serving our country and it would be our honor to build a new home for you and your loved ones. For more information and to find your American dream home in Florida, visit the Highland Homes website or contact our New Home Specialists at 863-797-4999.
---
Tags:
benefits of new home
military homeowners
Orlando
veterans
VA mortgage
military
homeowners
Highland Homes
florida new home
VA mortgage financing
mortgage
Florida
new home
tampa
Tampa Bay
FL
central florida
---