blog
10 Simple Ways to Decorate Your Florida Front Porch
10 Simple Ways to Decorate Your Florida Front Porch
Posted:
June, 30, 2017 |
Categories:
News
|
Design and Decorating
Ahh, the porch — a place to enjoy a crisp breeze, soak up the sunshine and take time to smell the fresh flowers. The front porch is like a handshake, and is often the first impression that guests and neighbors receive from your new home. Leave an unforgettable imprint in the mind of your guests with these 10 simple ways to decorate your Florida front porch.
Seating can take several forms from rocking chairs to a swing or a hammock to a stylish corner bench, as long as it helps create an open conversation environment. Even if it gets little use, it instantly expresses how inviting your home is.
There is a great sense of style about a farmhouse themed front porch. There are several simple, charming farmhouse décor ideas that can be timelessly appealing! A barn-style screen door can easily be added to allow for air-flow. There are also several rustic decorations, unfinished wood and repurposed household goods that can be found on our Outdoor Living Pinterest board. Hanging plants from shutters is also a popular way to add style to a wall of the porch. Building a DIY free library can be folksy and fun, while wooden signs with attractive sayings such as, "All guests must be approved by the dog쳌 can be inviting to neighbors.
Natural elements are important for any space, porches included. The warmth that plants add to an outdoor space are classic. There are numerous ways to add plants and planters to your porch. A neat way to add personalization to your front porch is creating a monogrammed planter and filling it with a gorgeous array of flowers. Or, add shelves for container plants that will help to repel mosquitoes!
Brighten it up — add color to your front door. Even if it's a neutral color, you can add a decorative mirror to capture more light and reflect the area around it — pull out the bold palette that will make your neighbors stop and take notice.
Bring a beachy feel to your front porch with by creating an island hangout! Swing on a hammock or add wicker furniture and beach themed colors such as ocean blues and corals to create a porch ambiance that everyone will love! Add big, colorful flowers in a DIY slanted planter with bright painted pots, hang string lights for a relaxing glow and have a radiantly-painted bucket with seashells as decoration labeled "flip flops쳌 for guest to kick back, relax and enjoy the day or evening. Add to the beachy feel with seashell chimes and nautical touches such as paddle boards and a decorative towel rack or lifesaver.
Lighting is important throughout your entire Florida new home and the front porch is no exception. Lights around the door area add interest and curb appeal. Adding a lamp or lantern to the sitting area will also help create a homier atmosphere.
Adding outdoor curtains can add a whimsical, breezy look to your porch, and also provide much needed shade! For inexpensive and inspiring ideas on outdoor curtains, click here.
Want a patio bar but feel you don't have enough room? The Murphy bar is a transforming station that folds from the wall and fits into even the snuggest situations. Flip the table down for the duration of the meal and push it back up when you want to stretch out your legs!
Adding a fountain or mini ponds in a pot to your front porch adds a sheen of elegance without taking up much space. Whether it's running water to create a calming effect or a small pond created in a large flower pot, both will instantly add beauty to your porch. Fountains and water features can take form in many structures and there are several DIY projects that can be completed in just one day!
Dress up the floor with a silly or gorgeous mat! A rug adds instant appeal to any furniture arrangement and feels great on bare feet. Be sure the rugs can handle the elements of the weather and don't be afraid to change them with the seasons!
Front porches set the tone for the entire home. With these tips, your guests will feel warm and invited as soon as they step foot into your new home. If you need more ideas on how to decorate your new home's front porch, check out our Outdoor Living board on Pinterest!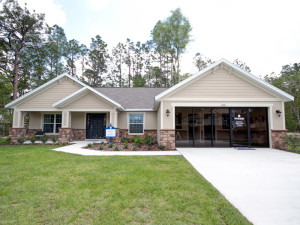 At Highland Homes, we offer several new home designs with porches and front yards that help foster a sense of community and promote relationships with neighbors. Our most popular home plan is the Parker, which not only boats of a spacious front porch with plenty of room to incorporate your personal decorating ideas, but also a comfy, covered lanai. Other popular plans such as the new Ryleigh, Arcadia II and Goldie also feature a beautiful and welcoming covered front porch that offers plenty of space for creativity and relaxation that can be built throughout Polk County, Orlando, Tampa Bay, Winter Haven, Ocala, and beyond. For a list of all 48 home plans Highland Homes has to offer, visit www.highlandhomes.org/home-plans.
Visit the Highland Homes website or call our Florida New Home Specialists at 863-797-4999 to tour a professionally designed and decorated model home today!
---
Tags:
decor
Pinterest
Home with Lanai
outdoor living
Highland Homes
---