blog
4 Desirable Cities in Central Florida You Will Want to Relocate to in 2022
4 Desirable Cities in Central Florida You Will Want to Relocate to in 2022
Posted:
January 14, 2022 |
Categories:
Communities
|
News
|
General Info
|
Home Buying 101
Updated June 20, 2022
If you're contemplating a move to Central Florida, you're not alone – Central Florida cities are in high demand! The Tampa Bay metropolitan area has grown by 14% over the past 10 years and Tampa was named the hottest real estate market in the country for 2022, with Orlando coming in at #9 on the same list.
In addition, Central Florida cities located along the Interstate 4 corridor between these two large metropolitan areas are growing at an accelerated rate and an increasingly popular choice among homebuyers relocating from South Florida or northern states.
So just what has made Central Florida one of the best places to live? We're glad you asked!
Affordability. Central Florida offers more affordable housing and a lower cost of living than other areas in the states, such as Miami and South Florida. This makes it more attainable to own your dream home in Florida.
Low Taxes. Florida is one of just seven states with no state income tax and offers additional tax benefits to Florida residents, such as the Homestead Exemption on property taxes.
Job Market. It's not just people moving to Central Florida – businesses are moving here, too, thanks to tax benefits, strong infrastructure, and the central location between ports on Florida's east and west coasts.
Weather. We can't talk about the benefits of living in Central Florida and not talk about the weather! There's a reason Florida is called the Sunshine State and a top choice for those relocating from the snowy north or living here seasonally as snowbirds – we have incredibly beautiful weather year-round!
Lifestyle. Last but not least, the many attractions, amenities, and world-class beaches located in Central Florida are a huge draw for potential homeowners. The best places to live in Central Florida offer a quieter lifestyle than living in Miami or another big city, are located just a short drive from Walt Disney World and Orlando attractions, and are situated off Interstate 4 which takes you to beaches on both Florida's Gulf Coast and Atlantic Coast.
Add in the changing business landscape over the past few years providing more people with the opportunity to work from home, giving you the freedom to live where you please, and why not move to this highly desirable destination?! Now, all you need to figure out is where you want to live – and we can help! Here are four incredible cities near Tampa and Orlando that are among the best places to live in Central Florida.
1. Lakeland
Since it's our hometown we're probably a little bit biased, but we put Lakeland first because we think it is the best place to live in Central Florida! This mid-sized city evokes small-town vibes yet lives large with an active arts and entertainment scene, restaurants and breweries sure to satisfy even the most discerning foodies, and lakes and parks throughout the city (if the name "Lakeland" didn't already give that away).
In addition, living in Lakeland offers:
A convenient commute to both Tampa and Orlando, with each clocking in at about a 45-minute drive.
A booming job market with companies such as Publix, Lockheed Martin, and GEICO calling Lakeland home.
An affordable cost of living compared to nearby Tampa and Orlando, with Lakeland homes priced about 20% lower according to stats from the National Association of Realtors (NAR).
Being able to enjoy the great outdoors year-round is one of the things that make Florida unique, and Lakeland doesn't disappoint. Encompassing 74.4 square miles and surrounded by water, Lakeland offers diverse opportunities to get outside and enjoy nature.
Take a scenic walk around Lake Mirror.
Animal watch at Circle B Bar Reserve.
Enjoy boating or watersports on Lake Hollingsworth.
Bonnet Springs Park will be opening in October, enriching the city as a blended urban/natural park offering everything from nature trails to public art displays and an amphitheater.
No matter how you enjoy spending your free time, you'll never have a shortage of things to do when you call Lakeland home!
New Homes in Lakeland
If this affordable city in Florida is at the top of your list, check out these top neighborhoods of new homes in Lakeland, FL.
Local fun fact: Lakeland is home to the largest single-site collection of Frank Lloyd Wright architecture in the world!
2. Auburndale
Centrally located between Orlando and Tampa, Auburndale is a great place to live, work, and play! A quaint, peaceful town just a short drive from larger cities and entertainment destinations, this city is one of the smallest but most loved in Central Florida.
Auburndale's convenient location is one of the driving factors in its popularity! Imagine living in a picture-perfect small town that is just a short drive from larger cities and attractions in Central Florida. New homes in Auburndale are just:
14 miles from Downtown Lakeland
25 miles from Walt Disney World
40 miles from Downtown Orlando
45 miles from Downtown Tampa
In addition to the proximity to major cities and attractions, Auburndale has its own attractions even closer to home.
One of the local favorite attractions in Auburndale is Lake Myrtle Sports Park, which has an impressive assortment of athletic fields and hosts all kinds of community and sporting events.
Auburndale is also home to the TECO Trail, a 6.6-mile paved trail ideal for walking, jogging, cycling, or rollerblading. The trail passes through Lake Myrtle Sports Park, as well as the Auburndale Dog Park.
If you love watersports, then you'll really love calling Auburndale home thanks to the Elite Cable Park! A fun place to learn or advance your wakeboarding skills, the cable park offers something for every age and every skill level.
Where to Find the Best New Homes in Auburndale
As you can see, there are plenty of reasons to move to Auburndale! So, where are the best places to live in Auburndale?
Local favorite neighborhoods of new homes in Auburndale include:
Auburn Cove
Enclave at Lake Myrtle
Juliana Village
Local fun fact: After its founding in the late 1800s, Auburndale was a refuge from chilly winter weather for many of America's most prominent artists.
3. Davenport
Davenport is one of the fastest-growing cities in Central Florida offering access to your daily necessities as well as a short commute to nearby Orlando and its many attractions. Whether you are a Disney-phile, love to shop, or are looking for cities near Orlando with a more affordable cost of living, Davenport is the Central Florida city you will want to live in.
One of the biggest benefits of calling Davenport home is the access to Orlando's top attractions – In fact, the Walt Disney World Resort can be accessed from US-27 or from I-4, within 15 minutes of your new home in Davenport. And, the Universal Orlando Resort and downtown Orlando can both be reached in a short 25-35 minute drive on I-4.
When you want to stay closer to home, you won't be disappointed. The area is home to excellent shopping and dining along US-27, including everything from grocery stores and family-owned restaurants to Posner Park Shopping Plaza, which includes a number of department stores, restaurants, and the Cinepolis Luxury Cinema.
Top Neighborhoods of New Homes in Davenport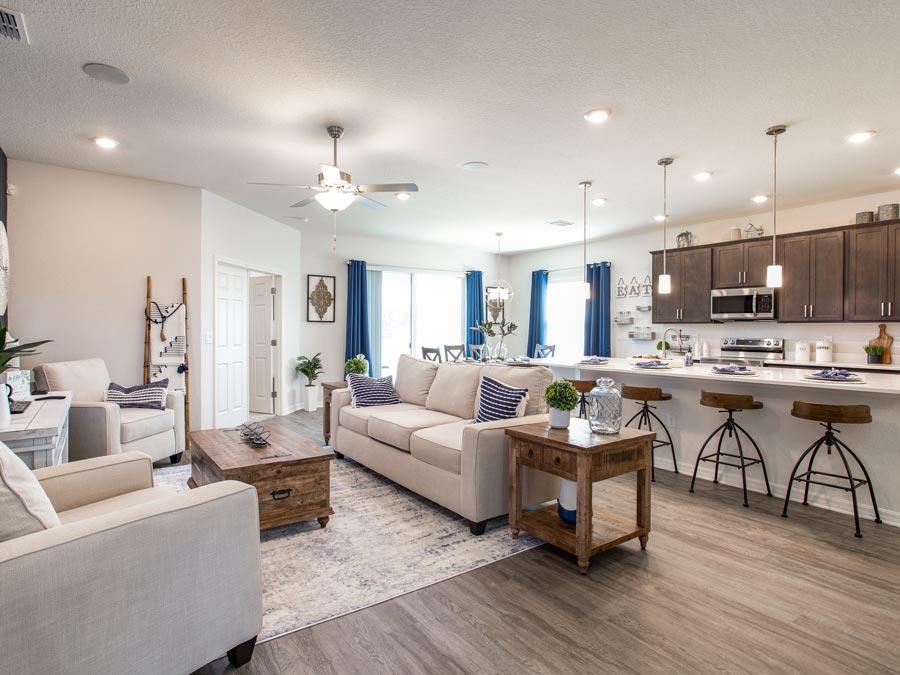 Some of the top neighborhoods of new homes in Davenport, FL include Astonia and Geneva Landings, both communities of single-family homes surrounded by nature and offering a resort lifestyle with in-community amenities including a swimming pool, cabana, playground, and more.
Local fun fact: The settlement of Davenport was originally named Horse Creek, with the post office name changing to Davenport in 1886 and the city incorporated in 1915.
4. Haines City
Located just south of Davenport in the heart of Central Florida, Haines City's historic downtown has benefitted from its proximity to nearby Walt Disney World. Tourism has become a driving force in the area, and the city has experienced booming retail and service growth.
Similar to Davenport, living in a new construction home in Haines City means access to the best of Central Florida:
Walt Disney World Resort - 19 miles
Universal Orlando Resort – 31 miles
Downtown Orlando – 38 miles
And, like most of Central Florida, Haines City has world-class outdoor attractions to keep you entertained!

One of the most well-known parks in this region of Central Florida, Lake Eva Community Park is a popular destination with an incredible array of athletic facilities including tennis and basketball courts, children's play areas, pavilions, 2 miles of walking paths, a public boat ramp, beach, fishing pier, aquatics center, community center, and more! In addition, the park is home to year-round events and entertainment.
Where to Live in Haines City
In addition to plenty of attractions, Haines City offers you an amazing opportunity to own an affordable new home in this beautiful city. In fact, the median selling price of homes in Haines City is around $340,000 – compare that to a $365,000 median price point in Orlando proper and you can see how affordable it is to live in Haines City and enjoy Orlando attractions.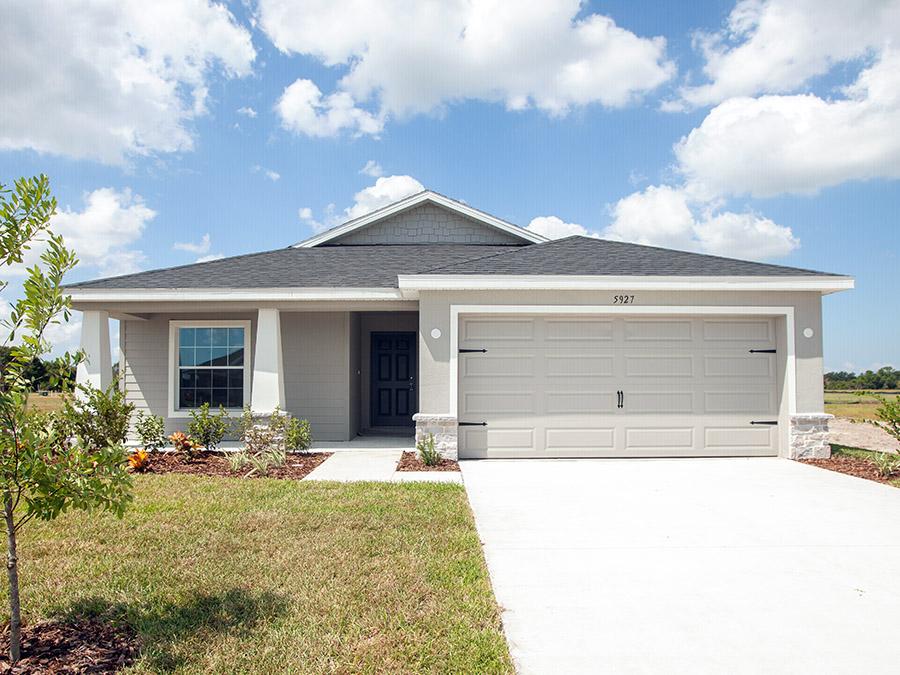 If you want to call Haines City home, we recommend checking out Gracelyn Grove, a community of new homes situated in a park-like setting with ample green space, a playground, dog park, and gathering areas with picnic tables and gazebos. And, you'll be excited to learn homes are available now in this brand-new community!
Local fun fact: Haines City was home to Circus World, a now-defunct theme park created by the Ringling Brothers and Barnum & Bailey Circus.
Relocate to the Best Places to Live in Central Florida with Highland Homes
With so many people relocating to cities near Orlando and Tampa which provide an affordable address with access to both cities, new home construction in Central Florida is booming. We invite you to learn more about how you can live in a Highland Homes community in these fantastic cities by calling or emailing one of our Florida New Home Specialists.
---
Tags:
Central Florida
Tampa Bay
Metro Orlando
Lakeland
Auburndale
Davenport
Haines City
I-4
Walt Disney World
US-27
Universal Orlando
Relocating to Florida
---