Posted:
March 20, 2019 |
Categories:
News
|
Design and Decorating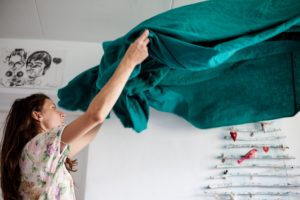 The winter blues are over, and today officially marks the beginning of spring!
If you are ready to bring the sights and scents of spring into your Florida home, here are seven ideas to get started as you freshen up your home for springtime.
1. Bring Spring Inside — Nothing says spring like beautifully colored flowers and vibrant plants! Fun centerpieces that incorporate different kinds of flowers are a great way to add a pop of color in any room. You can customize these by changing accent colors, using different types of flowers, or even adding fruits and vegetables!
2. Let the Sunshine In — What's one thing always associated with both Florida and spring? Sunshine! Help those new plants around your home grow by letting in natural light. By using lightweight or sheer window treatments, you can accomplish this goal with ease without breaking the bank.
3. Air it Out —To help freshen up your home, open a few windows this spring when Mother Nature allows it. Your home will feel less stuffy and letting in some fresh air has a number of positive benefits!
4. Add Fresh Pillows and Accessories —For a simple, inexpensive way to freshen up your home décor this spring, try adding brightly colored pillows to your couches, chairs, and beds for a pop of color in any room. You can also try incorporating small, colored accessories around the house to tie in the colors and create a fun spring look!
5. Spruce Up Your Outdoor Living — Spring cleaning doesn't just apply to the inside of your home. This year, give your front porch or lanai some extra attention by sweeping corners, pressure washing and cleaning outdoor furniture to bring new life to your home. After the dirty work, you can add in a few fresh outdoor accessories such as a new doormat or a flower wreath for your front door.. This simple DIY wreath uses tulips, but you can customize by adding different flowers or even fruit!
6. Infuse your Décor with Spring-Scents — Your house is starting to look like spring, but take that extra step to make it smell like spring too! Freshen up your home this season by using candles, diffusers, or even making your own potpourri. This recipe for spring potpourri uses fresh ingredients to help your house smell as fresh and happy as it looks.
7. Declutter your Living Space — Finally, one of the most important parts of spring cleaning is getting rid of any excess clutter. Your new accessories and decorations will look even better in a clean, open house and when you clear up space, you have room for these new additions. Check out this comprehensive list for ways to clean up each room in your house!
Want more ideas to help you bring spring into your home? Check out the Highland Homes Pinterest page for additional spring home decor and entertaining ideas! Let us know how these projects work for you by sharing pictures on Instagram and tagging us @highlandhomesfl or use the hashtag #HHFreshenUpForSpring. We can't wait to see your home transformed this spring!
Highland Homes builds new Florida homes in sought-after locations including Lakeland-Winter Haven, Tampa Bay, Metro Orlando, Ocala, and Bradenton-Sarasota. For more information about our new homes in Florida, contact a Florida New Home Specialist by calling or texting 863-797-4999 or browse Florida new homes online at www.highlandhomes.org.
---
Tags:
Florida home
Spring Cleaning
Spring
Pinterest
cleaning
new Florida home
Florida
FL
---