Posted:
June 17, 2010 |
Categories:
News
|
General Info
|
Home Buying 101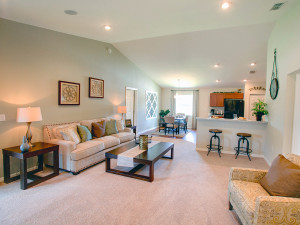 What do buyers want when they are looking for their first or next home? At Highland Homes, we often hear they want the lowest monthly payment and to put the least amount of money down as possible. And, what buyers want, they get at Highland Homes!
We have made it our business to find ways to get Florida home buyers into their dream home for very little money down. With our newest campaign, Highland Homes is offering just $99 down payment to qualified buyers. This fantastic offer has some restrictions for maximum income and other financial requirements, but most first-time buyers who purchase from Highland Homes seem to fit into this program.
"The $99 down offer is a fantastic opportunity for buyers looking for their first home who may not have, or want to part with, savings for a down payment," says Amy Cooper, Marketing Manager. "It's a common misconception that a large down payment is necessary to buy a home, and that's just not true. Programs are available to buy with very little money down."
And, Cooper adds, "We don't just sell to first time buyers. We build home for anyone who is looking for the best value. Many of our buyers are repeat customers, who purchased from us years ago and realize the quality and value."
"We don't always have the lowest price, that would surely put us out of business, but we offer the best overall package and value," says Cooper. "We educate home buyers on the differences between other builders and our product, as well as the value built into new homes when compared to a resale home."
"It doesn't always come down to the lowest price, it's what you are getting for that price," Cooper adds. The company prides themselves on proving quality and value are more than just a house. It's the company, the people, the community, the sub contractors, etc. It's the full package that creates value and you will not find the same pride in quality with other builders as you will Highland Homes. It starts at the top with Bob and Joel Adams, father and son owners, and the pride and customer service continues all through every person who makes up the Highland Homes team. After their combined 60 years in the business, Bob and Joel still get excited to see how happy home buyers are when they realize they can own afford to own their dream home.
Highland Homes estimates that about 70% of their home buyers are coming from rental properties. These new homeowners now realize they can own a home for less than they pay for rent. For most renters, moving into a new rental can cost thousands of dollars up front with deposits for the first and last month rent plus a security deposit, and pet deposits if applicable. When you can buy a home with just $99 down, and for a lower payment than renting an equivalent home, it's a no brainer.
To learn more about how you can afford to buy a brand new home and the $99 down payment offer, contact the Highland Homes Florida New Home Specialists at 863-797-4999, complete the contact form on this page, or visit www.highlandhomes.org.
Updated 05/27/2016
---
Tags:
Florida home
Florida homes for first time buyers
IRS
Highland Homes
$99 down payment
Florida homes
central florida homes for first time buyers
low monthly payment
$99 down
Florida
FL
Central Florida homes
down payment
central florida
---