Posted:
August 12, 2016 |
Categories:
News
|
General Info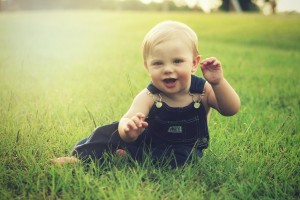 When starting a family in a new home, one of the first things you need to do is make sure your home is safe for your new bundle of joy. Although we may not realize it, there are plenty of things in our homes that a baby could get into trouble with. Our goal today is to keep you from crying like a baby by relieving your stress and pointing out areas in your home that may need to be baby-proofed!
The First Steps to Protecting Your Baby
How can you identify hazardous items that are in a baby's reach? Get low and crawl on all fours! We're not kidding — This technique allows you to see things from a baby's point-of-view and see what a baby could potentially reach. Items such as glass, breakables, heavy or sharp items and anything they could pull down on top of them need to be put out of reach of baby for their safety. In every room the child could possibly be in, this step needs to be taken as babies are curious of the world around them.
In every room in your home, make sure tall furniture such as bookcases and chests of drawers are properly anchored to the wall. As babies become mobile, their curiosity can lead them to try and climb, and you want to protect from injury by making sure furniture cannot tip over.
Lastly, electrical outlets throughout your home should have safety covers installed when not in use, to prevent children's curiosity from ending in electrical shock.
Stairs
The next most common and obvious place to babyproof is your stairs. Since babies can't keep their balance or understand such hazards, using safety gates on the bottom and tops of stairways is necessary for your baby's safety.
Kitchen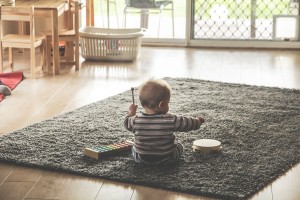 With kitchens often being the focal point of homes, your snack thieves will find themselves in this room often. And, it's also often a room that a child could be in without constant supervision as you prepare meals, clean up messy high chairs or pack family lunches. For this reason, you must be sure this room is baby-proofed, as your child is sure to explore as soon as your back is turned! One step you want to take is making sure cleaning supplies, chemicals, plastic bags and anything breakable or sharp are removed from lower cabinets, or safety latches installed on any cabinet or drawer you wouldn't want your child to get into. Stove-knob covers are a great idea, so your children can't turn on stove burners and get hurt. Lastly, make sure knife blocks are back from the edge of the counter, and knife drawers have safety locks even if you believe they are taller than baby can get to!
Living Rooms
Living rooms are another area children spend plenty of time in. Other than writing on the walls or spilling juice on your white sofa, one of the biggest fears in this room is your child running into a corner of a table or other furniture. Putting cushioned corner guards on sharp corners of furniture is one way to baby proof edges. You'll also want to check to see if items such as a television are secured and won't move, and keep cords hidden out of the way to keep your child from pulling on them and bringing something down.
Bathroom
Your bathroom is one of the most crucial rooms in your home to child-proof and should never be ignored. Start by once again removing all hazardous chemicals and liquids (this includes shampoo) to high shelves or locked cupboards, and keep electrical devices unplugged. You may want to invest in a toilet lock to keep toys from taking a trip down into your plumbing, and locking latches for your medicine cabinet. Lastly, make sure baby's baths are safe by investing in a tub thermometer, mild baby soap, and a non-slip bath mat. Prepare for bath time by having everything you need within reach - Never turn your back on baby in the tub, even for a minute.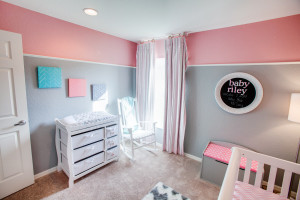 Your Nursery
Your baby's room should not only be planned with inspiring, calming and fun décor, but be a safe-haven for your baby. A large rug in the center of the room will cushion falls, put finger-pinch
guards on door hinges, and plenty of night lights for visibility. Toys in the room should be free of choking hazards and should be kept in a toy box or storage bins where they can't trip you up. Lastly, a great investment is a baby monitor so that you can listen — and even watch - to make sure baby stays safe.
Outdoor Play Areas
Kids love playing outdoors — the sun, the scents, the fun! Make sure your little bubble chasers are protected outdoors by hiding gardening chemicals, getting rid of any poisonous plants, blocking off the barbeque, and keeping power tools far away. If you have a pool, large or small, make sure you have a pool gate. Inflatable pools are also a risk and must be drained after supervised play time.
Final Notes
The best thing to do is pay attention to all the possible hazards that are common knowledge for adults, but baby does not yet know about. Other ways to baby proof your new home include but are not limited to:
- Use safety gates anywhere you don't want your baby to explore.
- Keep floors and low areas clean from small objects that could be a choking hazard.
- Keep anything chemical away from low areas and out of reach of your baby.
- Remove caps found on doorstops that could be a choking hazard.
- Vacuum often to prevent your baby from finding small hazardous items
At Highland Homes, we want your new home to be one your family can enjoy and create wonderful memories in for years to come. Whether you are looking for your first home or looking to move into a larger home for your growing family, we build Florida new homes priced for your budget and designed for your life, with homes priced from the mid-$100,000s to $300,000s throughout Central Florida and Tampa Bay.
To learn more about building with Highland Homes and to find your new home in Tampa Bay, Greater Orlando, Bradenton, Lakeland, Winter Haven, Davenport, or Ocala, give us a call at 863-797-4999 or visit www.HighlandHomes.ORG today!
Save
Save
Save
Save
Save
Save
---
Tags:
tips
decor
decorating
safety
Florida New Homes
Highland Homes
florida new home
Tampa home builder
Tampa new homes
decorating tips
Tampa new home
Florida
new home
tampa
FL
New Homes
---