blog
Building a Florida Pool Home - Rejuvenate Your Mind, Body and Soul
Building a Florida Pool Home - Rejuvenate Your Mind, Body and Soul
Posted:
July, 27, 2015 |
Categories:
News
|
General Info
|
Design and Decorating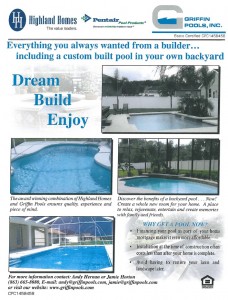 Summer days can sizzle here in Florida. We Floridians love our sunny year-round weather, but when looking to cool off, there's no better way than lounging in your very own home swimming pool.
When you build your new home with Highland Homes, we're happy to help you add your own backyard oasis and build the pool home of your dreams. To ensure you receive the best in pool quality, we work exclusively with Polk County's most trusted professional pool and spa builders, Griffin Pools. In business for more than 40 years, Griffin Pools has a solid reputation for quality craftsmanship and award winning pool design.
Pools aren't just for cooling off; a well designed pool area will provide a relaxing backyard oasis and outdoor living area for entertaining friends and family.
Your pool, your rules
Imagine coming home from a hectic day to enjoy a cool beverage poolside, and a quiet float or energetic swim. Or think of a hot summer afternoon, and how refreshing it will be to dip into cool, tranquil water. When you have your own home swimming pool, you enjoy the benefit of relaxing and cooling off in the privacy of your own backyard. Swimming is also a great source of aerobic exercise and taking a dip in your backyard pool is a fun and convenient way to fit physical activity into your schedule.
Maintenance
Today's pools provide options for easier maintenance than the personal swimming pools of yesteryear. Automated technology, robotics cleaners and salt chlorination systems are available and take the hassle out of chemical testing and manual cleaning, making your pool easy to maintain. Griffin Pools also offers free Pool School to help you gain the knowledge you need to maintain a trouble free pool.
Accessorize
Floating speakers, floating fountains, waterfalls, underwater lights, even a poolside rock climbing wall; there are all sorts of options to personalize your pool. Complete your outdoor oasis and turn your backyard into a wonderful extension of your home by outfitting your pool deck and lanai with convenient storage for pool necessities, towel racks, furniture, planters and accents.
So, should I build a pool now or later?
Eliminate the worry and hassle of adding a pool to your home later. There are multiple benefits to building your pool at the time of your new home's construction. On the financial side, a pool can usually be financed as part of your home mortgage, which eliminates finding cash or financing later. A pool installed at time of construction usually costs less than adding it after your home is complete. In addition, you avoid having to restore landscaping, sprinklers and fencing, which are normally torn out if a pool is added after you move in. On the convenience side, adding a pool when you purchase your Florida new home avoids having to deal with pool construction noise and mess, and stress to your family and pets. Plus, what's more exciting than moving into your brand new home with the your backyard oasis waiting for you to enjoy!
When you meet with your Highland Homes New Home Specialist, let them know you're interested in building a pool home. They will help you select a homesite and a home plan which match your needs. After you sign a purchase agreement to secure your homesite and start the process of building the new pool home of your dreams, Highland Homes will send Griffin Pools a plot plan showing the layout of your home on your new homesite. Then, you will meet with Griffin Pools to design your pool and they will provide a proposal to bring back to Highland Homes. Your New Home Specialist will create an addendum to add the pool to your purchase agreement. Highland Homes takes care of the rest including permits and preparing the pool site, and Griffin will build your pool in conjunction with your home's construction so it is ready for you to start enjoying the day you move in!
Highland Homes builds new homes designed for your life in sought after communities throughout Central Florida, Tampa Bay, Ocala, and Manatee County. Select from more than 30 home plans priced from the $130's to $300's, plus personalize your new home to your style, needs and budget with hundreds of available options at our Personal Selection Studio. Several home plans, such as the Whitney, are designed with personal pools in mind and include pool doors leading directly from a hall bath to your covered lanai.
Visit our website to browse communities and home plans, and give us a call at 863-797-4999 or email us to connect with a New Home Specialist and start building your Florida pool home today!
---
Tags:
real estate
Florida real estate
Highland Homes
Florida
FL
---