blog
Congratulations to Our Top Selling Realtor Partner of 2016
Congratulations to Our Top Selling Realtor Partner of 2016
Posted:
January 27, 2017 |
Categories:
News
|
General Info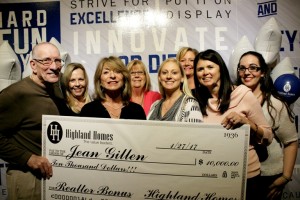 We are excited to announce our top selling Realtor ® partner of 2016! Congratulations to Jean Gillen of Gillen and Associates, a real estate investment company located in Central Florida.
We value and thank every Florida Realtor® who sold with Highland Homes in 2016, and it was our pleasure to work with you and build homes for your clients. As a thank you for selling with Highland Homes, we reward generously with commissions and bonuses, and offered a $10,000 grand prize bonus to the real estate professional with the highest number of net of sales with Highland Homes in 2016.
Overall, we had 279 sales in 2016 that resulted from our Realtor® Partners, with 27 Florida Realtors® making multiple sales with Highland Homes throughout the year and thus qualifying for the grand prize. Jean brought Highland Homes an astounding 32 net sales during 2016 to win the prize and award as our top selling Realtor® partner.
Jean has been in the real estate business since 1979 and over the years and is recognized as one of the top 10 producers in Central Florida. She has acquired in-depth knowledge and skills to build a great vehicle for investors who want the best return for their money. Thank you, Jean, for your continued commitment to Highland Homes, and congratulations on winning the $10,000 grand prize. It is our pleasure to help your home buyers become Florida homeowners!
"Highland Homes has great price points and their HOA's are great at community upkeep. I'm looking forward to 2017. We're doing well so far and have already sold two homes in Bretton Ridge!쳌— Jean Gillen
The positive feedback and Realtor® participation last year was phenomenal! We are excited to announce that for 2017, we are bringing back our "The Greater Your Sales, The Greater Your Rewards쳌 Realtor® incentive program and $10,000 grand prize reward for our top-selling Florida Realtor® partner in 2017.
If you are a Florida real estate professional, and would like to learn more about the benefits of selling with Highland Homes, please visit our website at www.highlandhomes.org/realtors.
---
Tags:
Florida Realtor
Florida Realtors
real estate
top realtor
Highland Homes
Florida
FL
---