blog
Congratulations to our Top Selling Realtor Partner of 2019
Congratulations to our Top Selling Realtor Partner of 2019
Posted:
January 17, 2020 |
Categories:
News
|
General Info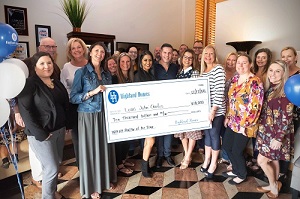 We are excited to announce our top-selling Realtor® partner of 2019! Congratulations to Louis John Quiles Jimenez of Empire Network Realty Inc., a family-owned and operated Florida real estate brokerage firm.
In 2019, we had a total of 1,027 net sales contributed by 485 different Florida Realtor® partners. John, as he goes by, brought Highland Homes an incredible 27 net new home sales during 2019, and as our thank you, on January 17, he was awarded a $10,000 grand prize in recognition as our 2019 Top Selling Realtor® Partner!
John has been a sales associate for just 2 short years, and he's clearly made an incredible impact in that time. Thank you, John, for your continued commitment to both Highland Homes and your clients, and congratulations on winning the $10,000 grand prize. It is our pleasure to help your home buyers become Florida homeowners!
We are proud to have a strong relationship with the Florida Realtor® community. A huge thank you to each and every Florida Realtor® who sold with us in 2019 – We value the relationships we have built with you and your home buyers!
Due to the positive feedback and continued participation, we are excited to announce we are bringing back our beloved "The Greater Your Sales, The Greater Your Rewards" Realtor® incentive program for 2020. We reward generously with commissions and bonuses that grow with additional sales, as well as a $10,000 grand prize bonus to the real estate professional with the highest number of net sales with Highland Homes during the calendar year.
As a Florida home builder with more than 20 desirable communities in Metro Orlando, Tampa Bay, Sarasota-Bradenton, Lakeland-Winter Haven, and Ocala, we offer exceptional home plans and choice for Florida home buyers, with single-family homes and townhomes priced from the high $100's through the $300's. If you are a Florida real estate professional and would like to learn more about the benefits of selling with Highland Homes, please visit our website at www.highlandhomes.org/realtors.
---
Tags:
Highland Homes
Florida real estate
Florida homeowners
Florida Realtor
---