blog
Designing Baby's Room in Your Florida New Homes
Designing Baby's Room in Your Florida New Homes
Posted:
August 1, 2012 |
Categories:
Design and Decorating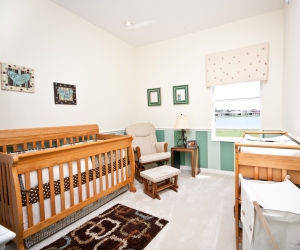 Having a baby is the most exciting time of one's life, but along with a new baby comes a lot of planning and decisions. One of the decisions before your baby arrives is the setup and decoration of his or her room in your Florida new homes.
Every proud parent-to-be wants baby's room to be functional and comfortable, and along with that comes many questions - What colors to choose? Should you pick a theme? Where is the best place to shop, on a budget? The colors, theme and furniture you choose will play a lot in creating a dreamy space for your new little one, and to get your baby's room at a low cost it will take a bit of creativity and researching, so we have given you a few helpful hints below based on our own experience as design professionals (and proud mommas!).
The first decision to make is the style of your baby's room. Make it easy on yourself and start with one of these basic decor themes:
Fresh and fun: Consists of vibrant and lively colors and a unique blend of stripes, polka dots and shapes.

Soft and warm colors: Combines the warmth of taupes with the tranquility of blues and greens. Think of the "soft and warms쳌 like the colors of sherbet ice cream.

Primary pop: All about your primary colors including red, yellow, blue and green, with a mix of brights and bolds. This style incorporates lots of strong animal characters. It is friendly and very cheerful.

Girly: Creating a castle for your little princess. It is rosy, delicate and sweet with different shades of pinks and purples.

Perfectly neutral: The perfect option if you don't know the sex of your baby. You will surround your baby with soft tones, with the right amount of warmth in beautiful creamy shades.

Inspired by nature: A combination of lush greens, bright slashes of color, vibrant animals and serene backgrounds — perfect for those inspired by the outdoors.
Once your style has been selected, it will be easier to choose colors for bedding and paint. Accent walls are popular in a baby's room, as is more creative painting like stripes or chair rail. Wall decals are also a great idea because they are temporary so as your child grows you can switch the colors or theme of the room without having to repaint or patch holes. Keep in mind your child will outgrow a nursery specific theme before they will outgrow colors and shapes, so if you are looking to make the décor a little more long lasting, stick to shapes, polka dots and stripes.
Making storage bins and cubbies for a child will help you stay organized. Wooden cube organizer shelving units used with fabric bins are perfect for all kinds of baby gear and toys. You can label the outside of them and store bibs, toys, socks and books. If you are working with a smaller space, then think of furniture that serves more than one purpose. For example, you can purchase a toy box that doubles as bench seating to save some space in your baby's room.
When purchasing furniture for your new little bundle of joy, you may want to think ahead. A lot of cribs can be transformed into day beds when your baby becomes a toddler and a full bed when he or she gets older. Purchasing a 3-in-1 bed will save you a lot of money in the long run. Instead of buying a separate changing table, you can purchase a dresser that has a space for a changing pad, when your child gets older simply remove the pad which opens space for a mirror, TV, or other décor on top of the dresser.
Now, make a list of all the things you would like to have in your baby's room (like your paint and bedding, a rocker, lamps, window coverings, etc.) and start shopping early, so you can purchase as things go on sale. You have 9 months to make the room come together so take your time. Look for inspiration online or in magazines, and most importantly, HAVE FUN decorating your Central Florida new homes!
To learn more about Highland Homes and how we can help to design your new home, visit our website.
---
Tags:
design
tips
decor
decorating
Florida New Homes
Highland Homes
florida new home
central florida new homes
decorating tips
Florida
new home
Central Florida new home
FL
New Homes
central florida
style and design
---