Posted:
October 17, 2017 |
Categories:
News
|
Design and Decorating
Perhaps one of the most exciting things about building your dream home in Florida is the opportunity to design and personalize your home to fit your unique style and needs. After hours spent on Pinterest or watching HGTV shows, there's a good chance you have plenty of home décor ideas dancing in your head. Whether you already know exactly what you want, or need a little help with your home design vision, the professional designers at the Highland Homes Personal Selection Studio will help you make your dream home a reality.
The Highland Homes Personal Selection Studio showcases all of the choices and selections available for you to personalize every room in your new Highland home. Our professionals walk with you every step of the way and guide you through the selections, making certain to help you create the home of your dreams all while staying within your budget. Let's walk through some of the choices you'll get to make while designing your dream kitchen with your personal Design Consultant.
Choose Your Perfect Home Plan
This piece of your dream home journey actually comes before your visit to the Studio, but is just as important as what is to come. Crafting the kitchen of your dreams starts with selecting your perfect home plan, designed for your life, household, and needs. With more than 30 unique home plans to choose from, we make sure to design homes around this very important room, the so-called "heart of the home", with desirable features such as open kitchen layouts, island breakfast bars, and walk-in pantries.
Many of our home plans, such as the popular Serendipity and Parker designs, provide you the ideal layout for casual family living and easy entertaining. Open kitchens are in style, and the counter-height island breakfast bar adds versatile dining space while also allowing guests or family members to relax close by without getting in the way of work. Walk-in pantries hold additional storage and keep the open layout alive and vibrant. And thanks to plenty of windows, natural light spills into the kitchen, making it feel even more open and light.
Cabinets
The cabinets form the basis f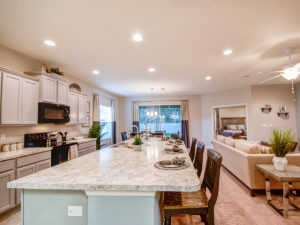 or the overall footprint and design of a kitchen - think of your cabinets as built-in furniture. Having well-designed cabinets are essential, and they also must be functional. When you build with Highland Homes, a variety of cabinet styles and finishes are available to choose from, along with cabinet inserts and pull-outs for storage convenience.
Included to choose at no additional cost are a selection of birch wood cabinets from Quality Cabinets, which are available in three wood finishes.
If you desire something with even more flair and function, several upgraded cabinet choices are available including Merillat cabinets featuring maple wood in three sought-after colors, and painted maple wood cabinets in white and gray. When you choose an upgraded style, you also receive the benefit of soft-close doors and drawers. Never again will you hear a cabinet slam, worry about little fingers getting pinched in a drawer, or clean up broken shards when a fragile dish slides from a hard-close.
And, all cabinets now include stylish and functional hardware (knobs, handles and/or pulls). Choose from modern and simple to classic and detailed styles in a range of finishes including brushed nickel, forged bronze, oil rubbed bronze and more.
Add additional gourmet design to your cabinets with options such as crown moulding, under and over cabinet lighting, staggered cabinet layout, and extra storage and style with 36" and 42" tall upper cabinets.
Countertops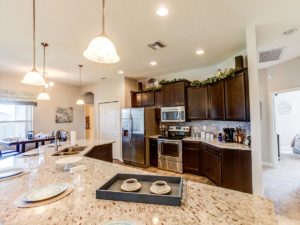 We offer three different top-quality countertop options in our new homes: Premium laminate from Wilsonart, HD laminate from Wilsonart, and ultra-luxurious granite.
Laminate countertops are easy to maintain, and the Wilsonart laminates we offer are standard with textures that complement the design, AEON technology for a durable and wear-resistant finish, and come in a variety of trend-setting colors and patterns including simulated stone. Our laminate countertops from Wilsonart also have options beyond a standard squared-off edge, with bevel and crescent edges available.
Or, choose the popular gourmet kitchen option of granite countertops. While there is more cost upfront, they are extremely durable and can last a lifetime - a great long-term investment which will boost your home's style, appeal and value.
Flooring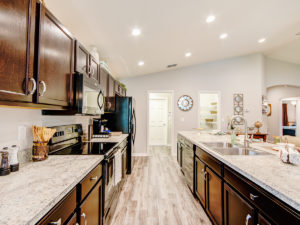 Kitchen flooring should provide you an easy-to-maintain, durable, and design-forward base for the "heart" of your home. An array of flooring exceeding these requirements is available for your selection, from the high-quality Mohawk and Armstrong Flooring brands.
Choose from easy-to-clean vinyl StrataMax by Armstrong, which is the included option in most communities. This textured vinyl flooring is far from the linoleum of old, and offers performance, durability and beauty. Low-maintenance and easy to clean, this comes in 10 color choices and patterns.
Or, add additional "wow" with wood vinyl plank floors from Armstrong, a less expensive wood floor alternative that looks incredibly close to the real thing! Placed in individual planks, this product is also extremely durable and low-maintenance while providing great style.
You can also choose from a variety of laminate wood flooring options, or go to the max of gourmet with wood flooring, 18쳌x18쳌 ceramic floor tile, and wood-look tile options.
Appliances
Our solid line up of high-quality Whirlpool appliances ensures that your new Florida home is built with top-of-the-line gourmet goods. Stay on top of your budget by choosing from our quality included white and black Whirlpool microwave, dishwasher, and smooth-top range. Or, venture into our upgraded packages like Classic Stainless Steel and the more energy efficient and high-tech Executive Stainless Steel package.
If you are searching for the latest trends and newest products to include in your home, we recently introduced black stainless steel appliances from Whirlpool. This new design isn't just a paint or finish; it's a chemical treatment that's applied to stainless steel so that you get the same rust-proof benefits as traditional stainless with a modern yet classy look.
Lighting
What's the best way to show off your gorgeous kitchen? Illuminate it! To ensure you have plenty of light for your cooking-space, as well as provide the highest level of energy-efficiency, your new kitchen includes LED recessed lighting. These EnergyStar fixtures use just 10W each providing up to 75-percent energy savings over a 65W incandescent bulb. They emit very little heat which helps save on cooling costs, provide bright and evenly distributed lighting, and will last up to 50,000 hours which saves you money on replacement bulbs. And, they are dimmable should you choose to add a mood-setting dimmer switch.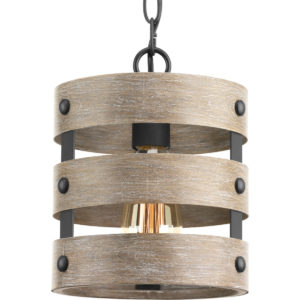 For homes with a 9'-4" ceiling in the kitchen, adding pendants lights over the bar top adds light to your dining surface as well as character and style, with a variety of pendant fixtures to choose from in styles from traditional glass pendants to on-trend rustic/industrial pendant lights - our fave are the pictured Gulliver with Edison bulbs by Progress Lighting!
And, let's not forget about one of the most popular gourmet kitchen lighting options, under cabinet lights. Hidden by a cabinet valance, illuminate your counter surfaces and make food prep and serving light-years easier - once you've had this kitchen feature, you can never go back! Over-cabinet lights are another wonderful option to add a touch of illumination to the room and light up any decorative pieces you have a-top your cabinets. People love both of these options for night-time and mood-lighting in the kitchen.
Are you ready to start designing the gourmet kitchen of your dreams? Get started today by contacting our Florida New Home Specialists at 863-797-4999 or browse plans and photos at www.highlandhomes.org to start getting style inspiration for your dream kitchen and home!
---
Tags:
design studio
wood flooring
home in Florida
cabinets
kitchen trends
personal
flooring
design
kitchen cabinets
counter tops
countertops
kitchen flooring
kitchen lighting
staggered cabinets
tile flooring
Highland Homes
new home in Florida
selection studio
personal selection studio
Florida
new home
FL
---