blog
Designing Your Dining Space to Fit Your Lifestyle
Designing Your Dining Space to Fit Your Lifestyle
Posted:
November 9, 2016 |
Categories:
News
|
Design and Decorating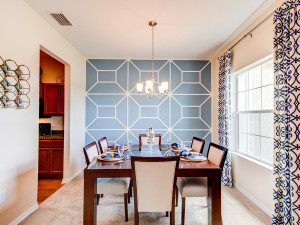 Your dining room is so much more than the set of chairs and table you place in it. It's where you and your family congregate over special meals, share laughter after a long day, and make memories that will last a lifetime. Whether your new home is designed with formal or casual dining space, your dinner table will certainly be put to good use this holiday season. Before the hustle and bustle of the season is truly upon us, take some time to update your dining space by adding your own unique style.
Choose a Design Direction
Dining rooms don't have to be a fancy, formal space! Depending on your lifestyle and personality, your dining space could be a casual, comfortable area or a glamorous room perfect for fun dinner parties. Here are some dining room designs that can help you choose your design direction:
Casual Elegance — A perfect layout for a casual, yet chic dining incorporates natural wood elements with sleek metal accents. Stainless steel, bronze, and gold look amazing when paired with any accent color! Choose a dining table set with wood and leather-like seating for the peak of elegant design.
Falling for Autumn — Capture the spirit of autumn by decorating with warm colors and and natural elements. From pinecones to autumn leaves, you can easily bring comfy fall feelings to your new dining room by adding in orange, red, green, and gold accents.
Simple and Fun — Create a laid-back look in your dining room with comfortable cloth seating in fun colors. There's no need to focus on one accent color here so long as each color pairs well with the next. Choose a dining set with a matching bench for a close and casual seating option that is sure to bring family together.
Bring in the Right Furniture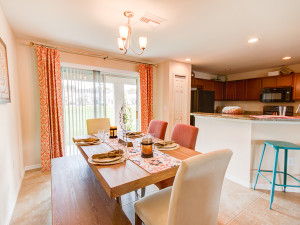 Since most home designs place the dining room near the front of your home, it's essential that furnishings in this room WOW your guests!
The size and shape of your dining room will determine the table and chairs that will work best. And, as the holidays approach, you will probably want to have room for as many people as possible. While circular tables may look appealing, they usually end up only seating up to four family members. To make the most of your dining room space, stick to rectangular and oblong shapes. With rectangle tables you don't have to worry about keeping your elbows off or overcrowding.
Alternative seating such as a breakfast bar also works perfectly for extra guests. It's a great place for overflow seating or the 'kids' table.' You can also simply have it set so that guests can chat and you can cook all at the same time. This is a perfect spot for appetizers and taste-testing, too!
Lighting is Key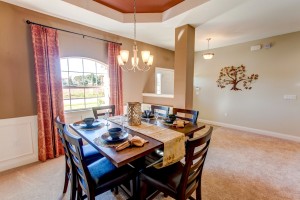 The right lighting is absolutely crucial when it comes to the dining room. Your dining space is often used more during evening hours, and you want your lighting to both illuminate and set the mood in your new Florida home. Here at Highland Homes, we include casual modern fictures over your dining room and nook tables, as well as offer upgraded lighting selections. Consider installing dimmer switches so that the light within the room can be appropriate for any setting or event.
Make it Your Own
Don't forget to add items that will give your dining room its own personality. Adding family pictures of warm moments, childhood drawings, and family heirlooms are great conversation starters and help to bring joy to the holiday season. And, a D.I.Y. centerpiece will truly make your dining table one of a kind. After all, it's the finishing touches that make your dining room your own!
For more design inspiration for your home's dining spaces, view our Pinterest gallery.
Highland Homes builds Florida new homes with dining options suited for your unique lifestyle whether you are seeking a formal dining room, casual dining space, or a home with both. Our homes are priced from the mid-$100's to the $300's and include a wide variety of sizes and layouts to choose from. Find your new home by contacting the New Home Specialists online or calling 863-797-4999 today!
---
Tags:
design
design trends
home design
---