Posted:
September 5, 2014 |
Categories:
The Experience of Building My Highland Home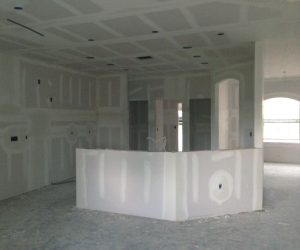 Happy September! It is a very happy time for me because my new home is now in the drywall stage of home construction, which means we are about 75 percent complete!
The drywall has been installed, sanded, and the knockdown wall and ceiling texture applied. Once the drywall and textured finish had time to dry, the painters came in and painted my home.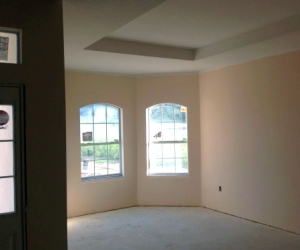 One of the great features of working with Highland Homes is the customization they offer. I was able to choose from four included interior colors and 18 exterior color schemes, all at no additional cost. This means I could pick the inside color and the outside colors that I liked! The Highland Homes Personal Selection Studio also offers you the ability to have specific rooms painted different colors, have accent walls painted, and the option to change the inside to another Valspar paint color for an affordable fee.
The last steps in this stage of construction will be in the installation of the interior doors, cabinets, countertops, wall tile in the bathrooms, and the driveway. A lot of will be happening in the next few weeks and I can't wait to share more with you next time about designing our kitchen! Can't wait to see our Twilight cabinets and granite counters
Ken is a resident of Central Florida and is building his second Highland Home. He enjoys spending time with his dogs, family and friends, travelling, and enjoy Central Florida attractions and amusement parks.
Subscribe to Highland Homes News and Updates to make sure you do not miss Ken's next blog.
And, follow Highland Homes on Facebook and Twitter to receive notification of Ken's blogs, and other important Highland Homes news and information, right in your news feed!
Highland Homes is a top builder of new homes in Central Florida, Tampa Bay, Manatee County, and Ocala, Florida. More information about Highland Homes' communities, floor plans and videos, and feedback from Highland Homes' customers can be found on their website at www.HighlandHomes.ORG. 
---
Tags:
Building My Dream Home
personal
dream home
selection studio
personal selection studio
---