blog
Finishing Up the Construction of My Highland Home
Finishing Up the Construction of My Highland Home
Posted:
October 10, 2014 |
Categories:
Design and Decorating
|
The Experience of Building My Highland Home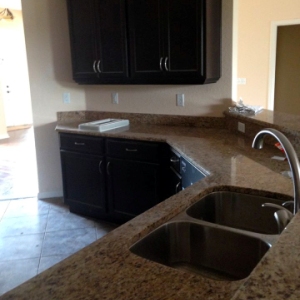 Welcome back! This will be my final blog during the construction stage! My house has undergone a lot of changes since our last posting and is now almost complete.
In my floor plan the kitchen is the center of the home. Since it is so visible, that was one of our biggest hot button areas that we wanted to design perfectly. At the Personal Selection Studio we were able to upgrade our cabinets to the 36쳌 Birch Cabinets with the Twilight stain. They are dramatic and really a showpiece with the granite countertops. We also added crown molding above and below the cabinets to add a little more detail to the room. To match the stainless steel kitchen appliances we are getting installed, we chose stainless steel door hardware on the cabinets. We spent a lot of time designing the kitchen and matching our cabinets and counters to make sure we picked the right selections. The ladies at the Personal Selection Studio were a big help!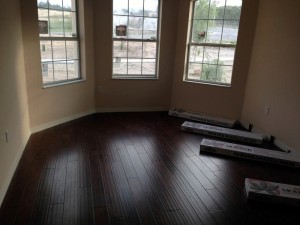 My home has now received all the flooring and wall tile in the bathrooms.  The driveway was poured as well, and the decorative stone installed on the front of the house. All that remains to be completed is delivery of the appliances, landscaping and a few minor touch-up items before we can do our walk throughs, close, and move into our new home! We can't wait!
I'm going to write one more blog for you in a few weeks that will detail how everything goes with walkthroughs and closing once the home is complete.
Ken is a resident of Central Florida and is building his second Highland Home. He enjoys spending time with his dogs, family and friends, travelling, and enjoy Central Florida attractions and amusement parks.
Subscribe to Highland Homes News and Updates to make sure you do not miss Ken's next blog.
And, follow Highland Homes on Facebook and Twitter to receive notification of Ken's blogs, and other important Highland Homes news and information, right in your news feed!
Highland Homes is a top builder of new homes in Central Florida, Tampa Bay, Manatee County, and Ocala, Florida. More information about Highland Homes' communities, floor plans and videos, and feedback from Highland Homes' customers can be found on their website at www.HighlandHomes.ORG. 
---
Tags:
Building My Dream Home
dream home
Florida New Homes
florida new home
Florida
new home
FL
New Homes
---