blog
Highland Homes Employees Give Back to the Community
Highland Homes Employees Give Back to the Community
Posted:
December 12, 2013 |
Categories:
News
|
General Info
|
Events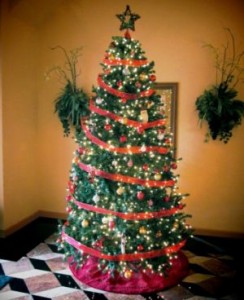 The holidays are all about giving and here at Highland Homes, our employees are proud to give back to our local communities and support a variety of charitable organizations this holiday season.
From assisting families in need to supporting animal welfare organizations to embarking on a mission trip to Central America, many members of our Highland Homes family are taking action to give back to those in need.  Here are a few of their stories and the local charities receiving the benefit of their hard work:
Camille Cloutier, Community Sales Manager at Whitemarsh - Bridges of Light is a children's foundation in Central Florida that directly aids in the housing, welfare, and education of abandoned, abused and neglected children.   During the holiday season, underprivileged children are burdened with struggle of finding enough food to eat while away from school, and even finding a place to sleep.  Bridges of Light Annual Holiday Drive seeks clothing, gifts, food, and cash donations to brighten the holidays for families living in extreme poverty.  For more information on how to get involved or donate this holiday season, email Camille at c.cloutier@HighlandHomes.org.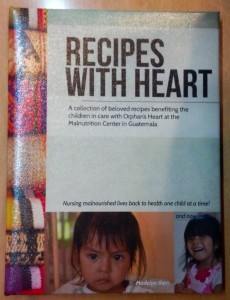 Doug Pike, Community Sales Manager at Wind Meadows - Doug and his three children–Madison, 16, Caroline, 14, and Benjamin, 11– are going on a church mission trip to Guatemala in August 2014. They will be lending a hand at the Malnutrition Center in Guatemala and to raise money for travel expenses and the center, Doug is selling 'Recipes with Heart' cookbooks for $15 apiece. For more information about the trip or to support Doug's mission by purchasing a cookbook, email him at d.pike@HighlandHomes.org.
Stacy Allison, Director of Operations for Berkshire Management Group -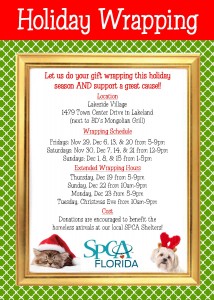 SPCA Florida makes it their mission to eliminate animal suffering, educate the community about animal welfare, prevent animal overpopulation, and adopt healthy animals to loving families.  Stacy is co-chairing an annual gift wrapping fundraiser, which is a project she also co-chaired last year and helped to raise $4,000, an amount they hope to surpass this year. She and other volunteers set up in Lakeside Village, a popular outdoor shopping mall in Lakeland, and wrap Christmas gifts in exchange for donations to benefit animals at the SPCA Florida shelter. All the wrapping supplies are provided by the Lakeside Village management company so 100% of the donations go to the SPCA. The fundraiser will continue through Christmas Eve night, so stop by and get your gifts wrapped while supporting a great cause.  Anyone who would like more information can contact Stacy at s.allison@HighlandHomes.org or view the event flyer on Facebook.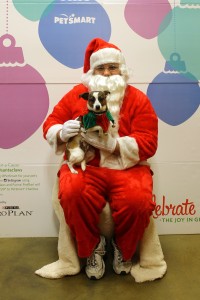 Amy Cooper, Marketing Manager - Amy is also a longtime volunteer for SPCA Florida and regularly gives time at their adoption center and various community events.  Last weekend, she put her photography skills to use at the "Santa Claws쳌 fundraising event, a nationwide campaign sponsored by PetSmart Charities. The Santa Claws events allow pet owners to bring their pets in for a picture with Santa, for a suggested $5 donation to the sponsoring local charity.  The event on December 7th at the Petsmart in Lake Wales was sponsored by the SPCA, with 100% of the donations benefitting the organization, and Amy was excited to take part in it for the second year in a row and raise money for local shelter animals and the great programs provided by SPCA Florida.
Stacey Antonakos-Perez, Selection Studio Manager  - The Angel Tree Program through the Pasco County Foster Adoptive Parent Association helps fulfill the basic necessities and holiday wish list of a child in need.  Pasco County Schools supports the program and classes in various schools select an "Angel쳌 and receive their name, age, shoes and clothing sizes, and three wishes from that child in need.  Each school child in the class, along with his or her family, may donate something on the wish list as they are able.  Stacey and her daughter, who is in first grade, are humbled to give back and make an impact on the life of a child in need during this season of giving. For more information about the Angel Tree Program, check out www.pascofapa.com.
Katie Campbell-Barris, Community Sales Manager at Mandolin and Crescent View - Katie serves as the Communications Vice President (and will be President Elect as of January 15, 2014) for the Junior League of Greater Winter Haven. The organization holds charitable events throughout the year to raise money to benefit and support women and children, and the local community. To learn more about the Junior League of Greater Winter Haven, visit www.JLGWH.com or contact Katie at k.campbell@HighlandHomes.org.
Whether it's raising money for animals, traveling to a different country or making a difference in the lives of those in our own backyard, our Highland family recognizes the importance of giving back. When we can impact the communities around us, our world becomes a better place. During this time of year, we pause to remember all the wonderful things in our lives, and share them with those who we can, and look forward to a prosperous and joyous new year.
For more information about Highland Homes, a builder of stylish new homes in Central Florida, Tampa Bay, Manatee County, and coming soon to Ocala, visit the Highland Homes website.
---
Tags:
holiday events
local charities
events
---