blog
Home Buying 101: 9 Tips for Buying Your First Home
Home Buying 101: 9 Tips for Buying Your First Home
Posted:
May 26, 2015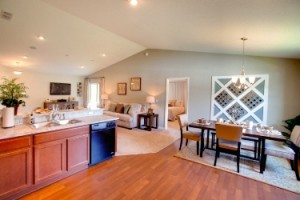 Buying your first new home in Florida may seem daunting. From understanding what you can afford, to finding the right home, to knowing what to expect after you sign a contract, there are many questions you may be asking yourself as you consider purchasing. But, becoming a homeowner does not have to be a stressful experience — it should be fun! Educating yourself and planning will give you more confidence in your home buying experience. Just because it may be the largest purchase you've made, doesn't mean it has to be the most difficult.
Are you ready to become a homeowner?
Are you ready to stop giving money to your landlord and invest in your own future? Financial benefits of homeownership include building your personal wealth, equity, tax deductions and, here in Florida, you will in a very short time span see out of pocket savings when compared to renting.
Do you need more space for your growing household, or a yard for Fido? Do you wish you could paint and decorate to express yourself — without the ire of your landlord? These are common reasons for desiring a home of your own.
Perhaps the most compelling argument for homeownership is the emotional benefits. Surveys show those who have accomplished the American dream of homeownership feel more secure and contented. Establishing a home base satisfies the natural human urge to lay down your roots and build a solid foundation where you can live, love and flourish.
Discover how much you can afford
Pre-qualifying with a mortgage lender is the first step towards determining your purchase power. A pre-qualification is an estimate of how much home you can afford, and often can be completed on-line and at no cost (click here for a list of Highland Homes preferred lenders to pre-qualify with). It involves you providing information on your income, assets and debts, and authorizing the lender to pull your credit. This does not guarantee your loan but gives you a better idea of your price range, and what your monthly payments might look like.
Oftentimes, home buyers get hung up on the price of the home, when in reality the monthly payments are what are more important to your wallet!
Your loan officer should review your credit with you and if your credit or finances aren't quite where needed to purchase a home, they should discuss what is necessary to improve your chances of qualifying for a mortgage.
Gather documentation
The mortgage pre-qualification is an estimate given based on the information you've provided. Your mortgage lender will need supporting documentation before they can process the loan and secure your financing. Standard documentation includes paystubs, bank and 401K account statements, W-2's and/or 1099's, and 2 years of tax returns.
Avoid new expenditures
This is critical. Spending savings which were assets at the time of your mortgage pre-qualification or opening new credit can derail your ability to qualify for a mortgage. Opening new credit not only can affect your score, but your debt-to-income ratios used by the mortgage company to determine how much you can afford. Even deferred payment plans can cause these issues — so, start your furniture wish list now, but don't purchase anything, even with a deferment or zero-interest deal, until after you close and move into your new home.
What is the ideal home for your needs?
Would you rather live in a townhome or a single family home with a yard? How many bedrooms do you need? Do you need an extra room for a home office or playroom? How many cars need to fit in the garage?
Where would you like to live? Close to work, family or friends? Other important considerations can be proximity to highways and shopping necessities, as well as schools — even if you do not have children, that could change in the future as well as be helpful when you sell your home in the future.
What is on your wish list?
These are the items you would love to have in your home if you can afford them, but aren't necessarily a requirement. For example, granite countertops, stainless steel appliances and a backyard pool would be nice — but, a place to call your own, without these bells and whistles, is even more important.
Finding your ideal home
Like car shopping, you have two options when shopping for your home — new or used/resale. Used homes are often available to move into right away, but can sometimes need repairs or have questionable maintenance history. In a used home, you're buying whatever is there — red shag carpet and all — and any renovations and personalized touches will have to be installed and paid for out of pocket after you move in.
On the new home side, it takes about 5-7 months on average to go through the home building process, but you have a lot more flexibility in getting a home designed with the features important to you. For example, when you build your new home with Highland Homes, you choose your ideal neighborhood, home site, and home layout. With more than 30 home plans designed with modern conveniences, we are sure to have the home size and features you are looking for. You get to personalize your home with hundreds of options including everything from paint to cabinets, roofing to home audio, lighting to flooring — so, no need to renovate after you move in. Everything in your home is brand new and covered by warranties. Plus, new homes are more energy efficient than homes built even 5 years ago, so you'll save on utility costs.
Stick to your list of needs — don't settle for a home missing features important to you. Likewise, don't get in over your head with a project home. A fixer upper may cost less up front, but will require additional money and time (often more than you bargained for).
REALTORS can help you shop both options, or if you have decided the ease and design of a new home is the way to go, check out our new homes in Lakeland-Winter Haven, Tampa Bay, metro Orlando, Palmetto and Ocala, Florida.
Sign the purchase agreement and secure your financing
Once you've found your perfect home, a purchase agreement is signed and your deposit to secure the contract is due at this time. Fortunately, here at Highland Homes just $99 moves you in with qualifying financing.
Now is the time you will need to provide documentation mentioned above and a full loan application to your mortgage lender, in order to secure your loan approval. Your lender will be able to provide a more concrete payment quote which should include property taxes, homeowners insurance, and any mortgage insurance escrowed as part of your monthly payment. Don't forget about budgeting for HOA dues and utilities when you evaluate the monthly cost of homeownership.
Closing
This is the day you get the keys to your new home! The title company handling your closing will prepare the legal documents you need to sign to become a homeowner.
Additional information
Interested in learning more about the path towards owning a new construction home? Read our helpful article with 14 Steps to Owning a New Construction Home!
Highland Homes builds quality new homes in Florida, priced for your budget and designed for your life. For a personalized consultation and to learn more about purchasing your first home, give us a call at 863-797-4999 or visit the Highland Homes website.
---
Tags:
home buying
$99 down
home buyer incentives
home financing options
---