blog
Home Buying 101: How Much Do I Really Need for a Down Payment?
Home Buying 101: How Much Do I Really Need for a Down Payment?
Posted:
April 7, 2017 |
Categories:
News
|
General Info
|
Home Buying 101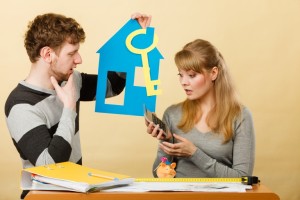 Updated June 22, 2021
Many people delay owning the home of their dreams because they believe they do not have enough money for a down payment. However, there are a lot of misconceptions about how much is truly needed for a down payment for a house in Florida, and you may be surprised to find out it's far less than you thought!
Here are some facts about down payments to help you prepare your wallet for the less-than-intimidating down payment you actually need to purchase your new Florida home.
How much is a down payment for a house in Florida? (Spoiler: You don't need 20% down!)
One of the most common homebuying myths is that you'll need 20% of your new home purchase in cash before you can proudly own your own home. While having a larger down payment does lower your monthly mortgage payment, handing over 20% for a new home is uncommon and, for most, unreasonable.
In fact, according to a report by the National Association of Realtors®, the median down payment for all homebuyers surveyed was 12% with first-time buyers putting down just 7% on the purchase of their home.
The average down payment hasn't been around 20% since the Silent Generation (the 1920s-1940s) when the average home cost less than $10,000, meaning Grandma only put about two grand down on a brand-new home (and gas was a mere 11 cents a gallon). How times have changed!
The myth of the 20% down payment comes from the requirement of private mortgage insurance (PMI) on certain mortgages where less than 20% is put down. Simply put, PMI is insurance that protects lenders against the borrower (you) from defaulting on the mortgage. While you may need to pay PMI if you put less than 20% down, for many, it's a small price to be able to achieve their dreams of homeownership now rather than delaying while saving an unnecessary 20% down.
To answer the question of how much a down payment is for a house in Florida, we'll need to look at different loan types, which require different down payment amounts (some as low as ZERO!!).
Down payments vary by mortgage loan type
Now that you know forking over an unimaginable lump sum of money is not the norm, let's talk about different home loan options including some with low or no down payment required when financing your new Florida home.
FHA Loans
A Federal Housing Administration (FHA) loan is insured by the federal government and is a popular mortgage for first-time homebuyers thanks to low qualifying credit score requirements, flexible qualification guidelines, and a down payment of as low as 3.5%.
FHA loans do have limits on the maximum amount you can finance as well as property requirements, which presents no problem if you are purchasing one of our new construction homes in Florida.
USDA Loans
Also known as the USDA Rural Development Guaranteed Housing Loan Program, this loan is used to help Americans in rural communities achieve their dreams of homeownership. The program partners with selected lenders to distribute loans with a repayment guarantee from the USDA — thus increasing your borrowing potential and giving you better rates!
A USDA loan gives you the benefit of no down payment required, with your only out-of-pocket cost being your earnest money deposit. These loans are restricted based on income and only available on homes in eligible geographic areas, so be sure to contact a mortgage lender to see if you qualify for a USDA home loan in Florida.
VA Loans
If you are serving in the armed forces, are a Veteran, or an eligible surviving spouse, first we want to say thank you for your service - and second, a VA mortgage should be your top choice for financing your new construction home in Florida!
VA loans are intended to help our military heroes achieve their American Dream by providing fantastic financing options, starting with no down payment required which means your only out-of-pocket cost to purchase is your earnest money deposit! VA loans are provided by private lenders and guaranteed by the U.S. Department of Veteran's Affairs (VA), offer extremely competitive rates, and there's no mortgage insurance required which significantly lowers your monthly payments.
Conventional Loans
One of the most efficient ways to buy a new home is through a conventional loan program. Unlike the previous mortgage types discussed, conventional loans are not backed by a government agency and are instead provided directly by mortgage lenders and banks, conforming to a set of guidelines set by Fannie Mae and Freddie Mac. Highlights include paying as little as 3% down, a variety of repayment periods, and lower mortgage insurance costs than an FHA loan; however, qualifying guidelines are more stringent than an FHA loan.
Learn more about mortgage loans types
For more detail on each mortgage loan type including qualification and PMI requirements, check out our article on Types of Home Loans or connect with a Highland Homes Lender Partner to discover the best mortgage options for your personal situation.
Florida Down Payment Assistance Programs
If you need help coming up with the down payment for a house in Florida, you can always apply for down payment assistance. A wide range of Florida down payment assistance programs are available to help you own the home of your dreams. Generally, these programs are geared towards first-time homebuyers, defined as those who have not owned a home in the past three years, though some programs exempt Veterans from this requirement or are available to anyone looking to purchase a primary residence.
Can someone else give me money for my down payment?
While this is not a possibility for everyone, if you have a parent, relative, or domestic partner who is willing and able to financially assist you with achieving your homeownership dream, using gift money for your down payment is a great option to explore.
The amount of the gift may be limited based on your loan type as well as any overlays or requirements set by your specific mortgage lender, but generally, gift funds can be accepted for FHA, VA, and conventional mortgage loans. Each has different guidelines as to who can give you a gift for the down payment, usually limited to family members, though in some cases a friend, employer, or charitable organization may be able to donate funds. Keep in mind the operative word here is gift - this can't be a loan you are expected to repay, and the gift-giver will need to provide a gift letter and any financial documentation requested by the lender.
How can I prepare for my down payment?
That's a great question! While you probably don't need as big of a down payment as you once assumed, clearing off your debt and increasing your savings can help to maximize your buying potential. Taking care of your finances can grant you a larger loan and give you a bit more wiggle room when designing your new Florida home with upgrades, choosing your favorite premium home site, and planning your budget.
If you do need to save up some down payment funds, first, the financial experts at NerdWallet suggest determining how much you will need for your down payment. Compare this to what you currently have saved and when you would like to buy your dream home so you can set a goal of how much you need to save each month.
Next, look at where you can save money. Save your tax refund rather than spending it. Look at refinancing your car or student loans. Cut spending on luxury items and non-essentials - things like a night out at the bar, clothes you don't really need, and extravagant vacations can be put aside while saving to achieve your dream of homeownership. Some people find the fastest way to save is a short-term move back into mom and dad's house or moving in with friends - lower housing costs can quickly build up your savings account!
And, consider opening a separate account for your homeownership savings. This will help deter you from dipping into it for other purchases and let you watch as you get closer to your goal every single month. For some, setting up automated savings where a certain amount transfers from your checking to savings each month (or payday) helps make saving less painful.
If you're just starting down the path of homeownership, chat with a Highland Homes Lender Partner today to discover your buying potential. By choosing to finance your home purchase with a Highland Homes Lender Partner you will save money on closing costs, take advantage of competitive interest rates, and work with a team dedicated to making your homebuying dreams come true.
Please note, the information contained in this blog is provided as a courtesy and should not be solely relied upon for home buying advice or information. The information provided in this blog was accurate at the time of publication but has not been verified since. Please consult with your financial, tax, legal and/or real estate professional for more details.
---
Tags:
Conventional loan
Down payment
Down payment assistance
FHA loan
Get pre-qualified
Home buying 101
Mortgage
USDA loans
VA Home Loan
---