Posted:
March 28, 2019 |
Categories:
Why Buy New
|
Design and Decorating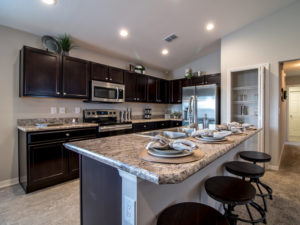 Building a new home in Florida means you have the opportunity to select many of the interior features and finishes that will turn a house into your dream home! Choosing the different paint colors, flooring options, and fixtures that will be used in your home is an exciting process! Over the years, we've found that home buyers especially enjoy designing the spaces they'll use the most, such as the kitchen.
One of the choices you'll get to make when you build your dream home with Highland Homes is the type of countertops in your kitchen as well as in your bathrooms. Homeowners are provided with Wilsonart® Laminate countertops as the standard choice in all of our homes. Why do we love laminate countertops so much? Laminate is regarded as one of the most environmentally-friendly countertop surface options, and it offers extensive design and budget flexibility!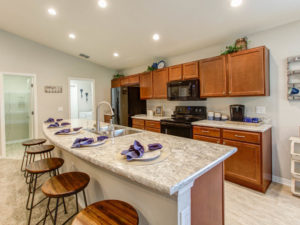 Wilsonart's Premium Laminate is included standard in most of our communities. This premium laminate from Wilsonart features AEON"¢ Enhanced Performance Technology, a scratch-resistant finish that dramatically outperforms traditional laminate when it comes to wear and scuff resistance — a necessity for your busy life!
You can select from nearly 20 unique options for your kitchen and bathrooms, and there are three different finishes available in this line — a textured gloss finish, a quarry finish, and an antique matte finish.
In addition to the Premium Laminate line, we also offer Wilsonart HD® with Antimicrobial Protection and Enhanced Scratch and Scuff-Resistant AEON"¢ Technology. This countertop option is an available upgrade at nearly all our Central Florida new home communities. The texture and feel of these eye-catching countertops is more pronounced than the texture of those in the Premium line, and there are two unique finish options — Mirage or Glaze.
Over the years, we've seen trends come and go through our Personal Selection Studio, and the most popular countertop color today's new homebuyers are choosing is Spring Carnival. This beautiful color has become popular thanks to its lighter shade with hints of both grey and beige–two neutral tones that make this option ideal for so many different design schemes and changing home décor over time. Also popular is Autumn Carnival, a color similar to Spring Carnival, though a little bit darker with warm grey and brown accents.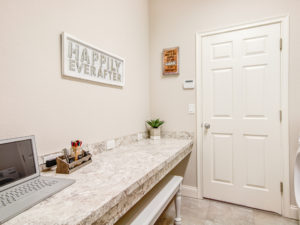 Spring Carnival and Autumn Carnival are both also available in the HD line, and are two of the more popular choices in that line as well. Our buyers also consistently choose Cipollino Con Panna and Cipollino Bianco in this line, both options that incorporate neutral tones as well. No matter what your color preference, with more than 20 available HD Laminate options in both light and dark shades, there is sure to be an option to match your design scheme and style!
In addition to the unique product lines, your laminate countertops can be designed to feature a crescent or beveled edge if you'd like to upgrade from the traditional square edge countertops. These small details each add a uniquely different look and feel to your new home. No matter which option you choose, your beautiful new countertops will be a true reflection of your personal style.
When you build your dream home with Highland Homes, you have the opportunity to meet with our design professionals at the Highland Homes Personal Selection Studio. There, you'll select the many features and finishes that will turn your house into your dream home, including the countertops!
Countertops are just one of the many choices you get to make when you build your new Florida home with Highland Homes. Plus, you'll have the pleasant experience of working with our professionals as they help you design and personalize your dream home! If you're ready to design a life you love, contact our Florida New Home Specialists by calling 863-797-4999 and browse our Florida new home photos to start getting design inspiration today!
---
Tags:
Wilsonart
home in Florida
personal
countertops
drop zone
kitchen counters
wilsonart laminate countertops
new home in Florida
selection studio
personal selection studio
Florida
new home
FL
---