blog
How Does the Federal Reserve Rate Hike Affect Florida Home Buyers?
How Does the Federal Reserve Rate Hike Affect Florida Home Buyers?
Posted:
December 21, 2015 |
Categories:
News
|
General Info
|
Home Buying 101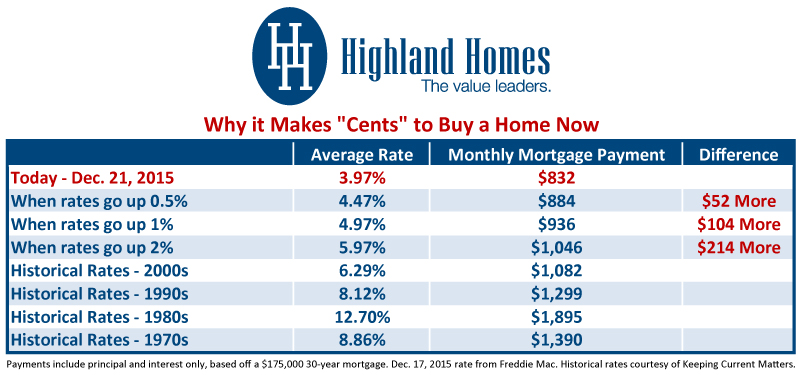 Last week, the Federal Reserve announced its decision to raise short-term interest rates for the first time in nearly a decade. And, if you are buying a home in Florida, you may wonder what this means for your mortgage rate.
The good news is, in the short term, this Federal Reserve rate hike should have very little effect on mortgage interest rates. However, as the Fed continues to raise short-term rates, as is expected, you will see mortgage rates go up. Over the next few years, experts believe mortgage rates will rise significantly.
So if you have been on the fence about buying a home, now is the time to BUY and lock in today's low rates! Combined with rising home prices, it's only going to get more expensive to purchase the home you've been dreaming of.
For example, a 30-year mortgage for $175,000 at today's average rate of 3.97% (source: Freddie Mac) will cost you just $832 a month for the mortgage principal and interest. That rate has stayed fairly steady; when we wrote an article in August about expected rate increases, the average rate was 3.91%. In comparison, when rates go up by 0.5%, and many experts believe this to be the minimum increase we will see over the next year, this same mortgage will cost you $884 per month — a $52 monthly increase. And a 2% rise in rates, as expected over the next few years, will take you up to $1,046 per month - $214 more. It's worth mentioning, these numbers don't even take into account the rising home prices here in Florida.
Very simply stated — if you have been thinking about buying your first home, moving into a larger home, or even refinancing your current home — do not wait for rates to rise! NOW is the time to lock in the lowest possible rate and payment, and your most affordable opportunity for homeownership!
Highland Homes builds new homes designed for your life in Tampa Bay, Polk County, Orlando, Manatee County and Ocala, Florida. Whether you are seeking a low-maintenance townhome or spacious estate home on acreage, we have homes in desirable neighborhoods to meet your needs. Choose from more than 30 home plans with pricing from the mid $100,000's to the $300,000's, and personalize your new home to match your unique style and needs with hundreds of available options. To find your new home in Florida, give us a call at 863-797-4999 or visit the Highland Homes website today.
Mortgage interest rates, terms, down payment and qualification guidelines vary per loan type and are based on your credit and other qualifying factors. To determine your home purchasing power, contact a Highland Homes preferred lender and get pre-qualified today!
---
Tags:
Ocala homes
Orlando
manatee county
home in Tampa
home in Tampa Bay
home in Florida
homes polk county
Highland Homes
interest rates
mortgage interest rates
new home in Florida
Ocala
new home in Orlando
mortgage
Florida
new home
tampa
Tampa Bay
FL
Polk county
---