blog
Is Renting or Buying a Home in Florida a Better Deal?
Is Renting or Buying a Home in Florida a Better Deal?
Posted:
November 17, 2016 |
Categories:
Communities
|
News
|
Home Buying 101
|
Why Buy New
Low interest mortgage rates might be compelling many renters to convert into homeowners, but do the numbers make sense? A recent Rent vs. Buy report from Trulia answers that question with a resounding YES and shows that nationally, buying a home is 37.7 percent cheaper than renting, which is a slight improvement from last year's 37.2 percent cost disparity. And, in Florida, owning a home is even more advantageous than the national average.
Given the fact interest rates fell from an average 3.9 to 3.7 percent in the past year, and despite home prices rising 5.9 percent over the past year, buying is the best deal since 2012, and many U.S. markets sharply point toward homeownership as a financial opportunity worth taking.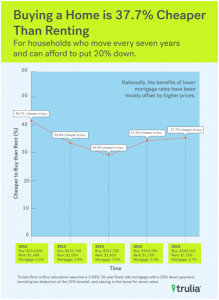 As long as you can afford a down payment and plan to spend at least seven years in your new home, buying is the superior choice for your wallet's sake. Consider these cities in Florida where the savings of buying a home versus renting are significant.
Tampa-St. Petersburg
In this Florida city, popular for recreation and entertainment and with a growing population of Millennials, you'll find huge savings on homeownership. Buying a home in Tampa-St. Petersburg, which costs a median price of $172,392, is 50 percent cheaper than renting the median apartment at $1,350 per month. Homes in Tampa-St. Petersburg would have to jump 117 percent in price to reach $374,091 while interest rates must rise 238.8 percent to a 12.4 percent average to tip the scales towards renting.
Orlando
Orlando also offers impressive cost advantages for homebuyers. Buying real estate in Orlando is 45.3 percent less expensive than renting when considering a median home price of $191,871 and the median rent of $1,400 per month. Property prices would have to rise 95 percent to $374,147 to make renting the better bargain. Meanwhile, interest rates would need to grow to an average loan of 11.1 percent — a 203.3 percent surge that's unlikely to occur in the near future.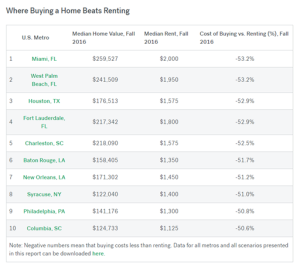 If you're in the market to buy a home and benefit from these cost savings, don't be intimidated by reports of rising national interest rates early next year. Remember, rates would have to more than double to create a new narrative in the real estate world. With that said, the lower the rate, the lower your monthly mortgage payment, so with rates expected to rise, buying sooner rather than later will keep more of your money in your pocket every month.
The above figures were calculated based on a 20 percent down payment, though if you do not have money saved do not despair - You can still take advantage of the financial benefits of owning a home even with a lesser down payment. In fact, you may be able to own with less down than you thought. Highland Homes, a Florida home builder, assists home buyers with the upfront costs of purchasing by offering low down payment finance options through their preferred lenders. By utilizing no money down loan programs and down payment assistance programs, qualified buyers may purchase with Highland Homes with just $99 down.
Highland Homes builds quality new homes priced from the mid $100's to $300's in communities throughout Tampa Bay, Manatee County, Lakeland-Winter Haven, Ocala, and Greater Orlando. The company was founded by father and son, Robert J. and Joel Adams, who have more than 60 years of combined experience building quality homes in Florida and are dedicated to building homes to the highest standards for the highest level of customer satisfaction. Highland Homes was recently honored as the #5 largest home builder in Tampa Bay, #81 largest home builder in the nation on the Builder 100 list, and the #9 fastest growing company in Tampa Bay.
To explore the advantages of homeownership and building your new home with Highland Homes, visit www.HighlandHomes.ORG.
Trulia, founded in 2005, is a mobile and online real estate resource that makes finding a home easy and enjoyable by providing home buyers, renters, and sellers the insights they need to make informed decisions about where to live. Trulia offers updates on new homes and rentals that hit the market, data on affordability and home price history.
---
Tags:
Why Buy New
Orlando
Highland Homes
Trulia
Orlando Area
---