Posted:
November 25, 2014 |
Categories:
The Experience of Building My Highland Home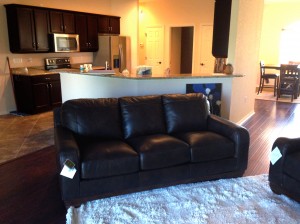 Thanks for stopping by to read my final blog posting; it's been so much fun to share my home building experience with you.
Since my last post, the final construction details were put in place and we were able to conduct the first walkthrough with our Highland Homes personal builder. During this walk of the home, the builder spoke to us about the features of the home, such as the safety outlets, lighting, air conditioning, etc. We looked over everything and marked up a few areas that needed touching up, but the house looked great. After this first walk though, the builder worked on fixing and touching up the items that we found so the house was finished to our satisfaction.
Meanwhile, my salesperson and the closing department of Highland Homes were busy working on getting my loan ready for closing with the lender and the title company. There were a few items they required from us to get ready to close, such as proof of Homeowners Insurance. They did a great job communicating anything they needed from us, to prepare for closing day.
About a week after my first walk through, we conducted our final walk and orientation. This time, we walked around the house again and made sure everything from our "punch list쳌 was taken care of, and everything was perfect! Our personal builder talked a little more about the home, how to maintain it properly, and the warranties included by Highland Homes to protect our investment.
After the final walk, we were ready to close on our new home! Highland Homes tries to schedule closings soon after the second walk, as long as they have a "clear to close쳌 from the mortgage lender. You will talk to your Highland Homes salesperson often as the closing is being prepared, and they will communicate when the closing is ready to be scheduled - we were lucky enough to close on the same day as our final walk through.
The closing was really quick and painless! One thing we learned from purchasing this and our last home - Make sure you take two forms of ID to your closing. When we got to the title company office, and were whisked into the conference room to go over our closing documents, and left a short time later with the keys to our new home!
We have been in our new home for about 3 weeks now, and we are working on decorating and buying furniture to fit our house!
I hope that through following my journey of building a Highland home, you have a better idea of how great it really is to be a Highland homeowner. This is the second home we have built with Highland Homes and we could not be happier. Their sales staff is always available to answer questions and really value the relationships they build with their customers, and both of our homes have finished beautifully and exceeded our expectations. If we decide to move again in the future, we would not hesitate to build another home with Highland Homes. Thank you to everyone at Highland Homes who helped build our home and made it another great experience.
Ken is a resident of Central Florida and is building his second Highland Home. He enjoys spending time with his dogs, family and friends, travelling, and enjoy Central Florida attractions and amusement parks.
Highland Homes is a top builder of new homes in Central Florida, Tampa Bay, Manatee County, and Ocala, Florida. More information about Highland Homes' communities, floor plans and videos, and feedback from Highland Homes' customers can be found on their website at www.HighlandHomes.ORG. 
---
Tags:
Florida home
Building My Dream Home
dream home
Florida homes
Florida
FL
Central Florida homes
central florida
---