Posted:
May 11, 2017 |
Categories:
Communities
|
News
|
General Info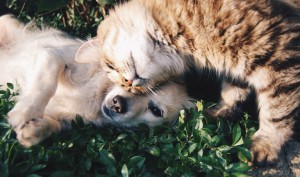 You probably think of your pets as members of the family; sharing your beds, living rooms and hearts.  Pet-parenting is equally as important as kid-parenting and while animals may not be human children,  many of the same dangers still apply.
From the bathroom and laundry room to the kitchen, family room, garage and even the great outdoors, there are many expected and unexpected hazards your fur-baby might face. Take a look around your home from your pet's point of view and see what might be tempting and troublesome. Consider pet-proofing your home to be much like baby-proofing. Here are some of our ideas on how to eliminate threats to your pets in every room of your home:
Kitchens and Bathrooms
These two rooms are imperative when it comes to pet proofing your new home. These rooms are not only highly traveled, but they tend to hold the most dangerous household items such as cleaning supplies, medications and sharp objects. Food is, of course, the most common kitchen-related problem.  To keep paws and whiskers safe in the kitchen and bathrooms, consider the following:
Place all cleaning supplies, chemicals and medications on high shelves.

Keep sharp objects, such as knives, out of reach from curious paws.

The best-known problem food is chocolate, but other toxic foods to keep out of site include avocados, grapes and raisins, macadamia nuts, onions, garlic and coffee.

Some pets can be clever and determined. Consider installing childproof latches on cabinets.

Ensure that trash cans are covered.

Put a poster above the toilet to remind guests to close the toilet lid to prevent any accidents (or to stop them from drinking from the bowl)

All small spaces should be scouted out and blocked before your pet enters your new home. Puppies and kittens especially can get into everything and escape through even the tiniest opening.
Living/Family Room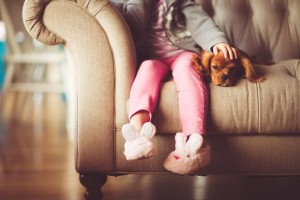 The living room is a place for gathering, entertainment, and relaxation. More than likely, there will be a pet bed and a few toys scattered across the floor because your pet knows this is where they can throw back their fur as well.  But, have you ever taken a close look at your furniture and surroundings for safety? Keep the family room a joyful place by taking some of these safety precautions:
Check all furniture for stability.

Place dangling wires from electronics and windows out of reach.

Check the nooks and crannies of the room where the vacuum cleaner doesn't reach. There could be loose items such as batteries or strings.

Only purchase plants that are not toxic to your pets.

Never leave candles or wax burners unattended.

Keep a safe place, such as a chest, for toys, cards or games with batteries and small pieces.
Bedrooms
Aside from the danger of Sparky chewing on your shiny shoes, or that cute kitten playing catch with your socks, bedrooms are generally pet-friendly. However, there are still a few odds and ends that your playful pets can get into trouble with.
Keep jewelry, hair clips, pins and bands away from exploring pets.

A serious, toxic hazard to pets is mothballs. If you use them, place them somewhere your pet absolutely cannot reach.

Keep windows closed, especially those bedrooms on upper floors.

Cover cords or keep them out of reach.

Check for loose plastic wraps or bags, as these can cause suffocation.

Be careful when you close doors or drawers; little curious noses, paws and tails can easily get shut in them.
Outdoors
Whether it's for a breath of fresh air, a little playtime, or to bask in the gorgeous Florida sunshine, pets love the outdoors! On top of making sure that your pets are properly vaccinated and protected from insects, you will also need to make sure that they are safe from potentially harmful plants in your garden. If you have a dog who loves to dig in the garden, don't let them near the bulbs of tulips, hyacinths or daffodils. All part of azaleas and rhododendrons are poisonous to both cats and dogs, and some lilies have been known to be toxic to cats.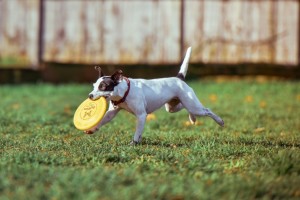 Keep heavy tools, fertilizers, and other hazardous outdoor materials out of reach. And for extra security, consider adding a fence around your garden and surrounding your backyard so that your pets can run free, explore, and play, without any worry of a hazard!
At Highland Homes, we want your new home to be safe and enjoyable for the entire family, including the furry ones! Whether you are looking for your first home or looking to move into a larger home for your growing family, we build Florida new homes priced for your budget and designed for your life, with homes priced from the mid-$100,000s to $300,000s throughout Central Florida and Tampa Bay.
To learn more about building with Highland Homes and to find your new home in Tampa Bay, Greater Orlando, Bradenton, Lakeland, Winter Haven, Davenport, or Ocala, give us a call at 863-797-4999 or visit www.HighlandHomes.ORG today!
---
Tags:
Orlando
Bradenton
Davenport
Greater Orlando
pet safety
pet-proofing
safety
Florida New Homes
Highland Homes
florida new home
Lakeland
Ocala
Winter Haven
Florida
new home
tampa
Tampa Bay
FL
New Homes
central florida
---