blog
Raising the Roof and Framing the Walls of my Highland Home
Raising the Roof and Framing the Walls of my Highland Home
Posted:
August 13, 2014 |
Categories:
The Experience of Building My Highland Home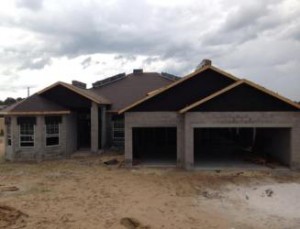 My-oh-my have things moved along in my new home! At the time of my last post, I had exterior walls up and a giant open space–now, there is a roof and interior walls are framed! This is when the building process really takes off as there is so much that goes inside the walls of a home.
To back track a little bit, I wanted to go over what happened step-by-step since my last post. After the exterior walls are built and inspected, the roof trusses are installed. They are not just 'thrown' up there; the truss package is engineered for strength and designed specifically for each home plan, and the trusses are securely anchored to the block walls with hurricane straps. 
Once the trusses are anchored in place, the roofers put plywood decking down on top of the trusses and then they put roofing felt over the plywood to create a barrier in between the shingles and the wood. While the roofers are doing this, builders are also hard at work inside my home framing the interior walls.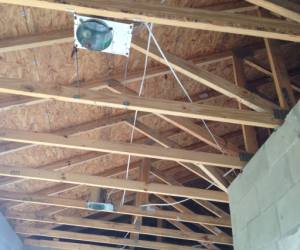 Once the walls are framed, everything inside the walls is put in place! The electrician wires throughout the house for all of your electrical outlets, cable/internet jacks, and lighting, as well as media panels, speaker pre-wires or any other electrical goodies you added.  The plumbers add the plumbing through the walls and install bathtubs. HVAC and bathroom vent fans are piped in place, and insulation is installed along the exterior walls.
One of my favorite bits is the HomeTeam Pest Defense TAEXX built-in pest control tubes, which are between the block wall and drywall on the entire perimeter of the home. Click here to learn more about TAEXX.
Now that all of this has been completed, it's time for my mid-construction meeting and walkthrough with my builder. My builder will go over the status of the house, review the electrical options installed, and discuss the next steps and an estimate of how much longer it will take to be completed. For me, the next step will be the installation of the radiant barrier insulation in my attic and then the drywall will be installed! I can't wait to see the next steps and to share them with you!
Ken is a resident of Central Florida and is building his second Highland Home. He enjoys spending time with his dogs, family and friends, travelling, and enjoy Central Florida attractions and amusement parks.
Subscribe to Highland Homes News and Updates to make sure you do not miss Ken's next blog.
And, follow Highland Homes on Facebook and Twitter to receive notification of Ken's blogs, and other important Highland Homes news and information, right in your news feed!
Highland Homes is a top builder of new homes in Central Florida, Tampa Bay, Manatee County, and Ocala, Florida. More information about Highland Homes' communities, floor plans and videos, and feedback from Highland Homes' customers can be found on their website at www.HighlandHomes.ORG. 
---
Tags:
Florida home
Building My Dream Home
dream home
Florida homes
Florida
FL
Central Florida homes
central florida
---