blog
Taexx Pest Control System — Protecting Your Florida New Home
Taexx Pest Control System — Protecting Your Florida New Home
Posted:
October 4, 2013 |
Categories:
Communities
|
General Info
|
Why Buy New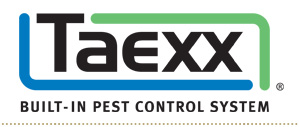 Highland Homes is pleased to announce that as of Oct. 1, even more value will be built into every Florida new home by Highland Homes. Our homes now include the Taexx Built-In Pest Control System which provides homeowners with an innovative way to secure their home against unwanted pests.
This TUBES IN THE WALL® system creates a barrier within the walls of your home and eliminates invaders before they get inside.  One of the most convenient pest control tools on the market, Taexx is a discreet system that can only be installed during new home construction as it is literally built into the walls.
During your home's construction, it takes a Taexx by HomeTeam Pest Defense technician approximately two hours to install the tubes within the walls before the drywall is put up. Once installed, the tubes are connected to a port located on the outside of your home. The port allows pest treatments to be done without a pest technician or any pesticide coming inside your home, so it is not only the easiest but also among the safest pest control techniques as the pesticides never come in direct contact with you, your pets, children or loved ones.
In addition to the hassle-free installation and service, there are a number of benefits to using this system over traditional pest control methods. With advantages that include less pest control materials, minimal exposure and longer lasting protection due to this internal treatment technique, Taexx is arguably one of the simplest and most effective treatment systems available.
With more than 15 years in the business and maintaining a current job record of more than one million treatments each year, HomeTeam Pest Defense is a leader in nationwide pest control. In fact, Highland Homes trusts and works with HomeTeam to service all of our model homes in Florida.
The Taexx Built-In Pest Control System allows homeowners to be proactive by preventing pests from ever getting in, and protecting their home investment and their family's health. With Taexx, you can "build a pest-free sanctuary.쳌
At Highland Homes, we are always on the lookout for the best products to build you a dream Florida new home that never compromises quality, style, value or protection.
With more than 30 stylish home designs to choose from, a wide variety of design options and affordable pricing from the low-$100,000s, there has never been a better time to purchase your dream Florida new home.  We build new homes throughout Central Florida, Tampa Bay, Manatee County, and coming soon to Ocala, so you are sure to find the perfect location and home to meet your wants, needs and budget.
For more information on our beautiful new home communities and to view all of the high-quality features we include at each new home community, visit the Highland Homes website today!
The Taexx Built-In Pest Control System will be included on every home contracted after October 1, 2013.
---
Tags:
new home construction
Florida New Homes
florida new home
Florida
new home
FL
New Homes
---