Posted:
October 23, 2020 |
Categories:
Communities
|
General Info
What is a Multigenerational Home?
A multigenerational home or multi-gen home is a home with at least two generations living under one roof. A multi-gen home might be shared for a variety of reasons: Adult children moving back home with their parents, grandparents move-in to live with their children and grandchildren, or elderly parents move in with their adult children. Yet, each generation has their own private space, allowing for comfort and convenience.
According to the Pew Research Center, 64 million Americans were living in multigenerational homes in 2018, or 20% of the U.S. population, and as the economy continues to fluctuate, the need for a multi-gen house plan option continues to grow.
Benefits of a Multigenerational Home
Multigenerational homes have long been the standard for many cultures, and have come to grow as a trend in the U.S. over the past decade. Benefits include sharing of expenses and proximity to family with whom you choose to share your roof.
Counteracting the rise in housing and healthcare costs is often at the top of the list of reasons for living in a multigenerational home. Young adults (25-35) who moved back home with their parents are comfortable with a living arrangement that helps them save money, while adults with older parents can provide more familial elder care if the need arises. Also, grandparents can enjoy their retirement years surrounded by their grandchildren and children while helping with childcare needs.
Design of a Multigenerational Home Plan
Space is a major factor when it comes to a multigenerational house plan design! The design and layout of your multigenerational home in Central Florida can affect how the structure allows for the needed comfort, convenience, and privacy. Our home plans offer a variety of options where you can add an in-law suite, a fifth or sixth bedroom, or flexible lofts, dens, and bonus rooms to accommodate each member of your household.
The In-Law Suite – Not Just for the In-Laws!
The single-story Willow II provides you with 2,536 square feet of living space, five bedrooms, or four with optional in-law suite. This single floor plan provides easy accessibility for an elderly parent, or adult with mobility concerns. With a separate bathroom and lanai entry, privacy is what you'll find in this corner of the house. If it's more space you need the Willow II with Loft option has an additional 420 square feet of living space above the gathering room, in addition to the in-law suite. The flexibility of this space allows you to convert it into a yoga studio, at-home gym, or any type of getaway space or a dual-purpose room you may need to accommodate for the people in your home.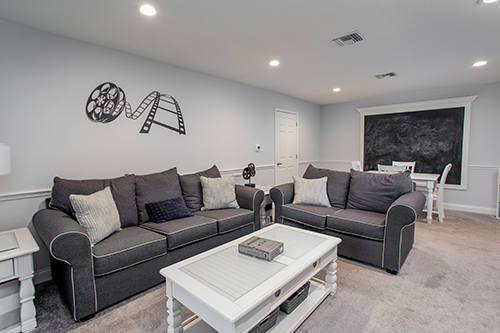 When it's more room you're looking for, the Windemere and the Windemere with Loft option are two plans for you. Similar to the Willow II plans, both are one-story layouts whose design permits you to convert the fifth bedroom into an in-law suite with a private bathroom and lanai entry. Unlike the Willow II, the Windemere and Windemere with Loft provide homeowners with 2,827 and 3,315 square feet of living space, respectively. These spacious home plans give all the members of your household plenty of space to gather and share daily living, as well as retreat and relax.
Extra Bedrooms
If the Willow II and Windemere family of plans are more space than you bargained for, several other of our home plans offer beautiful open spaces, and the flexibility to modify an additional bedroom or loft space, without the extra bathroom.
The two-story Seabrooke home plan is 2,202 square feet of elbow, leg, and arm room! With all the bedrooms located on the second level, everyone in your home will have enough space to create their personal sanctuary. Select to have a fifth bedroom designed for unexpected or long-term guests, or opt for the loft space to use as an additional gathering area or shared in-home office.
The Wesley home plan, with 2,570 square feet of living space on two floors, allows for a spacious loft or fifth bedroom and a loft, if you choose. With a more streamlined layout, the two-story Westbrooke home plan also allows for a spacious loft or fifth bedroom with a smaller loft, all within 2,809 square feet of living space.
Flexible Use Rooms
Another plan in the family of two-level homes is the Wayfair. This 3,141 square foot home gives the owner's suite more privacy with placement on the first floor, while the additional bedrooms are on the second floor. It can be designed to fit a loft and bonus area or sixth bedroom with bonus area. The spacious Wayfair provides homeowners with the comfort of knowing they will have enough space to welcome guests and still have a bonus area for working out, relaxing, or storage.
Are You Ready for a Multigenerational Home in Florida?
Open spaces, large gathering rooms, and private bedrooms and bathrooms are all part of a home designed for your multigenerational life. Our beautiful and spacious homes are built to fit your lifestyle, daily needs, and your budget! If you're ready to build your perfect multigenerational home suitable for the multiple members of your household we at Highland Homes have been building new homes in sought-after Florida locations for 24 years. Browse our communities, additional home plans, and quick move-in homes, and connect with our Florida New Home Specialist by emailing us, calling, or texting (863) 797-4999. Our New Home Specialists are ready to work with you to find the right plan in the right Central Florida neighborhood.
---
Tags:
Flexible Use Rooms
Home Office
In-Law Suite
Loft
Multigenerational Homes
Multi-Gen Home
Design Features
Personalize Your Dream Home
---