Posted:
December 8, 2020 |
Categories:
News
Treat Yo'elf
Sinatra's version of "Jingle Bells" plays in the gathering room filled with twinkling holiday lights, green and red garland outlines the foyer, and chestnuts are roasting in the oven (because who needs a fireplace when we live in the warm year-round embrace of Florida!). It's the holiday season; the time of year for gift-giving and creating memories in your new Florida home. If owning your dream home is on your holiday wish list, there is no better time than now to accomplish your dream!
Interest Rates Yule Love
Today's interest rates have fallen to historical lows, which means this is a great time to buy your dream home. The average 30-year fixed-rate mortgage rate as of December 8th is 2.92%, which is lower than last week, last month, and last year! Depending on your credit score and mortgage type, you may be able to lock in a rate with a Highland Homes Preferred Lender that is even lower!
To put this in perspective, the average mortgage interest rate in 2019 was 3.94% and in the year 2000, it was a whopping 8.05%! Let's say you purchase a home with a $250,000 mortgage. In 2000, that would have been a $1,843 monthly payment for the mortgage principal and interest. Last year, at a 3.94% interest rate, your monthly principal and interest would have run $1,185. Today, that payment drops to $1,043 - $142 per month in savings when compared to one year ago. Buying a new home today means you are spending less on your housing payment, building equity faster, and have extra money in your pocket every month to save or spend on whatever you desire!
A Home You're Fir Sure to Love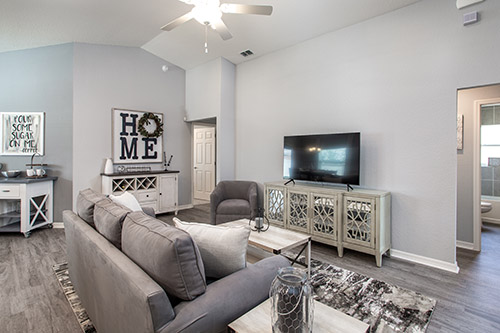 We've been making spirits even bright for more than 20 years, and when you choose Highland Homes as your new Florida home builder, not only do you reap the benefits of buying new, you can select from a variety of home plans and options to suit your needs and budget. Whether you're ready to move soon and seeking a completed home or looking to build a personalized new home from the ground up, we have the home you've been dreaming of and our New Home Specialists are here to help you every step of the way!
Get started by browsing our communities in Florida and previewing quick move-in homes and ready to build home plans. Then, call or email us to connect with a Florida New Home Specialist, lock in today's low interest rates, and give yourself and loved ones the ultimate holiday gift – A new home in which you will laugh, love, and create memories for many years to come.
Rate information as of December 8, 2020. For informational purposes only and not a guarantee of rates or terms, or availability. See a mortgage lender for the most up-to-date information.
---
Tags:
Interest Rates
Mortgage
Home buying 101
---