Posted:
October 26, 2011 |
Categories:
General Info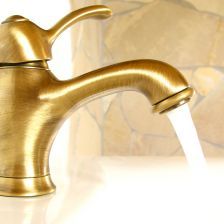 How many of you try to conserve water at your Lakeland homes? As all our earth-conscious readers know, our planet is threatened by a lack of fresh water. Conserving water in our daily lives will help not just the environment, but also our wallets. It's the little things we do which turn into great things.
Here in Florida, we get precipitation throughout the year. The recovery of rainwater is the beginning of a solution to water conservation. It is not potable so you don't want to drink it, but it can easily be captured in a rain barrel and used for the garden or to wash your car or the sidewalk.
Here are instructions to make your own rain barrel, cheap and easy!
You need a plastic barrel (large or small, it depends on how much water you want to catch). A plastic garbage can will work, but a food-grade plastic barrel is better. You will also need a faucet and fittings, which are available at your local hardware store, and basic tools. Search online for full instructions and videos.
Preferably, you want it place your barrel in the shade, and remember to empty and clean it once a year.
Here are some tips to limits water consumption in your home:
Use a watering can rather than a garden hose.

Water after sunset to avoid wastage due to evaporation — some areas have watering restrictions which require this!

Check your irrigation system regularly to ensure there are no leaks and the heads are adjusted to water your landscaping, not your sidewalk

Choose Florida friendly landscaping, which is hearty enough to survive through natural weather cycles without a lot of additional watering. (Every home from Tampa home builder Highland Homes comes with Florida friendly landscaping!)

Install covers on pools and spas to limit evaporation.

Spread a layer of mulch in planting gardens to retain water.

When you run the water at a faucet inside to heat it up, put a pitcher under the faucet and keep the water for cooking or watering plants.

If you have a dehumidifier in your house, you can use the accumulation to water your plants.
For more water tips, visit http://www.wateruseitwisely.com/100-ways-to-conserve/index.php.
Make sure to check the Highland Homes blog often for more home tips!
---
Tags:
efficiency
lower water use
water saving
Highland Homes
Lakeland homes
Tampa home builder
Lakeland
Lakeland home
tampa
---