Posted:
January 12, 2021 |
Categories:
Communities
|
Communities>Summercrest
So, you've been searching far and wide for the perfect Ocala home to call your own. If you want a gorgeous Florida home located in a private and peaceful community, then let us introduce you to Summercrest in Ocala. If you are looking for a beautifully designed single-family home for sale in Ocala, Florida, near scenic outdoor attractions, Summercrest is the perfect place to live.
But, don't take our word for it!
For many buyers, it helps to hear what current homeowners have to say about their neighborhood. That's why we asked Summercrest's Ocala homeowners to share what they have to say about living in this quiet, semi-rural community.
Ready to hear what they had to say? Here are the top 5 benefits of living at Summercrest in Ocala.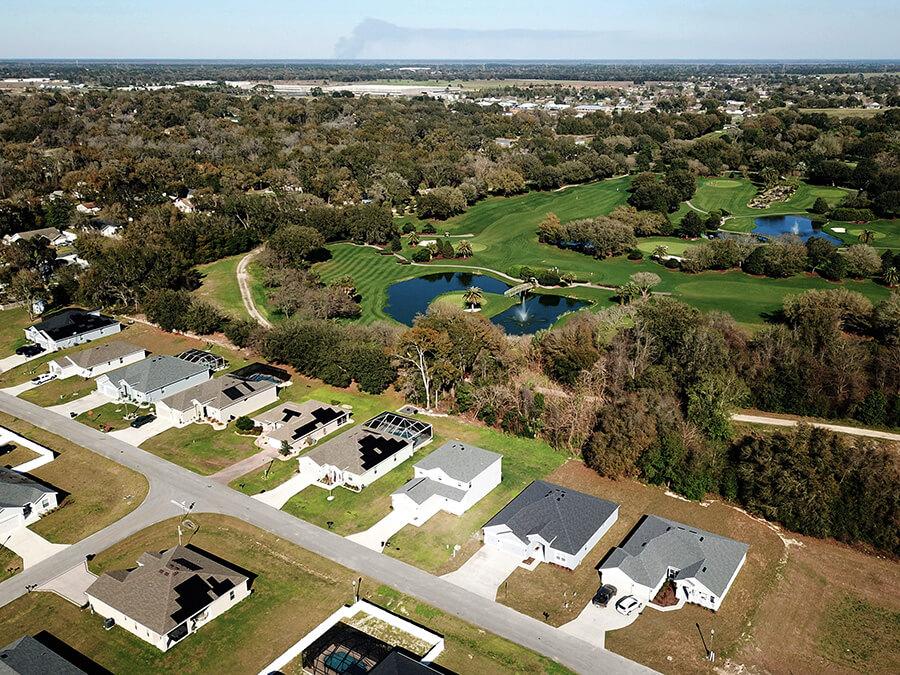 1. Feel Safe in a Gated Community
Picture this: you wake up on a Saturday morning and catch a glimpse of a gorgeous Florida sunrise from your bedroom window. You walk to your front porch to grab the newspaper and wave hello to a friendly neighbor as they walk by.
Birds are chirping, a slight breeze rustles through the leaves of an oak tree, and the sun gently warms your face. No noisy traffic, no random strangers, no hustle and bustle. Sounds heavenly, right?
Well, what if we told you that this daydream can become a reality at Summercrest. Let us explain.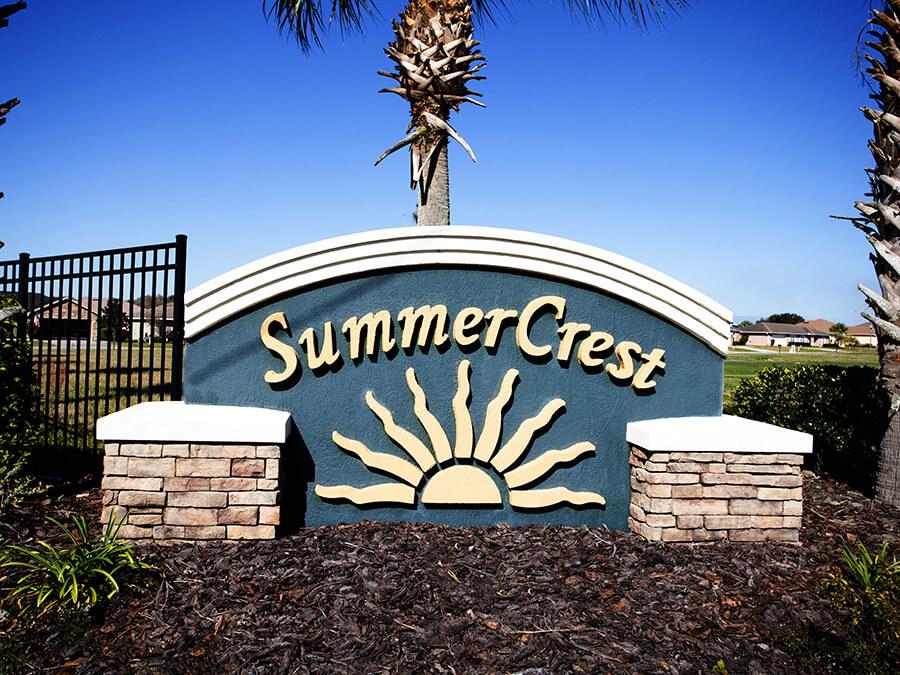 Gated Entry Protects Privacy
According to Summercrest homeowners, one of the best security features this Ocala neighborhood has to offer is its gated entrance. As you may know, there are many practical benefits of a gated community. For instance, not only does a gated entry serve to keep the neighborhood safe and secure, but it also creates privacy, reduces traffic, and establishes a strong sense of community.
But, that's not all.
Private Roads Reduce Noise Pollution
Along with a gated entrance, there are no public or through roads within the Summercrest neighborhood in Ocala. This means less noise pollution from excess traffic or nearby public areas! And with less loud car engines, you can easily listen to the serene sounds of the neighborhood that surrounds you.
Privacy is just one benefit of living in a Summercrest Ocala home. Keep reading to learn more reasons why homeowners are raving about this community.
2. Live in a Beautifully Designed Home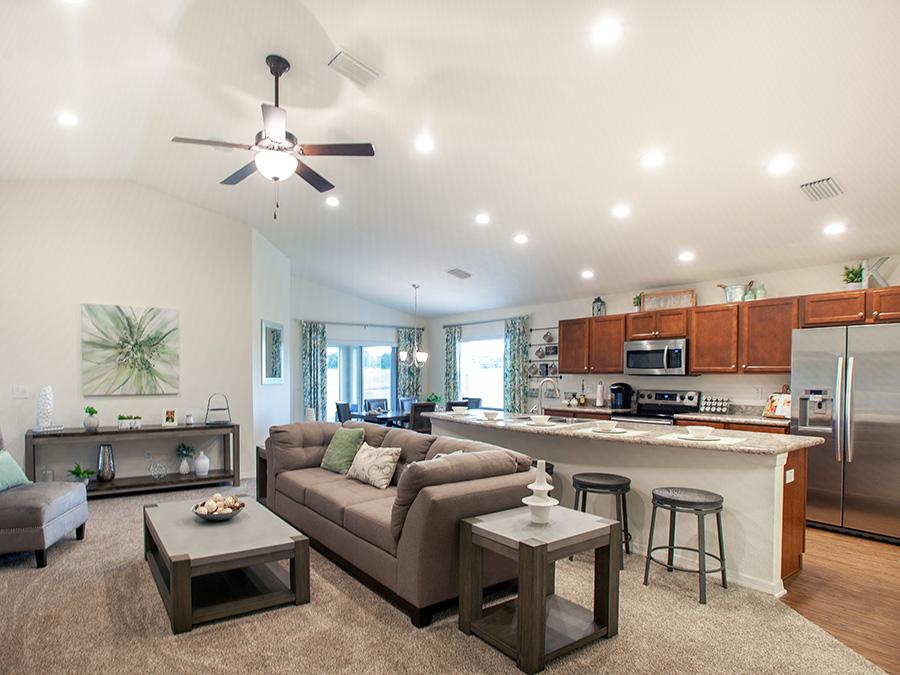 Summercrest flaunts well-crafted, spacious, and beautifully constructed homes. Here's the best part: you can choose from more than 10 home plans and build a home with up to 6 bedrooms! Are you excited? Keep reading to learn more.
Explore Summercrest Home Plans
At Summercrest, you can choose a home plan that fits your budget and is constructed to match your family's unique lifestyle. Some of Summercrest's homeowner plan favorites include the:
Since the neighborhood is an all-ages community, you can opt for a home plan that is big enough to include an in-law suite, private owner's suite, loft bonus room, front porch, covered lanai patio, and even a backyard pool for the kids to play in.
After you choose the perfect home layout for you and your family, designers at the Highland Homes Personal Selection Studio will help you design your dream home!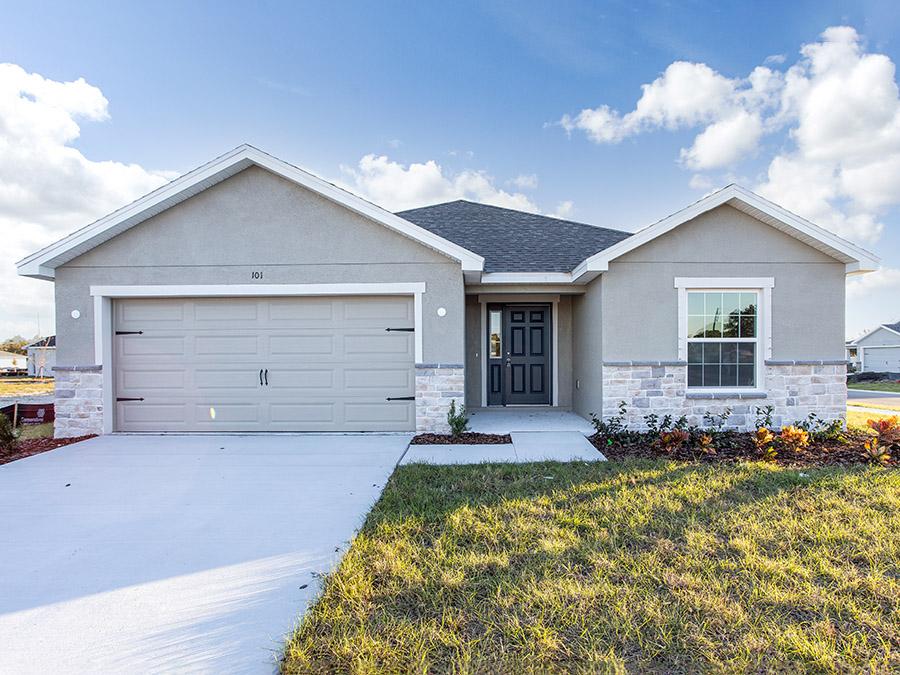 Prices and HOA Dues
Depending on the home plan you choose, new construction homes in Summercrest Ocala range from $200,000 to $300,000 on average. Furthermore, annual HOA fees are only $250.
Close Proximity to Popular Facilities
Although Summercrest is a semi-rural neighborhood located east of US 301, it's still just a quick drive from Downtown Ocala and The Villages.
For families with children and teens, Summercrest is zoned for the following schools:
Belleview Elementary School
Belleview Middle School
Belleview High School
Whether you want to go out to eat or take the day to shop downtown, you can feel comfortable knowing it is just a quick distance between you and your beautiful home.
3. Relax in a Quiet Atmosphere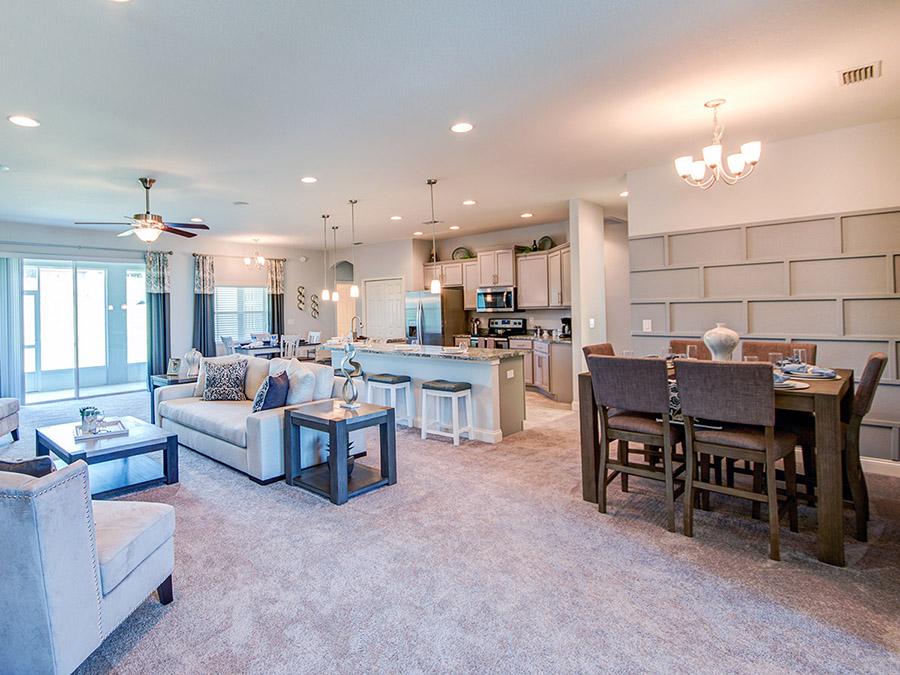 When you search for new homes for sale in Ocala FL, it's all about finding the perfect location. If you want to buy in a quiet, peaceful community, Summercrest is for you.
In fact, this gated neighborhood is adjacent to a beautiful wooded area, which leads to more rural communities. To the east, the Baseline Golf Course touches the horizon. Along with its private roads, Summercrest is the epitome of tranquility. This leads us to our next point.
4. Enjoy Spacious and Well-Maintained Home Sites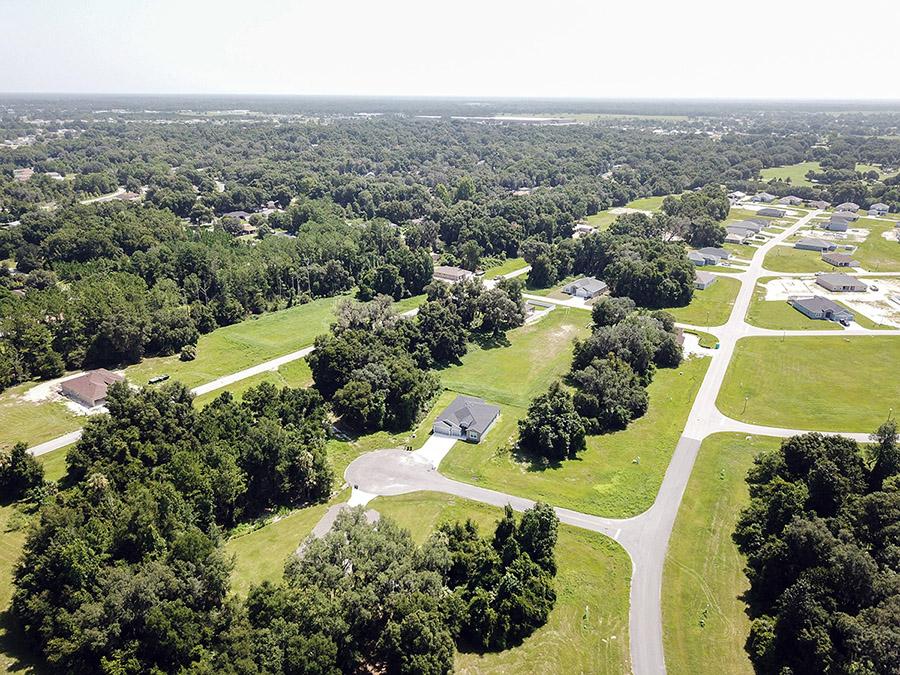 As the saying goes, "the bigger, the better!" This motto goes for homeownership as well, and Summercrest certainly doesn't disappoint.
In fact, many homeowners would agree that Summercrest is far from claustrophobic. Since the Summercrest community boasts an average home site of a ¼-acre, each residence offers plenty of open space. Whether you want to landscape, add a backyard pool, or simply enjoy the openness, you have the opportunity to live life to its fullest on your spacious home site.
Furthermore, unlike other single-family homes for sale in Ocala Florida, Summercrest homes are not cookie-cutter, nor are they stacked one after another. This gives a clean and welcoming vibe to the entire community.
5. Explore Scenic Outdoor Attractions
Last but not least, the final benefit to living in a Summercrest Ocala home is its vicinity to several nearby outdoor attractions, including:
Golf courses
Hiking trails
State parks
Natural springs
Central Florida is known for its wildlife, vast forests, and refreshing natural springs. Dip your toes in the cooling waters of the famed Silver Springs or throw on your sneakers and go for a hike in the Ocala National Forest.
Other popular Florida outdoor attractions near Summercrest include Baseline Golf Course, Santos Trails, Lake Weir, Paradise Springs, and Juniper Springs. As you can see, if you and your family are nature enthusiasts, then you will thrive in this community.
Find Your Summercrest Ocala Home with Highland Homes
Ready to discover your dream home in Ocala? We can help you complete your search! At Highland Homes, we have over 25 years of home building and real estate experience in the Central Florida region. With over 10,000 new construction homes under our belt, you can expect only the best and most quality homes from our team.

Contact us to learn more about the Summercrest Ocala community and experience the Highland difference for yourself. We look forward to hearing from you!
---
Tags:
Ocala
Summercrest
Single-family homes
Gated community
Open space
---