Posted:
May 29, 2015 |
Categories:
News
|
General Info
|
Home Buying 101
|
Why Buy New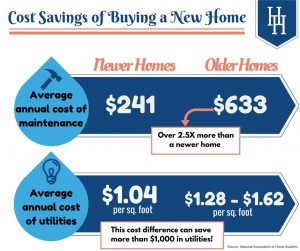 If you're preparing yourself for homeownership, you should plan the cost of maintenance and utilities into your budget. These costs can vary depending on the type of home; a newer home costs less to maintain and operate than an older home, as well as not requiring costly renovations needed to personalize and update an older home.
According to Census data analyzed by the National Association of Home Builders (NAHB), newer homes (built after 2008) average of $241 a year to maintain, while homes built in the 1980's average $633 annually to maintain — more than 2.5 times a newer home. Typical routine maintenance includes painting and minor repairs to plumbing, HVAC, fencing, etc.
Costs for utilities (operating your home) are also considerably lower in a new home because of all the new energy-efficient technology, and changes in building practices.
Energy Cost Savings
Summer is approaching and temperatures are on the rise here in Florida. The NAHB study found that new homes cost about $1.04 per square foot for annual utilities, homes from the 1980's come in at $1.28 per square foot and houses built before 1960 average $1.62 per square foot. For a 1,800 square foot home, that equates to annual costs of $1,872 for a new home, or $2,916 for the same size house built before 1960 — more than $1,000 in annual utility savings!
Here at Highland Homes, we not only build in Florida but are based here as well, so we understand the value of energy-efficient products which keep cooling costs down. Every Highland home is built with:
Programmable Thermostat — Allows you to schedule for less a/c to be used at different times of the day, such as when you are away from home.
14 SEER Energy-Efficient Heat Pump — SEER (Seasonal Energy Efficiency Ratio) refers to the efficiency of your a/c equipment — the higher the SEER, the lower your cooling costs.
Low E, Double Pane Windows with Tilt-In Sash - Reduces heat radiating into your home through the windows (plus, the tilt-in sash makes the glass easy to clean!)
Insulation — R-30 in living area ceilings, R-4.2 on exterior masonry walls, and R-11 batts between the house and garage provide a barrier against heat entering your home.
In addition, several upgrade products are available to increase your home's efficiency. One of the most popular upgrades to add is Radiant Barrier, a product that can reduce the heating/cooling portion of your utility bill by 8 to 12 percent, saving the average household $600 annually.
Advanced Technology & Design
Technology has come a long way since the 1960's. In addition to better insulation and windows, new homes are sealed tighter to prevent heat intrusion, as well as include products that use less energy, such as lighting and EnergyStar appliances.
Lower Maintenance Costs
Maintenance expenses grow as a home ages and sustains wear and tear. In a brand new home, there is no pre-existing wear and tear, so necessary maintenance is minor: Replacing HVAC filters and batteries in smoke/carbon dioxide detectors, paint touch-up, pressure washing sidewalks and fences, caulking, and other simple tasks.
With an older home, you have all of the above, plus possible repairs to worn plumbing, electrical systems, roofing, and major appliances such as your HVAC system and water heater.
When you build your new home with Highland Homes, we are going to make sure you don't have to worry about major repairs. Along with everything being brand-new, we provide fantastic warranties for your peace of mind, including a one-year builder warranty against material defects, and 2-10 Home Buyers Warranty providing 2 full years of coverage against defects in electrical, plumbing, heating, cooling, ventilating, and mechanical systems, and 10 full years of structural protection.
Seems like a no-brainer, right? I know I'd rather spend my time and money on other things besides home repairs.
Cost vs. Value of Remodeling
Say you do decide to buy a fixer-upper. Yes, it may be cheaper to purchase initially. The average cost of remodeling a bathroom is about $15,000 while only adding about $11,629 to the resale value of your home. A full kitchen remodel? You'll fork out upwards of $52,000, while only improving your home's value by about $39,000. A roof will run you close to $18,000 out of pocket.
So to review: A fixer-upper that needs a remodel to one bathroom, the kitchen, and a new roof is going to cost you about $85,000. These remodels alone equate to about HALF of the total price of buying a brand new home in Florida from Highland Homes, which includes brand new features and finishes selected by you, built into your home, and covered by a new home warranty.
(Our remodeling costs and values came courtesy of data for the South Atlantic region, which includes Florida homes, from http://www.remodeling.hw.net/cost-vs-value/2014/south-atlantic/.)
Higher Resale Value
Newly built homes have more sought-after features, including open living areas and kitchens, storage solutions with pantries and walk-in closets, master baths with separate tub and shower, and dedicated laundry rooms. Location also plays an important role; new homes are often located in growing and sought-after areas.
Here at Highland Homes, we build new homes designed for your life in sought-after communities throughout Central Florida, Tampa Bay, Ocala, and Manatee County. Select from more than 30 home plans priced from the $130's to $300's, with features designed for modern life. Plus, choose from hundreds of options to personalize your new home to your style, needs, and budget.
Highland Homes makes purchasing a home even more affordable by allowing you to purchase a new home designed for your life with a low down payment with qualifying financing through one of our lender partners.
To find your new home and learn more about becoming a homeowner in one of our beautiful Florida communities, visit the Highland Homes website.
---
Tags:
Homeowner tips
Rent vs own
Why buy new
Maintenance costs
Renovations
---