Posted:
December 19, 2016 |
Categories:
Communities
|
Design and Decorating
Cold weather and snow are overrated! Residents of Florida know that they don't need snow to have the most beautiful and festive holiday season in the country. It's easy to get into the holiday spirit in Florida. Warm weather keeps all of the leaves green and all you have to do bring in the red!
Decorating your new Florida home can be just as simple. Glow and behold these holiday decorating ideas for your new home.
Light Up Your Lawn the Floridian Way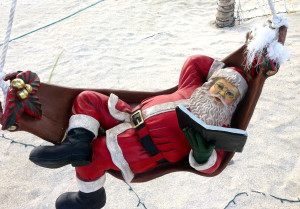 You're not restricted to snowmen and reindeer with Florida's warm and cozy weather. Use plain white lights on palm trees for a subtle look, or multicolored,
flashing LED lights to make your palms really stand out in the neighborhood. Rather than denying the tropical surroundings, embrace the Florida style with wacky lawn décor and ornaments.
Remember, having a home that truly stands out in the neighborhood doesn't have to be a time consuming and stressful ordeal! Many Floridians have cut down on some of the pressure this year by using these quick decorating ideas:
Lightshow Projectors: They're all the trend for a reason! Save time, money, and energy by decorating your home in seconds. There are a variety of lightshow projectors out there with a multitude of features like music, characters, and more.

Inflatables: Enjoy the wide-array of inflatable characters available at any of your local home-improvement stores. Winter flamingos, sun-kissed Santas, and other characters are hot this season!

Net Lights: A "lazy-man쳌 holiday classic. These lights can transform any bush and tree into a dazzling display instantaneously.
 A Few of Your Favorite Things and Holiday Styles
Investing in décor that you know you'll love is key to creating a warm and cozy home for the holidays for years to come. Make it so that no matter what holiday theme you decide, you know that decorating your tree traditionally or funky and unique won't be a challenge!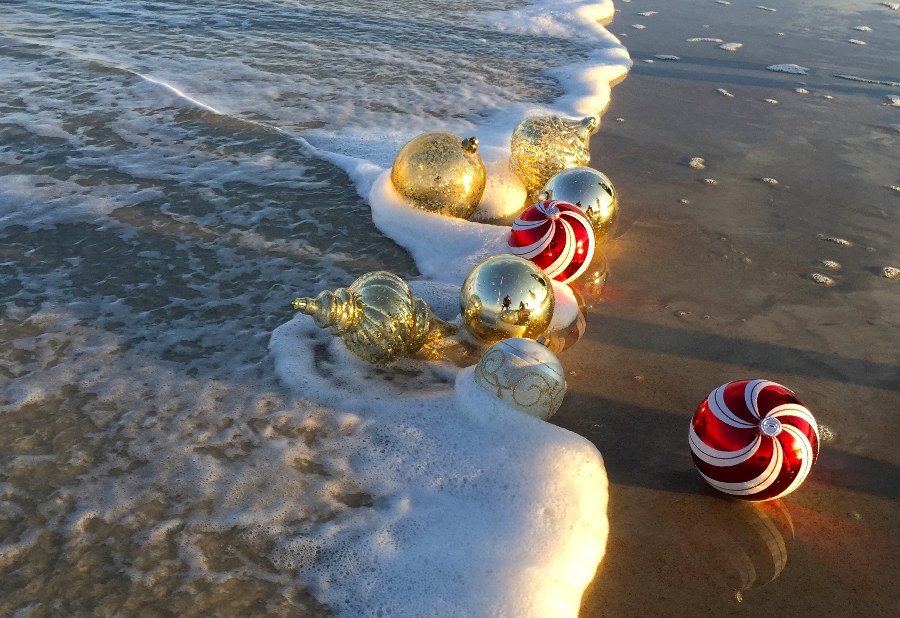 So, take the traditional route of green and red bows, pine and cinnamon scents, and peppermint sticks or try bringing the beach home for the winter season! Wreaths and rugs don't necessarily have to be red and green for it to have a festive feel. For a bit of a Floridian theme, add in a touch of beach and sea inspired décor. Seashell ornaments, a starfish tree-topper, a sandy tree skirt, and presents wrapped in turquoise and blues are enough to make you wish Santa brought the Florida Gulf with him!
Looking for more inspiration? Don't forget to check out the vast amount of free fun that Florida has to offer this holiday season more decorating ideas as well as our Pinterest gallery for more design inspiration
No Mantle? No Problem.
Tradition says to hang your stocking by the chimney with care in hopes that St. Nicholas soon would be there.  As Floridians know, we like to make our own traditions. It doesn't matter where the stockings are hung as long as they can be filled with candy and goodies! Here are a few different ideas for hanging stockings:
Use the Staircase: Stockings on a staircase laced with garland is a perfect classic holiday look to add to your new home.

Hang Them on Hooks: Purchasing hooks to hang anywhere in the home is another option that helps keep the stocking custom alive.

Buy a Floor Stand: Any pre-lit floor stand will light up the room, add an extra festive look, and offer a great place for everyone to hang their stocking.

Try the Windows: Windows are a popular spot for stockings. Decorate the frame with glowing lights and add stockings to illuminate the room.

Get Everyone Involved: A fun tradition to start with children is hanging stockings on separate door knobs throughout your new home. This makes for a great scavenger hunt!
Happy Holidays in Your New Home
At Highland Homes, we're wishing you and your loved ones a happy holiday season this year and many years to come. And, in the spirit of the holiday season we're giving you a gift to help make your home dreams a reality! Now through December 31, Highland Homes is offering $12,000 in savings this holiday season.
Highland Homes builds stylish new homes in Central Florida and Tampa Bay in popular locations including Ruskin, Plant City, Lakeland, Winter Haven, Davenport, St. Cloud, Palmetto, and Ocala. Choose from a variety of home designs priced from the $140's to $300's and offering 1,250 to 3,315 square feet of living space designed for your life. To learn more about building with Highland Homes, contact us online or call our New Home Specialists at 863-797-4999 today!
---
Tags:
centeral Florida
tips
decor
decorating
Highland Homes
decorating tips
Florida
new home
FL
New Homes
---