blog
Decorating Your Florida New Home for All Things Fall
Decorating Your Florida New Home for All Things Fall
Posted:
October 23, 2015 |
Categories:
News
|
Design and Decorating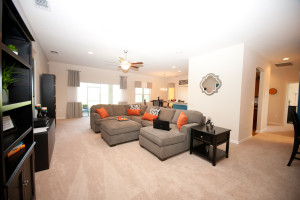 "The ornament of a house is the friends who frequent it.쳌 — Ralph Waldo Emerson
A change is in the air; cooler breezes roll inland in the evening, and the sun lingers a little while longer on the horizon before popping up in the morning. Fall is a wonderful season to appreciate nature's bounty, and one of the easiest seasons to carry indoors to your décor.
Decorating your new home in Florida home for fall doesn't have to mean giving your home a total makeover. Adding complimenting accents to your home décor will carry you through the entire season, and get you into the spirit for Halloween and Thanksgiving. Autumn inspired color can be as easy as adding a throw blanket or pillow to your sofa!
We have some great fall décor inspiration and do-it-yourself ideas that we can't wait to share with you!
Use scent as an accent.
The intoxicatingly wonderful scents of autumn make your home feel cozy, warm and full of zest. Pumpkin, cinnamon, apples, cloves, cranberry and spice are all common autumn scents. Scent can be added through many forms, including baking, candles, essential oils, a cinnamon broom or pomanders. What is a pomander, you may ask? They are quite simple and inexpensive to make; take an orange or perforated ball, insert whole cloves into it, hang it from a pretty ribbon and voilà , you have mastered DIY home fragrance.
Fill your kitchen with fall's bounty.
Stock up on fall flavors like apples, cranberries, pears and squash. Shop local from the farmer's market or farm stand for the freshest produce selection. Feel that chill in the air? Whip up some yummy squash soup or throw some apples in the oven for a delicious tummy warmer and a delicious scent throughout your home. And, apples sure do look nice arranged in a basket or decorative bowl on the counter.
Good gourd!
What is fall without pumpkins? Not all of us like to get messy with the gooey pumpkin guts. And, it's not necessary to dismember one in order for it to be decorative; a little creativity is all that's required.
White pumpkins seem to be growing in popularity. If you can't find a white one, you can paint it a pretty pastel color for a truly unique gourd.
Other fun ways to create something special are to use thumbtacks for design, chalkboard paint, stencils, metallic paint pens, glitter, ribbon or decoupage pressed leaves. The possibilities are as limitless as your creativity. Check out our Halloween board on Pinterest for some unique pumpkin decorating ideas.
Fall foliage arrangement.
Here in Florida, we don't see the dramatic leaf color changes notorious up north. But, red maple trees and crimson sourwood are two trees native throughout Florida which delight with vivid fall leaves. The great thing about fall foliage arrangements is that you can include elements you find in nature or use silk plants from the local craft store.
Start by building a pleasing asymmetrical shape with foliage. Add in cuttings of larger flowers at different lengths while crisscrossing the stems in the vase.  Lastly, weave in some wispy elements. Wrap your vase with a festive fall ribbon and ta-da - another DIY masterpiece!
Your entryway.
Deck out your front entryway this year with simple efforts to make your neighbors envious.
An empty bench may be the perfect place to rest a pillow made of burlap or a bright material boasting fall's rich color palette.
Use a bale of hay like a table top and display your décor at multiple heights to create visual interest. Mums, pumpkins, cornstalks, maybe that cinnamon broom; anything rustic or shabby chic vintage will create a sentimental and nostalgic effect.
Hang a fall wreath on your door or get really creative and forego the classic wreath for a unique seasonal display, like an apple basket. Garlands made of leaves, berries, fall flowers, corn husks and more can be found nearly everywhere this time of year and are great for adding your own personal swag.
The scarecrow.
What's more fun than yard decorations? These days, a variety of inflatable, light up and spooky décor are available at the store. Or, you can take it a step further to create something which is truly unique. What's more fun than building your very own scarecrow? We don't have snow, so we can't build snowmen here in the south (thank goodness, I love the Florida sunshine!), so a scarecrow can be a fun and festive DIY project for your entire clan.
Start by building a frame. You can use a rake or a broom handle if you like. Nail in a shorter stick to make a cross frame for the shoulders. Get some straw or hay from the local crafts store or farm stand. Next, gather up old clothing items, put the clothes on the frame and stuff it! Give your scarecrow hands by stuffing a pair of gloves and tying them on with twine. A burlap sack or a pillow case makes a fine head, and go ahead, get creative with its facial features!
Gratitude.
Warm, rustic colors with orange and red hues, and hearty warmth with pumpkin spice and everything nice, are all best enjoyed with those you hold dear. Take a moment this season to let those you love know just how much you appreciate them.
Speaking of appreciation, Highland Homes appreciates our homeowners! Congratulations to all of our wonderful homeowners spending their first fall season in their new home. If you are still shopping for the Tampa, Central Florida, Ocala or Orlando new home of your dreams, we recently gave our website a make-over to make it even easier to find the new home you've been dreaming of. We've improved the design, added new search filters, added more photos and additional community information, all while loading the content faster. Click here to check it out and find your new home!
And, visit our Pinterest boards for even more fall decorating inspiration.
---
Tags:
tips
decor
decorating
new homes in florida
Highland Homes
decorating tips
Florida
new home
FL
New Homes
---