blog
Enjoy Peace and Nature's Bounty in a Tranquil Ocala Community
Enjoy Peace and Nature's Bounty in a Tranquil Ocala Community
Posted:
May 31, 2019 |
Categories:
Communities
|
News
Updated May 12, 2022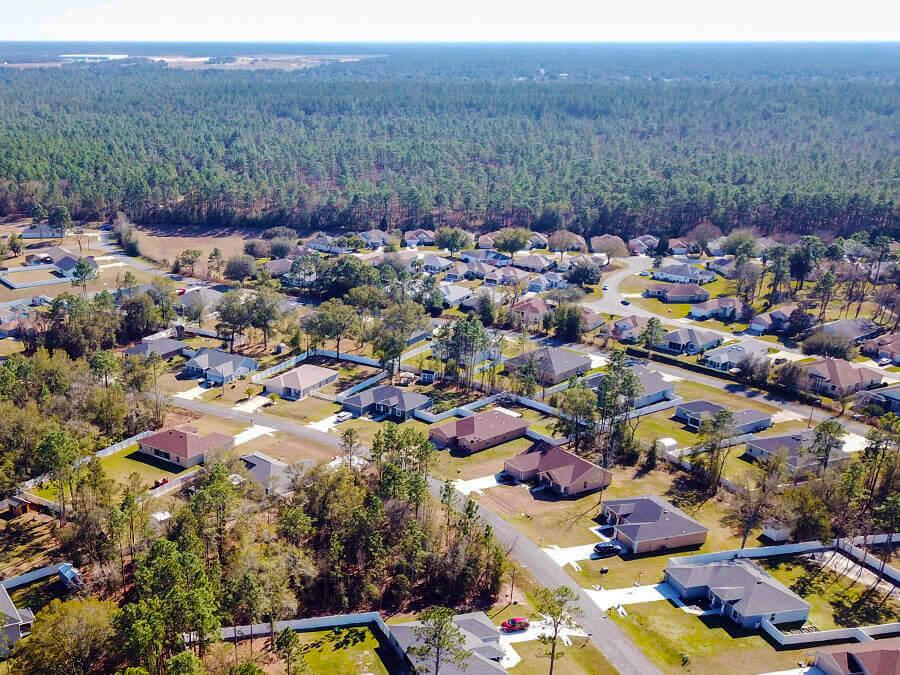 It's easy to see why homeowners in Ocala, Florida never want to leave their city. This area of Florida is known for its natural beauty and just enough distance from tourist areas to provide more peaceful surroundings, yet it's still close enough to make a day trip to a theme park or beach when you want to play.
If this is the life for you, we welcome you to Kingsland Country Estates. This all-ages community of beautiful new homes in Ocala is the perfect place to call home when you're in love with both Ocala's calming natural beauty and easy access to shopping, dining, and entertainment.
Daily Conveniences Close to Home
Located southwest of the city proper in a quiet residential area between the Florida Trail, I-75, and SR 200, living at Kingsland Country Estates places you in peaceful surroundings just minutes away from grocery stores, pharmacies, and shopping centers including Paddock Mall, Steeple Chase Shopping Plaza, and Market Street at Heath Brook.
Foodies, take note - You're only 11 miles from amazing restaurants in Ocala's downtown historic district. Whether you're seeking an intimate night out or a laid-back brewery setting, downtown Ocala serves it! A few of our favorite places to dine downtown are:
Ivy on the Square, where Southern-style comfort food is served in a historic brick building or on the gorgeous patio teaming with greenery
Big Hammock Brewery and Bites, where you can not only enjoy some craft beer but also tasty food
La Cuisine Restaurant, an intimate French-style bistro
Looking for some classic, down-home American fare? Check out Brester's Coney Island, Brooklyn's Backyard, and there's no keeping Big Lee's Barbecue a secret since owner and pitmaster Rashad Jones has his own Food Network show!
Live the Florida Outdoor Lifestyle
Ocala residents are in love with the area's natural environment, and you will love how Kingsland Country Estates delivers. Homes in this neighborhood are surrounded by nature, with spacious home sites nestled between towering trees, conservation areas, and beautiful nature views. And, some of North Central Florida's best outdoor attractions and recreation areas are just minutes from home.
Outdoor Recreation
Escape the everyday and bask in the wonders of the outdoors at the Ocala National Forest, the southern-most forest in the continental U.S. and the world's largest sand pine scrub forest. Enjoy a day on the water in one of the forest's more than 600 lakes, rivers, and springs – perfect for an afternoon of snorkeling, diving, and swimming, or taking a paddle in a canoe or kayak. Three first-magnitude springs - Alexander Springs, Salt Springs, and Juniper Springs - offer awe-inspiring crystal-clear water that is a constant, year-round 72 degrees. And, extensive trail systems in the Forest provide everything from hiking, biking, and horseback riding to 125 miles of OHV trails for motorcycles, ATVs, and UTVs.
For hiking even closer to home, the Florida Trail 49th Ave Trailhead is a mere 2.5 miles away from new homes at Kingsland Country Estates. This National Scenic Trail is 1,500 miles long - yes, you read that correctly - through diverse ecosystems stretching all the way from the Big Cypress National Preserve in south Florida to the Gulf Islands National Seashore in the Panhandle. The section of the trail located from the 49th Ave Trailhead traverses through the Cross Florida Greenway, a unique wildlife corridor spanning from the Gulf of Mexico to the St. John's River which follows the path of the never-complete Cross Florida Barge Canal.
Off the Greenway, the Ross Prairie State Forest, just seven miles from your new home at Kingsland Country Estates, provides even more opportunities for recreation with serene hiking, biking, and equestrian trails meandering through oak hammocks and islands abundant with wildlife, along with a year-round campground.
If you'd rather take it easy, have a relaxing picnic at the dog-friendly Liberty Community Park, spot some beautiful birds at the Shangri-La Campground, or wander the labyrinths and gardens at Sholom Park. Silver Springs State Park, 20-miles from your new home, is a national landmark and nature park with one of the world's largest freshwater springs, where you can take a glass-bottom boat tour, kayak, paddleboard, or canoe, hike, camp, and even shop and dine!
No matter what you love about Ocala's outdoor recreation, you are close to it all when you live at Kingsland Country Estates.
Equestrians
Ocala is known as the horse capital of the world. In addition to the multitude of trail systems we've talked about, living in a new home in Ocala at Kingsland Country Estates will put you just a couple of miles away from the next big thing – the recently-opened World Equestrian Center. The new 300-acre facility hosts indoor and outdoor arenas, five expo centers, stables, a chapel, a veterinary clinic, luxury hotel accommodations, and 13,000 square feet of curated shopping and dining. New restaurants and amenities will serve locals as well as visitors, so living nearby adds even more opportunities for you to enjoy convenient shopping and dining. Of course, all the many existing equestrian clubs and venues already available in Ocala will continue to grow and thrive with the addition of this new center.
Golfing
Your new home at Kingsland Country Estates is near beautiful country clubs and golf retreats. Less than five miles away from home, enjoy Royal Oaks Golf Club's award-winning 18-hole golf course. Or, check out the rolling fairways of the Country Club of Ocala, offering an 18-hole championship course and "a warm blend of lifestyles, landscapes, and friends."
Live Entertainment
Take in a show at Ocala's finest performing arts centers with all different kinds of live entertainment options for you to enjoy. Visit Circle Square Cultural Center to enjoy shows and events hosted by popular local singers, comedians, and dancers. For a more exquisite experience, The Sharon L. Morse Performing Arts Center brings Broadway shows to Ocala with performances ranging from full orchestras to ballet theater.
Near Ocala at The Villages, deemed as "Florida's Friendliest Hometown," enjoy three eclectic town square centers with shopping, dining, and nightly entertainment year-round. For a country-themed cattle town, you can visit Brownwood Paddock Square featuring a movie theater with a barn look. Spanish Springs Town Square has a southwestern feel with shopping and dining. Lastly, visit Lake Sumter Landing Market Square for a waterfront landmark showcasing a wide range of boutiques, restaurants, and more!
Focus on Health and Wellness
There's no shortage of outdoor recreation around Kingsland Country Estates to keep you in shape such as the above-mentioned Florida Trail, Cross Florida Greenway, and land and water activities in the Ocala State Forest. And, when you want to get out of the heat (or rain), try an indoor workout at nearby gyms including Anytime Fitness, Zone Health and Fitness, Orangetheory, or the Florida Martial Arts and Fitness Center.
When you are in need of healthcare, nearby hospitals are ready to care for you. HCA Florida West Marion Hospital (6.8 miles) and HCA Florida Ocala Hospital (previously known as the Ocala Regional Medical Center) are both recognized with Healthgrade's Patient Safety Excellence Award for providing excellence in patient safety, along with other "America's 100 Best" medical center honors. If you are a military veteran, thank you for your service, and you can rest well knowing the Ocala VA Clinic is just 9 miles away from your new home.
Education
Students living in Kingsland Country Estates are zoned to attend Marion County Public Schools:
Marion Oaks Elementary School (K-5)
Liberty Middle School (6-8)
West Port High School (9-12)
Adults looking to further their educations have schools to choose nearby including the College of Central Florida, Rasmussen College, and St. Leo University's Ocala Education Center.
New Homes in Ocala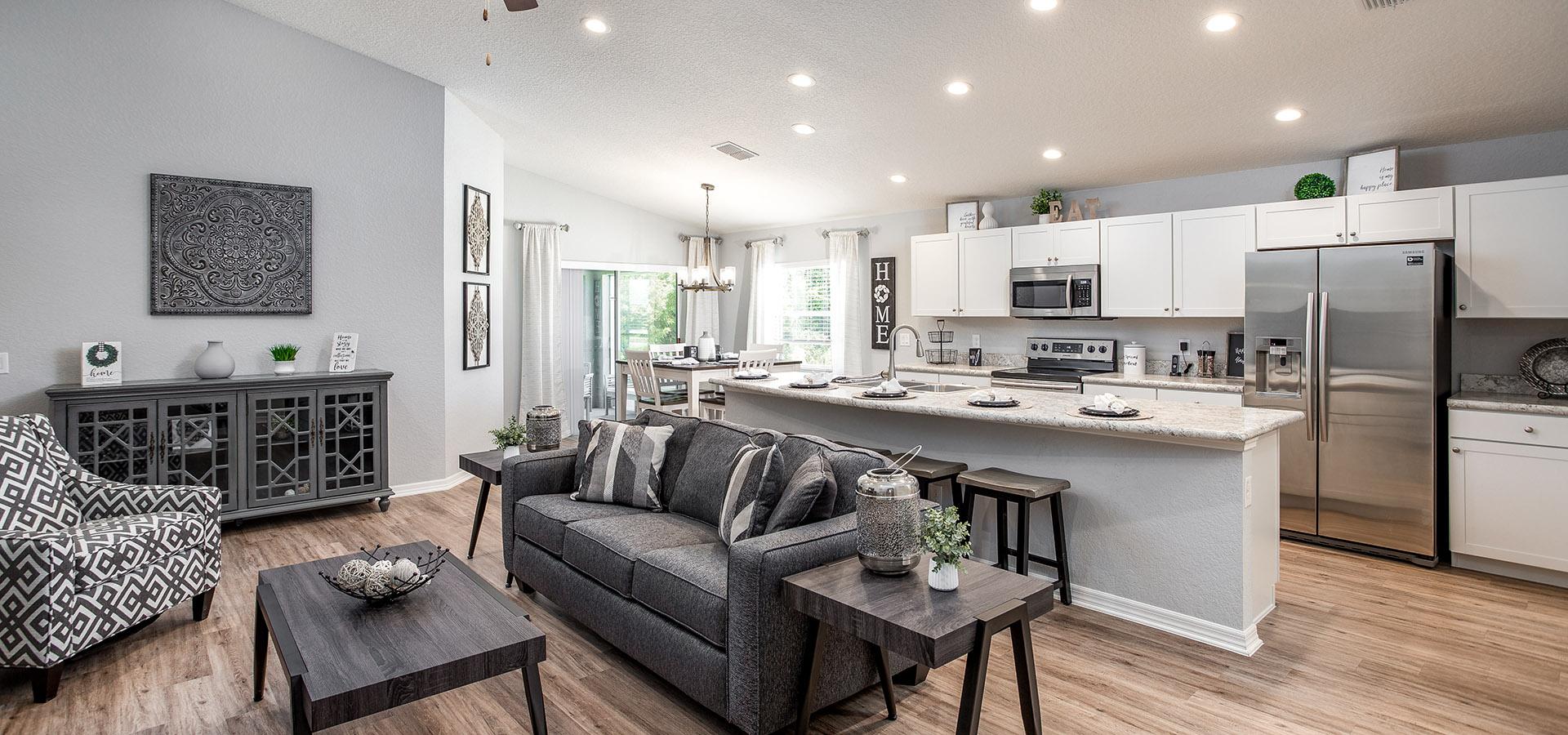 Not only is Ocala an amazing place to live, but our new homes in Ocala are equally amazing! Nestled in natural beauty, homes in Kingsland Country Estates are situated on homesites averaging 1/3-acre to over an acre in size, providing privacy between homes and yard space to plant your personal garden, build a beautiful backyard pool, or just enjoy the sound of trees rustling peacefully. Abundant towering trees contribute to your privacy and peacefulness and shade many yards in the neighborhood.
In this tranquil retreat, choose from beautiful home designs offering you 1,400 to 3,141 square feet of living space with three to six bedrooms, up to 3.5 baths, and a two- or three-car garage with pricing from the $300's. Designed for your lifestyle and convenience, the new construction homes include open layouts, beautiful kitchens with spacious pantries, and private owner's suites including a spacious en-suite bath.
Kingsland Country Estates is an all-ages community, making it easy for your family of any age to visit and enjoy time with you. Plus, low annual HOA dues provide you with the flexibility to choose how you spend your income.
Are you ready to own your dream home in Ocala at Kingsland County Estates? Learn more about these single-family homes for sale in Ocala and call or email our Ocala New Home Specialists to schedule your VIP appointment to visit the model center today!
---
Tags:
Ocala
Kingsland Country Estates
Single-family homes
Ocala National Forest
Cross Florida Greenway
Florida Trail
Florida's natural springs
---