blog
Happy National Dog Day! — Tips for Bringing a New Dog Home
Happy National Dog Day! — Tips for Bringing a New Dog Home
Posted:
August 26, 2017 |
Categories:
Communities
|
News
|
Communities>Stonebridge at Chapel Creek
|
General Info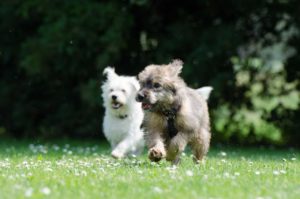 As part of National Dog Day, we want to help honor and celebrate dogs, but we also want to help our homeowners get off on the right paw when they bring their furry friends into their new Florida home.
As a dog-loving home builder in central Florida, we know that your pets are a big part of your family, and that's why you can take comfort in knowing that you are going to live in a beautiful city where man's best friend is always welcome!
Before Coming Home
As a proud new dog owner, you want to ensure that your pup has a paws-itively awesome time at its new home in Florida. You can do this by being prepared ahead of time!
Travel. Pack your car with extra blankets and towels in case of accidents. On the way home, Fido should ride in the back seat, either in someone's arms or in a carrier.

Prep a room. Dog-proof the area where your new friend will spend most of their time. According to petfinder.com, it's a good idea to tape loose electrical cords to baseboards, store household chemicals on high shelves, and remove plants, rugs and breakables. Also, set up a crate or bed and install baby gates if necessary.

Gather supplies. Just like preparing for a new baby with food and diapers, a new dog will also need supplies to help make them feel more comfortable in their new home. Food and water bowls, canned or dry food, a collar, a leash, an ID tag, crate, dog bed and bathroom supplies are a good start.

Schedule a visit with a vet. Research veterinarians in your area to make an appointment for a check-up and vaccinations.
Day of Arrival
In order to avoid a ruff time for both you and your new best friend, teach them the boundaries and limitations as soon as they bounce through the front door. The message you send your dog the moment they enter your new home is critical because it establishes rules in your dog's mind.
Introduce them to the pack. Your dog will need to know who its new family is, and while it's good to give everyone a proper introduction, be sure to let them have alone time to explore and calm down. Family members need to establish rules of the household and discuss who will potty train the puppy and who will be in charge of feedings.

Know the nutrition. When you first take home your new pup, remember to ask what food agrees with them and when they were last fed. It's also a good idea to ask about the eating schedule and try to replicate that for a few days.

House training. Upon arrival to their new home, take your pup to its toileting area immediately and spend time with them there. Accidents are bound to happen in new territories; patience and consistency is the key to getting everyone on the same schedule.
Establish Routines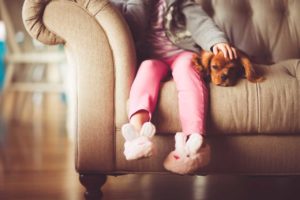 Sleeping. The room in which the dog will sleep should already be determined. If you plan to let the dog sleep in the bed, make a spot that is all theirs. If you plan on crate training your dog, leave the crate open and put some food and blankets in there for them. A doggy bed on the floor beside of your bed is also another place for your pup to relax in their new home!

Feeding. Feeding your dog at the same time every day is important for a number of reasons. Not only is this beneficial for their emotional and mental wellbeing, but also their metabolism will get used to the pattern and adjust to fit the feeding times.

Playtime. Teach your four-legged bundle of energy how to channel their excitement into playtime! Try to begin your pup's day with exercise before their first meal.

Relationship. All dogs' personalities are unique. Some will boast with "I woof you쳌 instantly, while others need time to adjust.
Happy homeowners in our Tampa Bay new home communities live in one of the most dog-friendly cities in the U.S.! If you're on the hunt for a new home in Florida with pet-friendly amenities, both inside and outside of the community, check out Stonebridge at Chapel Creek in Zephyrhills, which offers a community dog park, perfect for man's best friend to run and play!
For more information on our new homes throughout Tampa Bay and central Florida, contact our New Home Specialists at 863-797-4999 or visit www.HighlandHomes.ORG.
---
Tags:
dog friendly cities
National Dog Day
tips
Highland Homes
Zephyrhills
Florida
new home
tampa
Stonebridge at Chapel Creek
chapel creek
Tampa Bay
FL
New Homes
central florida
---