blog
Home Buying 101: Five Benefits of Buying a New Construction Home
Home Buying 101: Five Benefits of Buying a New Construction Home
Posted:
July 15, 2016 |
Categories:
General Info
|
Home Buying 101
|
Why Buy New
Searching for a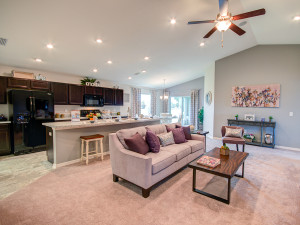 home in Florida? If you're like me, you probably have a vision in your head of your ideal size, colors, bedroom, and living area setup — along with fantasies of a gorgeous chef's kitchen! You've probably been scrolling through listings on Zillow, maybe even looked at a few houses in person, and have yet to find just what you're looking for.
Want to know how you can save time and energy, and find a home that matches your needs and desires? Build your new home! Oftentimes, people believe it will be less expensive to buy a used house that needs some work and just renovate it over time. However, renovating usually ends up being costlier (to both your wallet, time and emotions) than building a new home which has everything you are looking for and will be ready for you to enjoy the day you move in. And that's just the tip of the iceberg - Here are five benefits to buying a new construction home:
1. Modern Layouts
With technology, household makeup, and modern work and lifestyles, the way we live has changed a lot over the past 40 years and modern homes are designed to accommodate today's technology and lifestyle.
Today, open concept living areas that allow socialization between the kitchen, living and dining spaces dominate sought-after home features, rather than closed off "formal? rooms that are found in many older homes. Kitchen islands provide usable counter space while giving a wide open feel, and can provide casual "eat-in? dining.
Back in the day, the washer and dryer used to occupy a corner of the kitchen, bathroom, garage or porch. Today, most new homes include a dedicated laundry room to keep this heat, noise and mess behind closed doors.
Speaking of mess, a new home can help you keep clutter in check! From walk-in closets to pantries and built-in drop zones, new homes include ample closet space and organization solutions compared to older homes.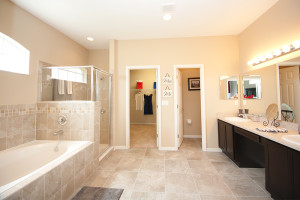 Last but not least, bathroom space is one of the largest differences you will notice in a new home. In the 1960's the average home had just one bathroom for the whole family to share — can you imagine? Today's new construction homes generally include two or more baths, with one of those being a private bathroom in the master suite. Finally, you don't need to share your bathroom with guests or potty-training toddlers! Master suites in our new Florida homes include a spa-like luxury bath with dual vanities, a tiled shower, and garden tub for soaking the day's stress away.
2. Personalized Design
Don't settle for a home with flowered wallpaper and green laminate countertops (believe me — they still exist!). Personalized design is not something offered by every new home builder, but it is important to us here at Highland Homes and a unique part of the experience of building with us.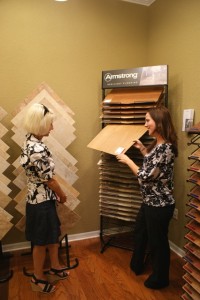 When you build your new home in Florida with Highland Homes, you select the colors and features to personalize every room in your new home to your style and needs. At our Personal Selection Studio, you will customize your Florida home with a wide variety of selections for countertops, cabinets, flooring, lighting, paint, technology, efficiency, and everything in between! From selections within our included features to luxurious upgrades, hundreds of options are available in every price point to match not only your style and vision but your budget, as well.
Instead of putting a lot of time and money into renovations, enjoy your new home, personalized to your style and designed for your life, from the day you move in! And if you're not quite sure what colors and finishes you want, no worries! Our professional designers are available to guide you through the home design process and help you select products which suit each other as well as your lifestyle and needs. Pinterest is also a great resource for home design inspiration!
3. Lower Maintenance and Operation Costs
When weighing the options on whether to buy a new construction home or a used home, your price consideration should include not only the sales price, but ongoing maintenance and operations costs. This includes items like painting and minor repairs to plumbing, HVAC, and fencing, as well as your utility bills.
According to Census data analyzed by the National Association of Home Builders (NAHB), newer homes (built after 2008) are two-and-a-half times cheaper to maintain than homes built in the 1980's.
Buying used can mean repairs that add up to $30,000 or more to replace an old water heater and appliances, rewire electrical, service plumbing, re-grout tile, and replace a roof. And, this doesn't even account for "optional? renovations to update an older home to better suit your modern lifestyle.
In a brand new home, everything is new so you don't have to worry about expensive maintenance replacements — and, most products in your home are covered by warranties (we'll talk more about that below).
Thanks to updates to the Florida building code as well as improved insulation and HVAC technology, new construction homes are more energy efficient than homes built even a few years ago - and that means you will save money on utilities. The NAHB study found that newer homes cost about $1.04 per square foot for annual utilities while older homes average $1.28-$1.62 per square foot. To break that down, an 1,800 square foot home built before 1960 would cost you $2,916 per year for utilities while a newer home of the same size would only cost $1,872 annually. That's more than $1,000 in savings — every year!
4. Health and Safety
"Great, it includes mold and bugs!? said no one ever. But if you are buying a used home, you may be getting these added "bonuses?, whether you know it or not.
When you buy a new home, your home's history starts with you. Move in without having to worry about allergens in the carpet, mold and pests in the walls, asbestos in the ceiling, or chemical emitting VOCs in your paint.
New homes today are built with stricter guidelines to protect your health, more sustainable materials, warning systems in place, and a stronger structure due to modern building codes. Buying a new construction home gives you assurance that your home has been built with the highest standards in mind, and you can relax knowing your family is healthier and safer under your new roof.
5. Warranty
Last but certainly not least, new home warranties protect your investment! Not only is everything brand-new with no wear and tear, so less likely to have issues, you'll have the peace of mind of knowing you're covered if something does go wrong.
Warranties vary per builder, and we provide one of the best in the business because we want you to love living in your Highland home for many years to come. Your new Highland home comes with a one-year builder warranty providing protection against material defects, plus a 2-10 Home Buyers Warranty that provides two years of systems surety coverage and 10 full years of structural warranty protection. In addition, many products in your new Florida home are covered by manufacturer warranties. That's something you are not going to find in a used home!
About Highland Homes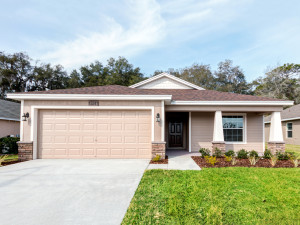 Whether you are looking for your first home or looking to move into a more luxurious home, we build Florida homes priced for your budget and designed for your life. Our new construction homes are priced from the mid-$100,000's to $300,000's and include all of the exciting, modern, and money-saving benefits mentioned above, along with three to five bedrooms, 1,250 to 3,315 square feet of living space, covered porches/lanais for outdoor living enjoyment, and a two or three-car garage.
To learn more about building with Highland Homes and to find your new home in Tampa Bay, Greater Orlando, Bradenton, Lakeland-Winter Haven, or Ocala, give us a call at 863-797-4999 or visit the Highland Homes website today!
Please note, the information contained in this blog is provided as a courtesy and should not be solely relied upon for home buying advice or information. The information provided in this blog was accurate at the time of publication but has not been verified since. Please consult with your financial, tax, legal and/or real estate professional for more details.
Save
---
Tags:
benefits of buying new
benefits of new home
maintenance cost
new vs used
modern layouts
new home warranty
personalized design
Florida home
personal
design
Highland Homes
Florida homes
personalize
Florida
new home
FL
---