blog
Home Design Showcase: Wood Vinyl Plank Flooring
Home Design Showcase: Wood Vinyl Plank Flooring
Posted:
December 27, 2018 |
Categories:
Design and Decorating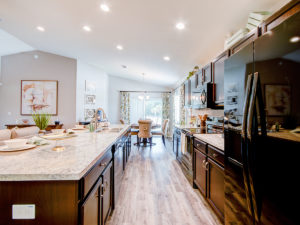 Technology is constantly advancing, creating new products with improved features and design. These technological improvements extend to products in your home, and we aren't just talking about smart home technology. Cutting-edge building techniques and design products continue to push the envelope for innovation, style, and longevity.
Flooring products have seen impressive improvement and innovation in recent years. The days of choosing from basic tile, expensive wood, or dated linoleum are far past. Today's flooring choices are extensive, and perhaps the product that has made the biggest leap forward is vinyl flooring. No longer is vinyl just rolls of printed designs meant to looking like something else. One of today's top flooring trends is wood vinyl plank flooring. This product looks almost identical to real wood flooring while far surpassing in durability, at a fraction of the cost.
Just what is wood vinyl plank flooring? High-definition photography has allowed flooring manufacturers to create vinyl planks that look indistinguishable from the traditional wood product. Manufacturing techniques have improved, and the vinyl planks actually have texture that resembles natural wood. Consisting of individual vinyl planks that are glued in place, you will be hard-pressed to tell the difference between this and traditional wood flooring!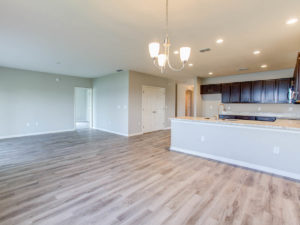 Because vinyl is water-resistant, vinyl plank flooring can be installed in rooms where traditional hardwood flooring isn't recommended due to moisture, such as kitchens, bathrooms, and laundry rooms. Of course, it isn't limited to wet areas - this on-trend flooring is also a popular option to have throughout your living area thanks no only to its beautiful appearance but also durability and ease of maintenance. It survives moisture, absorbs shock, won't crack or chip, is more scratch resistant that real wood, and is easy to maintain and clean up spills, making it a popular choice for households with kids and pets.
If you plan to install vinyl plank flooring in your home, there are a few basic tips to keep in mind. First, it is recommended to use furniture protectors on the bottom of chairs, tables, and sofa legs, so they don't dent or scratch the finish. Also, vinyl plank flooring cannot be installed against tile or laminate flooring as it will cause an uneven transition in the floors. This means if you plan to install vinyl plank flooring in your gathering room, you should continue it into the kitchen or adjacent rooms with hard flooring, so as to not have an uneven transition.
At the Highland Homes Personal Selection Studio, vinyl plank flooring is one of the most popular design options selected by Florida home buyers. We offer Armstrong Natural Personality Vinyl Tile in four colors that resemble different wood species. The most popular color option is Thorndale Oak in Cinder Gray, which features a blend of gray and brown shades that complement a wide range of décor schemes. For your Florida new home, you may also choose Brushed Oak in Natural, a lighter wood that works nicely with design schemes involving browns or grays, White Oak in Heather Gray, a beautiful light gray wood flooring, or Aged Walnut in Sepia, a rustic medium brown.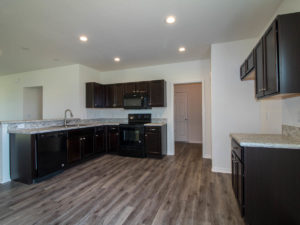 When you choose to upgrade the flooring in your new Highland home to wood vinyl plank flooring, the pricing varies based on room sizes, but typically ranges around $100 for a foyer, $150 for a standard hall bathroom, or around $1,200 to deck out your living area with this on-trend, low-maintenance, cost-friendly flooring.
At the Highland Homes Personal Selection Studio, our interior design experts will walk you through designing every room in your dream home and selecting the features, colors, and options to suit your lifestyle and budget. Get design inspiration and start planning your dream home by browsing photos, videos, and layouts of Florida home plans, and contact our Florida New Home Specialists at 863-797-4999 to start building the new home of your dreams today!
---
Tags:
design studio
personal
flooring
design
design features
flooring options
vinyl flooring
vinyl plank
wood vinyl plank flooring
selection studio
personal selection studio
FL
home design
---