blog
Home Design Showcase: Wood Vinyl Plank Flooring
Home Design Showcase: Wood Vinyl Plank Flooring
Posted:
December 27, 2018 |
Categories:
Why Buy New
|
Design and Decorating
Updated April 22, 2021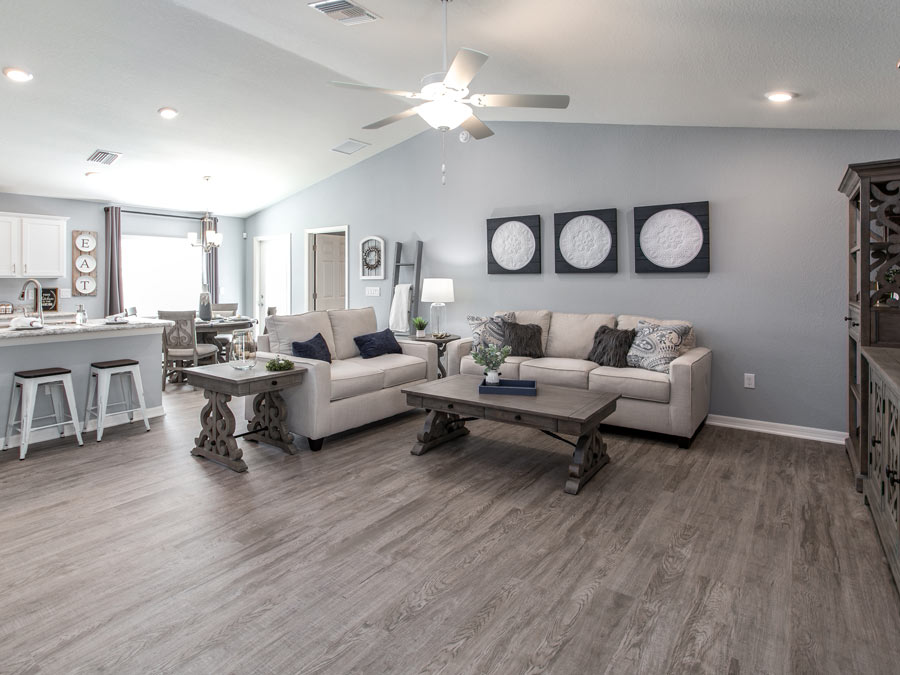 Technology is constantly advancing, creating new products with improved features and design. These technological improvements extend to products in your home, and we aren't just talking about smart home technology. Cutting-edge building techniques and design products continue to push the envelope for innovation, style, and longevity.
Flooring products have seen impressive improvement and innovation in recent years. The days of hard flooring options being limited to ceramic tile, expensive wood, or dated linoleum are far past. Today's flooring choices are extensive, and perhaps the product that has made the biggest leap forward is vinyl flooring. No longer is vinyl just rolls of printed designs meant to look like something else. One of today's top flooring trends is wood vinyl plank flooring. This product looks almost identical to real wood flooring at a fraction of the cost and provides a low-maintenance, water-resistant, and durable flooring surface.
We began offering vinyl plank flooring at the Highland Homes design center in 2017 and it quickly became a popular flooring choice in our Florida new homes. Today, vinyl plank is available in a wider range of colors and styles than ever before and has surpassed ceramic tile to become the most popular hard flooring option among our Florida homeowners.
What is wood vinyl plank flooring?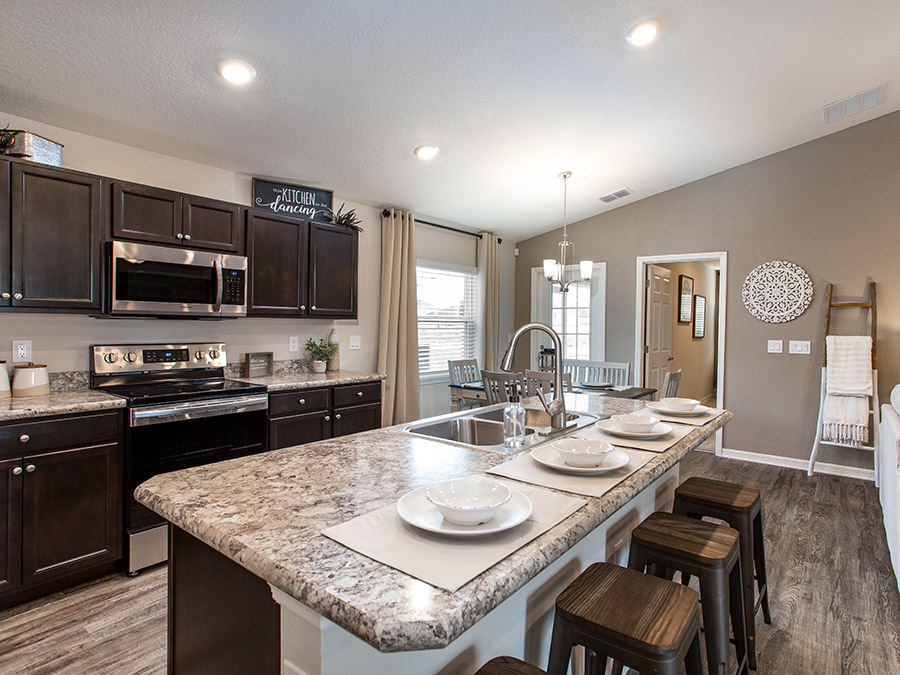 Wood vinyl plank flooring is an affordable, durable alternative to hardwood flooring. High-definition photography has allowed flooring manufacturers to create vinyl planks that look indistinguishable from traditional hardwood. With the improvement of manufacturing techniques, the vinyl planks even have a texture that resembles natural wood. And, unique plank designs virtually eliminate pattern repeats which you see in some other types of flooring.
Consisting of individual vinyl planks that are glued in place, you will be hard-pressed to tell the difference between this and traditional hardwood flooring!
Benefits of wood vinyl plank flooring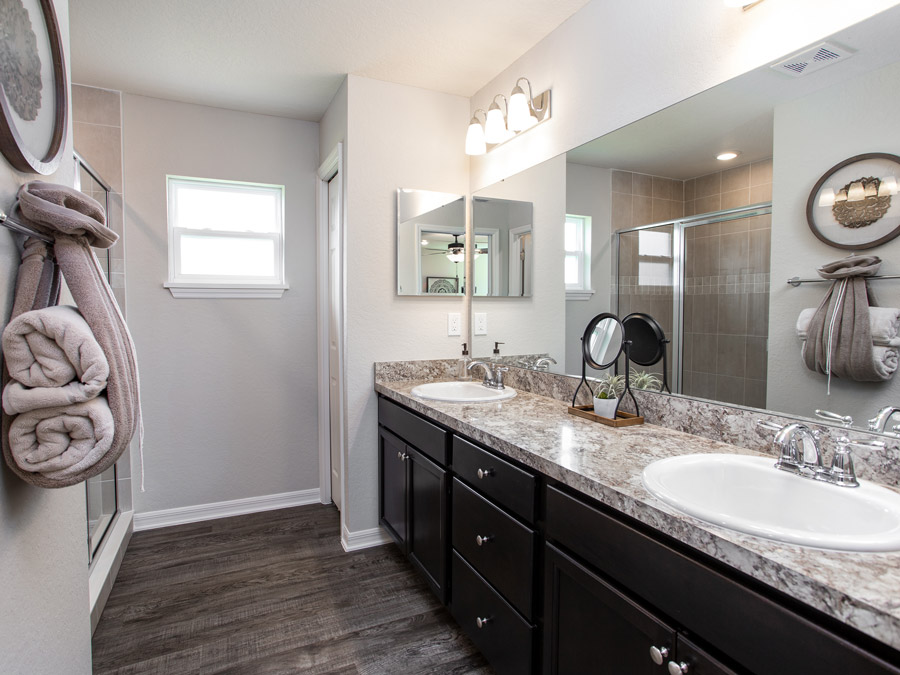 Because vinyl is water-resistant, vinyl plank flooring can be installed in rooms where traditional hardwood isn't recommended due to moisture, such as kitchens, bathrooms, and laundry rooms.
Of course, it isn't limited to wet areas - this on-trend flooring is also a popular option to have throughout your living area thanks not only to its beautiful appearance but also durability and ease of maintenance. It survives moisture, absorbs shock, won't crack or chip, is more scratch-resistant than real wood, and is easy to maintain and clean up spills. This makes vinyl plank especially popular in high-traffic areas and households with kids and pets.
How to clean vinyl plank flooring (care and maintenance tips)
Cleaning and maintenance are a breeze thanks to the water-resistance of vinyl. If you have a spill, surface liquids normally won't affect the flooring though wipe it up as soon as possible. Sweep or vacuum your floors regularly to remove loose dirt, and keep your floors sparkly clean by wet mopping or washing with a vinyl floor cleaner. Mild, non-abrasive mild cleaners can be used, but never use an abrasive cleaner, "mop and shine" product (which can dull the surface of vinyl), or wax or paste.
To protect your flooring and keep it looking great for years to come, it is recommended to use furniture protectors on the bottom of chairs, tables, and sofa legs, so they don't dent or scratch the finish. Also, floor mats without a latex or rubber backing are recommended as these backings can cause discoloration of vinyl.
Selecting vinyl plank flooring for your new home in Florida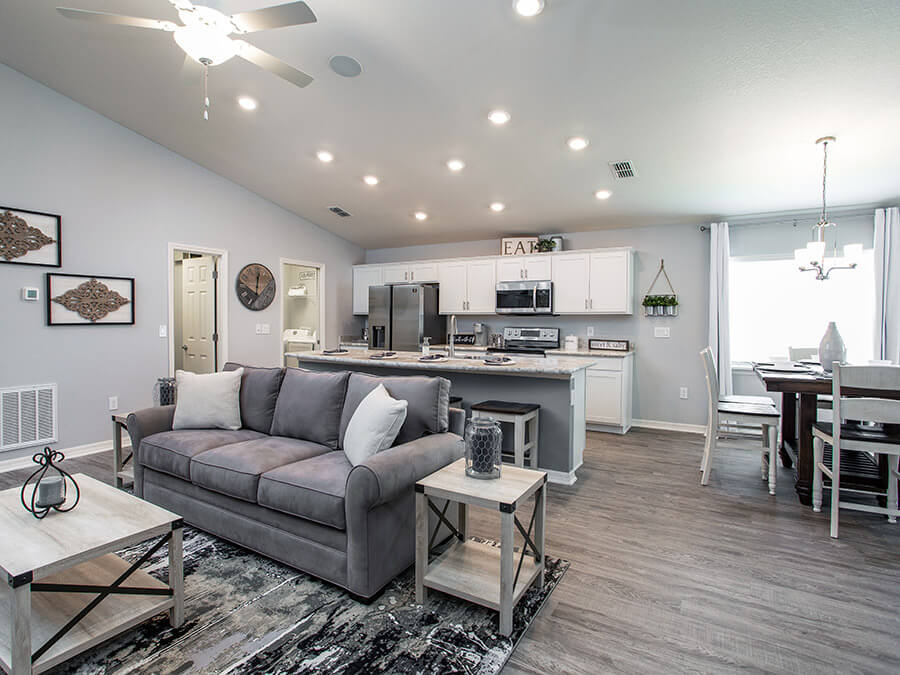 Vinyl plank flooring is one of the most popular flooring options selected by new homeowners at the Highland Homes Personal Selection Studio. Many choose to install it throughout the main living area of their new home, with carpet in the bedrooms.
If you plan to install vinyl plank flooring in your home, keep in mind that vinyl plank flooring cannot be installed against tile or laminate flooring as it will cause an uneven transition in the floors. This means if you plan to install vinyl plank flooring in your gathering room, you should continue it into adjacent rooms with hard flooring such as your kitchen and cafe.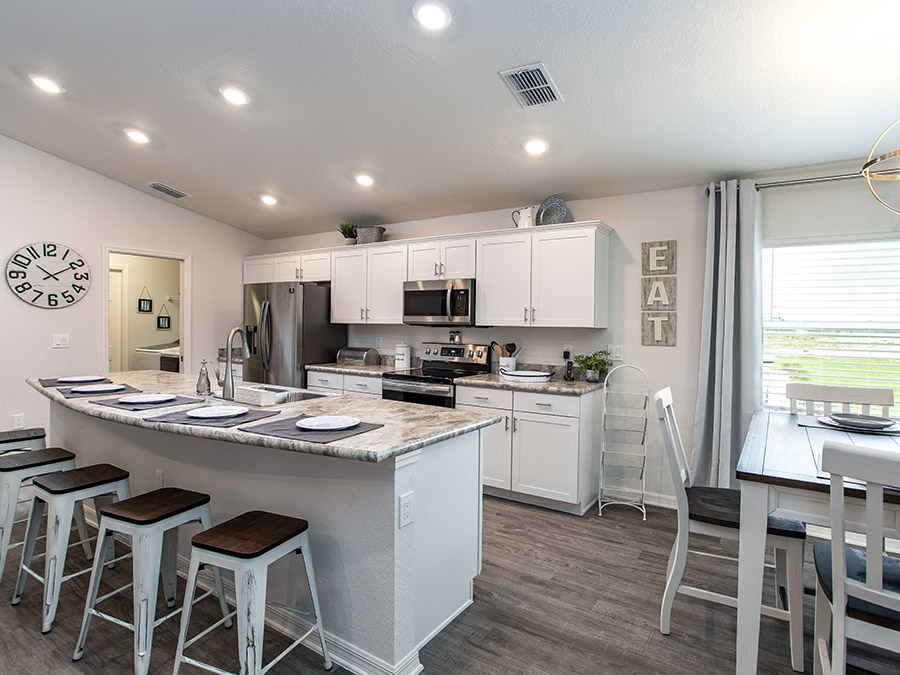 At the Highland Homes design studio, we offer high-quality, long-lasting Armstrong Flooring in seven on-trend vinyl plank selections which are made in the USA and carry a 15-year residential warranty
The Armstrong American Personality 12 Luxury Vinyl Tile is available in five stunning styles:
Lakehouse Hickory Greige Twist and Alpine Frost
Crafted Oak Parchment and Crimson Earth
Pembroke Oak Sapphire Silhouette
And, Armstrong's American Charm Luxury Vinyl Tile is available in two finishes:
Charlestown Oak Platinum and Linen Breeze.
The most popular vinyl plank flooring we offer is the American Personality 12 Lakehouse Hickory Alpine Frost, which features a gray-toned distressed wood look that complements a wide range of decor styles from modern to rustic to traditional. It looks particularly stunning paired with white cabinets, though pairs well with other cabinet colors as well.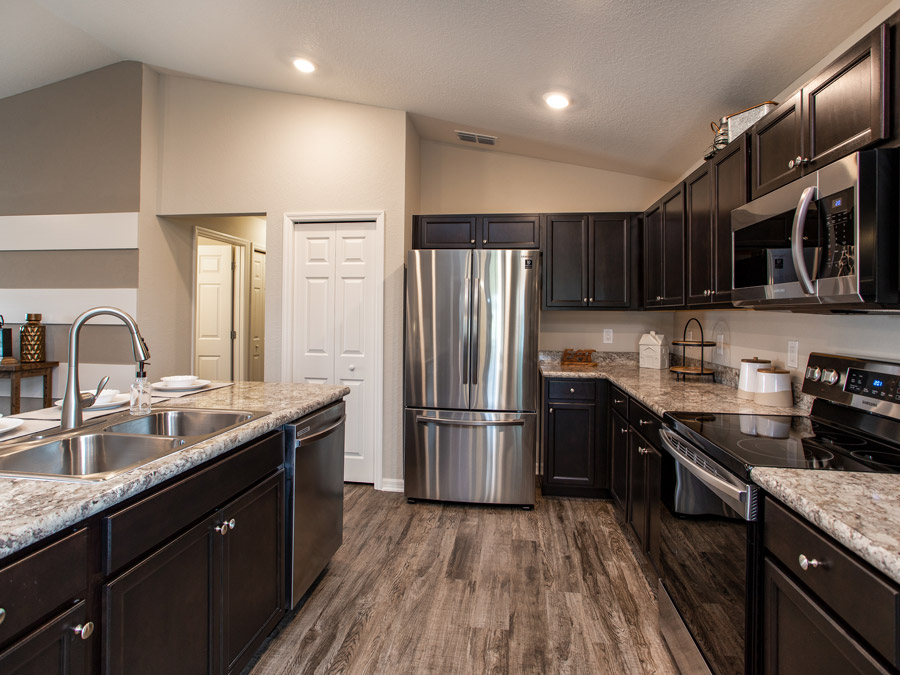 For a more rustic look in your new home in Florida, the American Personality 12 Lakehouse Hickory Greige Twist is our second most popular vinyl plank flooring selection with a distressed rustic hickory wood finish. And, if you are looking for a light wood floor, the American Charm Charlestown Oak Linen Breeze vinyl plank provides the look of distressed natural white oak in home design's increasingly popular whitewash finish.
When you choose wood vinyl plank as your Highland Homes flooring option, the pricing varies based on room sizes. To give you an example of the pricing and affordability of this flooring, in the 4-bedroom, 1,715 sq. ft. Parker, our most popular Florida new home plan, vinyl plank flooring is currently priced at:
Individual rooms:

Kitchen and cafe - $975
Gathering room - $690
Owner's suite - $695
Owner's bath - $255
Secondary bedrooms - $290-300 each
Hallways - $175-$230

All wet areas (kitchen, cafe, laundry room, foyer, and bathrooms) - $1,780
Throughout the main living area (gathering room, kitchen, cafe, laundry room, and foyer) - $2,080
Throughout your entire home - $4,450
Our interior designers at the Personal Selection Studio will walk you through designing every room in your dream home and selecting the features, colors, and finishes to suit your lifestyle and budget. Get design inspiration and start planning your dream home by favoriting options in our online Inspiration Gallery, and contact our Florida New Home Specialists at 863-797-4999 to start building the new home of your dreams today!
---
Tags:
Design features
Design trends
Interior design
Kitchen design
Bathroom design
Personal Selection Studio
Personalize your dream home
---